Colleges want proof of academic rigor. They need to know the academic preparation you provided in your homeschool classes. You need to prepare neat, thorough, and precise homeschool records to help colleges make admission and scholarship decisions in your favor.
Now is the perfect time to complete this proof on paper. During your break from the regular Homeschool schedule, spend time preparing your homeschool records. Be sure to work on those records every year, so you aren't caught unprepared by college deadlines.
The Transcript
The transcript is a simple, one-page document showing your child's entire high school academic record. Your official homeschool transcript shows off your child's strengths, depth, and individuality. It summarizes all their wonderful high school educational experiences.
Your child's transcript needs a title. I suggest you call it, "Official Homeschool Transcript." It must include your child's name, gender, date of birth, your names, and expected date of graduation. You may also want to include your child's address and your homeschool address separately, even though it's the same address.
Your child's transcript should include descriptive but academic-sounding class titles.  Each class should indicate a credit value, to show how long and how hard the student worked at that subject. It should include a grade for each class. Some colleges don't have a preference, but some prefer letter grades (A, B, C) and others prefer number grades (4.0, 30, 2.5). Scholarships are often awarded based on test scores and grading GPA. For that reason, include a calculation of the grade point average (GPA).
Course Descriptions
In addition to your child's transcript, there are other parts of record keeping that you need to submit to colleges. Document their work in detail by writing descriptions for each of their courses. Some colleges require course descriptions and some don't.  If you're concerned about the cost of college and need scholarships though, I encourage you to submit course descriptions along with your transcript regardless.
Course descriptions will help you convince colleges that your child will succeed in college. Colleges are looking to invest in your child, and the more persuasive you are, the more money they will shower on your child. Your course descriptions, including grading criteria, will give colleges the information they crave.
Each course description should be no more than one page long. They are not assignment lists, grading rubrics, or a syllabus. Include descriptions of what your child used and what was done. Sometimes it will be as simple as listing the textbooks you used. Along with textbooks, you may also include supplemental materials or experiences included in the description.
Consider contacting your child's colleges of choice in advance and ask what their format preferences are.  It may be helpful to bring a sample course description into the admissions office during a college visit.  Ask open-ended questions about what kind of homeschool records they would like to see. One college admissions officer told me they wished every student provided course descriptions like mine – even public school students!
Reading List
Colleges are interested in what your child read during high school because it tells them about the student's reading level, interests, and reading habits. A reading list should include all books read during the high school years; books assigned as homeschool work AND books read purely for pleasure. You could even include any textbooks used – the list can include books which are also in the course descriptions. Devotionals and magazine subscriptions can be included on the list as well. Include every great, average, or stupid book your child reads. If you have a prolific reader, you may not need to include every book they read.
All you need is the title and author – the reading list is not a bibliography. Be sure to include a few classics for each year of high school, but also popular literature. Colleges like to see a balance of the two – they often complain that homeschoolers put too much of an emphasis on classic literature. It's important to include that pleasure reading on your child's reading list.
Activity and Awards List
Colleges want students with passions. They don't want cookie-cutter kids, but students with different, unusual skills, interests, and abilities. Your child's activity and awards list will reveal their interests and activities. Include all your child's activities, sports, volunteer work, community service, employment experience, and awards on their list and submit it to colleges along with their other records. Your child's activity and awards list can help fill in gaps in their transcript. Not all learning can be expressed through grades and credits! The list can also be a handy tool to help fill out college applications.
The transcript can include an abbreviated list of important activities, but you can provide a separate detailed list of all activities. For instance, the transcript may list Martial Arts as: Martial Arts 9, 10, 11, 12 – Black Belt 12. However, the lengthier activity and award list would give more details on your child's Martial Arts experience. The longer list might look like this:
Black Belt Martial Arts Academy
Martial Arts Assistant Teacher 9, volunteer 100 hours
Martial Arts Assistant Teacher 10, volunteer 100 hours
Martial Arts Assistant Teacher 11, volunteer 100 hours
Martial Arts Assistant Teacher 12, volunteer 100 hours
Activities can be a clue about homeschool credits.  In this example, Martial Arts might be a PE class. An activity should only count as credit for one class, but it can be listed as a class plus an extracurricular activity. When I was in choir in high school, I was given one music credit each year and choir was listed as a school activity. Be careful to avoid "credit double dipping" by putting an activity into two different classes, however.
Work Samples
Some colleges will ask for out of the ordinary things to include in your admission package. Each college may ask for something different! You don't have to keep everything, but do keep a few samples from each of your child's high school classes. Set aside writing, tests, quizzes, and/or finished projects.
You may want to keep about samples of work from each of your child's classes, just in case you have to send original work samples to multiple colleges. Some colleges may ask for science lab write-ups, while others may want to see graded math or English papers. Give colleges the BEST samples you have for each class.
Be Ready and Start Today
Be prepared with everything colleges need to give your child the best chance for college admission and scholarships. Communicate with colleges to ensure that you will provide all the records they want, and in the way they want it! Show colleges that the proof of your homeschool academics in clear and thorough homeschool records.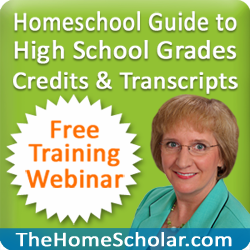 Take a FREE Ecourse By Lee Binz, The HomeScholar!
A Guide to High School Grades, Credits and Transcripts
Sometimes homeschooling high school can seem like a long and daunting journey.  There are challenges at every turn. How do I evaluate my children? How can I give grades that colleges will believe? How should I assign credits? Where can I get the answers I need? You don't have to be frightened, because in this one-hour training webinar I will answer all these questions and ease your fears. This course will cover all the essentials you need to know to calculate credits, determine grades and create your homeschool transcript. In this webinar you will learn 5 sure-fire ways to determine high school credit, how to let go of "grade anxiety," the 5 killer advantages of a properly-crafted homeschool transcript and 3 transcript pitfalls that can cripple your child's chances for college admission and scholarships. Learn, enjoy and relax so you feel confident!
______________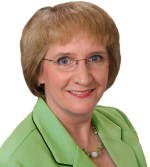 Lee Binz – High School and College Preparation
Lee Binz, The HomeScholar is a dynamic homeschool speaker and author. She is an expert on how to craft a winning homeschool transcript. Lee's mission is to encourage and equip parents to homeschool through high school. Check out her Freebies, including her free mini-course, "How to Avoid the 5 Biggest Mistakes Parents Make Homeschooling High School." You can find her on Facebook at  Facebook.com/TheHomeScholar and Pinterest at Pinterest.com/HomeScholar.