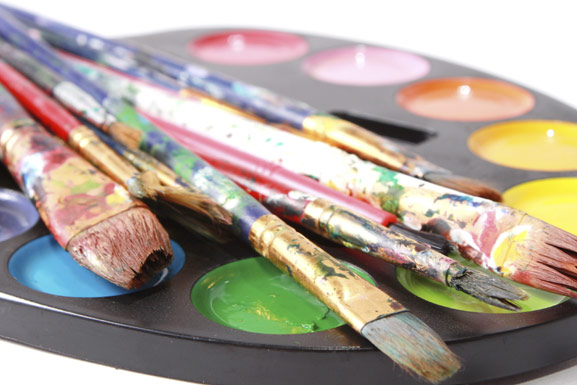 When my husband and I lived abroad, we made the decision to homeschool our daughter. Local schools were out of the question because of their competitive and atheistic underpinnings. The price of international schools was exorbitant compared to the quality of education. Since I had an education background, homeschooling was an easy choice to make.
Fast forward nine years. We returned to our native country and were faced again with the choice of schooling options. For the sake of a smooth transition into American life, we decided to continue homeschooling our middle schooler. But over the months, I've been asked several times why I don't send Sprite to public school now that it is an option again. Little do these people know that Sprite has been ruined forever for public school. After all of our years of homeschooling, I don't think she could survive in "normal" school. Or if she did, it would be at the expense of precious character traits.
Creativity
My creative daughter is forever imagining skits and craft projects. The "fill in the bubble, walk in a straight line, write it this way" formula for learning would rub against the grain of her right brained thinking. With homeschooling, we can harness her creativity for projects that promote learning. There are no right or wrong answers to be ferreted out, just experiences to be had. In order to succeed in school, my daughter would have to stop being so creative and learn to conform. The emphasis on outward structures would mystify her since we have always valued meaning over form.
Fine Arts
Along with her creative bent is a love of fine arts. There is no way that a public or even private school could offer her the wealth of art instruction we have had. Field trips would be few to none; drawing instruction would be rare if at all. Fostering her passion for fine arts would require a lot of work on my part, work that I'm already doing. But with the schedule of public school and the demands of homework, we would not have nearly as much time to devote to the arts.
Competition
Instead of using grades with my daughter, I focus on improvement, learning, and diligence in our homeschool. Because she has no classmates to compare with, Sprite is free to grow at her own pace without feeling like a loser when she is "behind" or a geek when she is "advanced." In public school, the constant feedback of numeric grades would be a huge paradigm shift for her. Would she feel inadequate when her grades were not all As? Or would she become prideful and scorn those with lower grades? Would she start working for the sake of the grade instead of for the joy of learning?
Popular Culture
If my daughter were in public school all day long, I can only imagine the influence that popular culture would have on her as she absorbed from the children who are saturated in television, movies, and video games. Just being in American church has opened up new worlds of television stars, pop singers, and online games that we never knew about before. How would public school affect my media-sheltered child? Or would she be constantly traumatized? Or would she become calloused to the violence and occult that are so common in popular books and videos?
Flexibility
Years of setting our own schedule has given us the freedom to travel, take extracurricular classes, and pursue personal passions. The rigidity of a traditional school schedule would lock us out of the freedom we've grown accustomed to. No longer could we rearrange the academic timetable to suit our preferences or tangents. Sprite would constantly feel the chafe of being a cog in the wheel of an institution. She would resent the artificial constraints of school schedules and scope and sequence charts.
Yes, I admit it. My child doesn't fit into public schools. She probably could have if she had started off in Kindergarten seven years ago. But we've ruined her through years of homeschooling. I'm sure that if life demanded public school, she would learn to cope. She would comply and give up some of her creative thinking. She would grow less involved in fine arts and would grow more desensitized to the worldliness of our society. She would evaluate herself through the lens of a numeric grade and conform to the pattern of school life.
Looking at the big picture, though, I'm quite happy with her ruin. In fact, I plan on ruining her right on through high school.
Are your children "ruined?" I'd love to hear how you've ruined them by homeschooling. Just leave a comment below.
Jimmie is a former public school teacher turned homeschooling stay-at-home-mom. Her only child, Sprite, is a creative middle school student who loves the arts and living books. Jimmie uses a loosely Charlotte Mason approach with lots of notebooking and field trips. Visit her blogs Jimmie's Collage and The Notebooking Fairy.