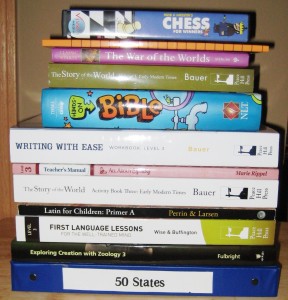 Before you get too excited, let me say that this article will not suggest any one curriculum, or devalue any other curriculum. There are far too many choices out there for me to offer much wisdom in that area. Indeed, homeschooling has come a long way from the few publishers that would actually sell to a homeschooling family; now homeschooling conventions look almost as polished and slick as those industry fairs where I once manned a corporate booth. That reality is one of the inspirations behind this article. It is about this time of year when I "hear" new mothers all over the States write to say, "I'm a new homeschooler with a few questions…" How does this parent, with an overwhelming number of curriculum from which to choose, make a wise decision? Even if you are not a new homeschooler, how do you go about seeing what is out there? Here are some areas to consider before you lighten your purse strings in exchange for curriculum that might not work:
What special needs/ changing tides do you need to consider this year? I have a dream. I dream that one of our children will complete all four high school years here at home. Perhaps it is just a pride issue, but I want one shot at developing an entire four years and seeing it play out in our home. Yet, the reality of our homeschool journey is that the children have been able to take quantum leaps in their education because of Texas' dual enrollment opportunities, allowing them to attend the local community college and receive credits at the secondary and post-secondary levels simultaneously. Moreover, with two of our three having gone this route, I only have one more chance. I will probably not live the dream with the youngest, either, which would be to her benefit as much as mine, I know. My motives are purely selfish.
Why did I share this example? Well, as one who loves to plan, there is one conclusion that I have reached over the years: even the best plan can be totally undermined with enough outside activities. If you have regular Scout meetings during the week, dance or music lessons or sports activities that start earlier in the evening, doctor's visits, scheduled play dates or co-op that take up an entire day, these activities have to be included in your schedule. Similarly, part-time jobs and shift work must be accommodated when you plan your hours. Unless your state dictates otherwise, your school can be as flexible as your life—3 days, 4 days, evening hours rather than morning, etc.—but your curriculum needs to match it.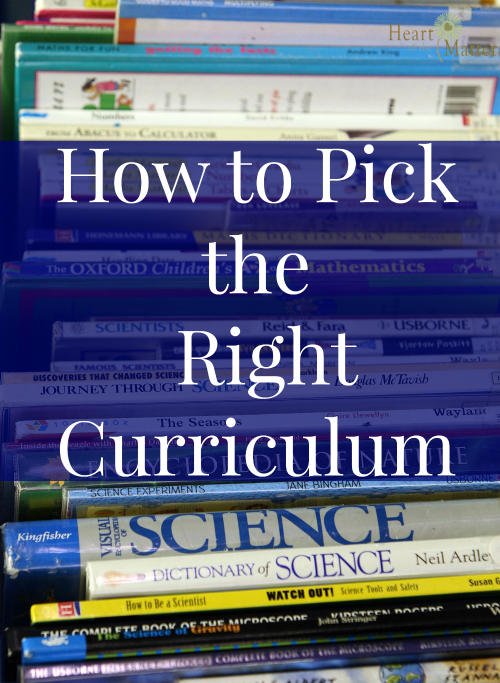 What does your day look like? How do you envision your homeschooling day? There are a number of advantages, especially in the earliest days of homeschooling, to purchase all of your curriculum from a single vendor, i.e., A Beka, Rod and Staff, Sonlight, etc. This method is convenient Yet, there are equally valid reasons why a one-vendor packaged curriculum might not work for you:
Your daily lifestyle does not allow you to spend much time at home (doctor's visits, care of an elderly person, sports activities or other extracurricular activities that could be a future career based upon the number of hours invested)
Your vision does not include sitting at tables and thumbing through books all day
The vendor's philosophy/ teaching style/ subject focus does not agree with your mission or methods (a vendor that overwhelms the student with worksheets or computer time will not work for a parent who has little storage space or a child who is not in one place for most of the day)
The curriculum lists explicitly that it will require time from you as a parent that you do not have
Do You Need Curriculum? As I mentioned earlier, publishers are well aware that the market for homeschool curriculum has changed immensely in the last 30+ years. Not only are there an overwhelming number of publishers, but there are also lesson plans for everything. We have to ask ourselves the following: ' Do I really need to buy something to teach this?" Think about it: for a five-year-old, mastering the jump rope can be P.E. The kid leaving home who needs to learn to cook, clean, and manage a budget can complete home economics or personal finance credits by tackling more household responsibilities. A homeschool debate team can encompass a semester or year of English/ Language and potentially a current events and/ or history study.
What attracts you about the curriculum–the packaging or the content? It can be difficult to separate a product from its advertisement, or from its artwork, or from its bright colors. Indeed, one of the rites of passage to any homeschool is the purchase of curriculum that looks great, but does not facilitate the learning that you expected. Due diligence requires that you complete research without being too fascinated with that conference discount price to walk away in a case of uncertainty. Check reviews. Check with others who are further along on the path of home education. What do they use for a given subject? Why? Check the website of a given publisher. Does the website have a forum or at least contact information so that you can get answers to questions?
In summary, you can spend as much or as little on curriculum as you choose, but in either case, there are a number of up-front activities that can minimize the chance that you will be totally disappointed with those books and tools once you unpack them at the house.
Use the internet, the library, and the people around you to research any curriculum considerations.
Also, do not be afraid to join a forum, even if you do not intend to buy anything from the publisher. The homeschooling community is generally friendly enough to point you to other publishers if you communicate your needs.
2) Use the large number of online resources (often free) that can either help or replace curriculum.
3) Consider gently-used curriculum when it is feasible rather than paying full price for a high-dollar item that might not work. I have not connected vegetarianism to homeschooling, but Vegsource.com, a vegetarian website, has an unmatchable website for swaps and sales (see http://vegsource.com/homeschool/). Items are categorized by grade level, and you can list what you want to buy as well as what items have seen better days in your home.
4) Be aware of subliminal messages. I mentioned the trap of falling in love with packaging earlier, but the other side of that coin is that packaging, via illustrations, color, etc., can give important clues regarding the philosophy of the writer and the messages that are far more subtly stated. Is the curriculum racially/ sexually/ inclusive, based upon the pictures and language? Does it include people regardless of able-bodiedness? Does the curriculum send certain messages about roles of women and men? Is the curriculum in any way discriminatory? I often recall the reaction of a irate friend of mine when she opened a geography curriculum that illustrated the world full of diverse people—until she saw the continent of Africa, where the author chose to instead show pictures of animals.
5) Be aware of extra items that add dollars, but not necessarily value. There are curriculum that breaks down teaching and instruction to the point of telling you as the parent, "Ask the following question. Then, say this…" If you need this level of instruction, there is nothing wrong with that. But realize that the step-by-step guide is paper and ink and binding that costs money to make; therefore, it will cost you money to buy. So will the protractor and compass that come included in the math set. Be selective in buying only what you need and not paying for what you do not need.
6) Organize a curriculum fair within your homeschool network or among your homeschooling friends. This does not have to be anything fancy; a cup of coffee or tea over the breakfast table will do if your homeschooling circle is small enough. Simply have those you know gather with their books (homeschooling moms love to talk curriculum!) and ask them why they made the choices they did.
Though I did not focus on this aspect of choosing curriculum here, bathe all of your decisions in prayer. The Lord honors our obedience, and even when our choices are not ideal, goodness and mercy follow us. Whatever lands on your table, use these tips and others you have gained to choose it wisely. There are no guarantees that your children will love your choices, but you feeling good about your selections is the first step toward them feeling good when they open a book.
Belinda Bullard is a wife and homeschooling mother of three, Belinda is an author and the owner of A Blessed Heritage Educational Resources, a literature-based historycurriculum featuring African-American presence in history, as well as the contributions of other races to American history. A chemical engineer by formal education, she also serves as adjunct faculty for college distance learning programs. Belinda blogs at Simply Belinda and Chronicles of a Blessed Heritage.