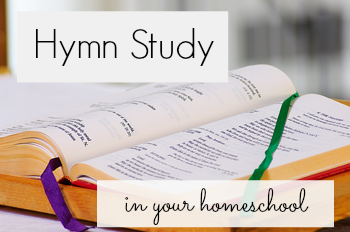 One of the reasons I love homeschool so much is that we can learn so MANY things from supposedly "one" subject.
Music can be snuck in with lots of other subjects.
While you are learning about God's word you can also be talking about terms like VERSE, REFRAIN, and other musical goodies!
One of the simplest ways to incorporate music in your homeschool is through hymn study. Hymn study makes for great copywork, scripture study, and memorization. You can also research hymns from the era you are studying in history.
Most importantly, hymn study is an integral part of glorifying God.
After breakfast and devotions, our homeschool is off to a solid start after we sing and study a hymn together. It puts us in a thankful frame of mind – God and music seem to do that, don't they?
As you plan your homeschool year, are you including hymn study?
Following are resources that can help you:
Hymn Study for Homeschool:
This Squidoo Lens by Jimmie is quite comprehensive. She gives you a plan of attack for studying hymns and even provides notebooking printables.
Simply Charlotte Mason's Guide to Hymn Study:
This site suggests hymns and also gives exact teaching instructions. Hymn study in an integral part of a Charlotte Mason education!
Ambleside Online Hymn Study Rotation Schedule:
Ambleside Online (a free curriculum online for CM educators) offers hymns by term.
Hymn Study for Homeschoolers:
Judy provides detailed plans for studying ten hymns. This is a wonderful series.
Hymns for a Kid's Heart:
This book could be your main resource for hymn study. In includes hymns to study, the background behind the hymns and composers, written music, and also a CD of the hymns.
I hope this has provided resources to inspire you to continue (or begin!) hymn study in your homeschool.
Have you studied hymns with your children? Do you plan to this year?
Mary is the mother of two – one elementary aged child and one middle grades child. She is a musician, having taught for 10 years in the public schools before deciding to stay at home with her children. She wants to help you incorporate music into your homeschool! She blogs at Homegrown Learners, where she offers unit studies, music lessons, and more.