Being a mother is such a privilege.
Since August began, at the close of each day, I get this ache in my heart. It's now worse than ever as I realize my last child is leaving for college in just two days. Such a weird sensation goes through my entire being. I'm not even being the least bit dramatic. It's such a twisted mesh of emotions.
Gratefulness and grief. 
Pride and perspective.
Excitement and agony.
It's so hard to explain…so very, very hard to sort through.
I'm ready….and yet, I'm SO not ready.
I've prepared for this. I've known it was coming. I'm grieving and yet, staying busy. I have goals and dream for the future while still grieving the past.
More than anything….I'm just humbled that God allowed such a broken vessel to have such an incredible experience and opportunity to be a mom.
Dear Tired Mom,
I remember the days when this whole mothering thing seemed like an endless journey. With four boys, there were constant mountains of laundry, piles of dishes, and undone chores. I remember thinking I didn't have the strength to home educate my boys another day….not one more day. I remember being so tired that I could fall asleep standing up. And, I remember feeling the burden of uncertainty wondering if I was doing and being "enough."
In two days, I will have an empty nest. And you know what, I don't regret even the worst days of mothering or homeschooling. For the amazing relationships, the memories, the challenges, and the trials….I am eternally grateful. I'm so thankful that I finally realized one of the keys to peace….is finally realizing that I am NOT enough, but the God that I serve and that I have shared with my children is ALWAYS enough.
Faith and Courage,
Lori
__________________________________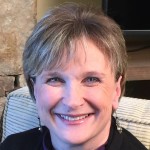 Lori Lane – Managing Editor of The End in Mind and Founder and Executive Director of Artios Academies.
Lori and John Lane have been married 32 years and live on a small ranch in the beautiful Colorado Rockies. They have four sons ranging in age from thirty down to eighteen, three beautiful daughter-in-loves, and four precious granddaughters (soon to be five). Lori is the author of Beginning With The End In Mind and The Artios Home Companion Series.  She is the founder and executive director of Artios Academies and the managing editor of The End in Mind where she and her guests blog about a variety of topics with a focus on beginning each area of our lives with the "end in mind."