As a mom you are irreplaceable to your children. No one else is able to fill the same space that you take up in your child's heart. A mother's bond is special. It was intended to be that way.
There are certain things about being a woman that even the world cannot change, and being a mom is one of those. Only you know what it was like when your child was growing inside of you. You're the only person that will remember those first odd movements in your belly, or if that child kept you up at night because when you were sleeping, he was not. You held them close when they were too tiny to stand and watched with delight as they took their first steps. You kissed their boo boos, and cut their sandwiches into little pieces so they were easier to eat. You probably worried about them more than anyone else did. You are their mother, who will do whatever necessary to keep them from harm.
I have come to realize that the friendship I had with my mother will never be replaced. Even though people have told me that many women will have to fill that void, it's just not possible. Others can be a different kind of friend that might remind me of my mom at times, but the position, though now empty, cannot be refilled.
She was the only woman who knew me from the very beginning of my life, and the only woman who prayed countless prayers over me as I formed in her womb. She watched my growth from crying to crawling, running and one day (finally) riding a bike. She was the only woman who kissed my toes and called them piggies. As I got older, she was the one standing by my side when I met my future husband. She watched with joy as we got to know each other, and later, she teared up as my dad gave me away to be a bride.
Someday I will be able to hold that special position in someone else's heart. The legacy of my mom's love will live on. She used to say that she never truly felt like she had found her calling, until she became a mom.
Being a mom can feel monotonous at times. Sometimes you might even feel like you've lost your identity and now you're just a "mom". Dishes, laundry and grocery shopping can seem like a never ending cycle of torture. But you are not just a mom, you are the only mom. You're the only one who will hold that most special place in your children's hearts. You are the one they can turn to when they need a friend, a hug, advice, help, or prayer… It's you!
Happy early Mother's Day, mom. Remember, there will never be another like you.
You are irreplaceable.
__________________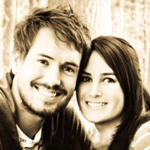 Ashley Wiggers – Encouragement
Ashley Wiggers grew up in the early days of the homeschooling movement. She was taught by her late mother, Debbie Strayer, who was an educator, speaker and the author of numerous homeschooling materials. It was through Debbie's encouragement and love that Ashley learned the value of being homeschooled. Currently, Ashley is the Editor-in-Chief of Homeschooling Today magazine, Public Relations Director for Geography Matters and the author of the Profiles from History series. Ashley makes her home in Somerset, KY, with her husband, Alex, and their faithful Golden Retriever, Mandy.