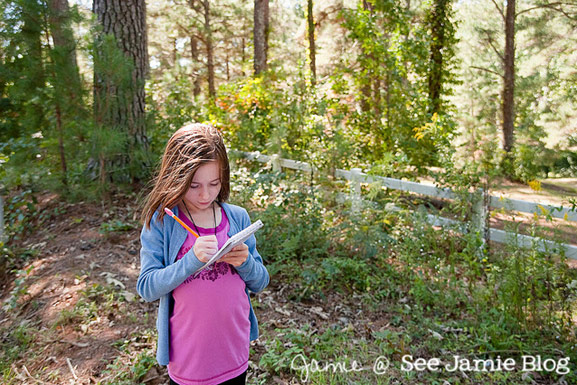 Over our Christmas break, I began a mass war-on-clutter/organize-my-life project. I'm not one to make "new year's" resolutions, but it seems like the holidays are a time of year I end up pondering what has been going well, and what changes I ought to make in the fresh new year. This year, the two words at the top of my list are simplify and de-clutter.
"Stuff" is not bad. Of course we should never value things above people, but when kept in it's place, I see nothing wrong with enjoying and appreciating the things we have. I really like my house. I enjoy the way I've decorated to make it feel both comfortable and pretty. I am absolutely tickled about my new KitchenAid mixer in a delightfully pretty retro blue color. Our schoolroom has oodles of bookshelves — and books — and that makes me smile. It's all good, and I'm very blessed.
However, I've been thinking that the more stuff I have, the more I'm tied to it. For instance, the bigger the house, the longer it takes to clean; the more clothes I have, the bigger my laundry pile gets. So I spent the last weeks of 2011 cleaning out and organizing closets, giving away bags and bags and bags of things I like but don't need from my kitchen and elsewhere around the house, and re-evaluating nearly every thing I own. As I did so, this quote kept coming to mind:
"Have nothing in your house that you do not know to be useful, or believe to be beautiful." — William Morris
If things didn't pass the test for usefulness, or if they weren't beautiful enough to bring me some joy, they are now out the door. Gone.
This applies to more than just things. In this clean-out process, I found toddler spoons in the back of the pantry, and came across photos from just a few years ago where my baby still looks like so little. Now, she's eleven, and looking much more like a young lady. Where did the time go? How is my baby that old already? Time is short, and I'm not willing to waste any more of it!
Even more important than de-cluttering and simplifying the things in my home, I'm wanting to do the same with my life and with our homeschool. Lately, I haven't left time for the truly fun, live-this-life, memory-making things. Nature study, for instance. The nature studies we did in our first few years of homeschooling are some of our happiest memories, and they were days I knew my daughter learned much in a way that made a permanent impression on her. She made a personal connection with things in the world God created, and we shared those memories together. Some of the art projects we did together rank pretty high up there on our happy-memory list, too. And we spent much more time reading aloud together. We still do these things now, but not as often as we used to. I want that to change. I believe these sorts of opportunities to be both useful and beautiful, but other things have "cluttered up" our homeschool days. I don't like that.
So this year, this month, this week, and this day, I'll be working on de-cluttering my life of the things that distract me or draw my attention away from where it should be. I'll let you know how it goes…
(And by the way, happy new year!)
-originally published January, 2011
Jamie is a wife, homemaker, home educating mama, adoption advocate, and professional photographer. Her blended family includes three kids: one by birth, one by marriage, and one adopted as a teen. She tries never to venture too far from a steaming hot cup of tea. Visit with her at See Jamie Blog!