If you've ever had an accelerated reader in your home, then you know it is a challenge to keep up with what they read and to keep them in books. They read everything and anything they can get their hands on and as a parent you are constantly on the search for a good read for your child.
In my experience, there are three things that present the most difficult hurdle when you have a student who reads voraciously.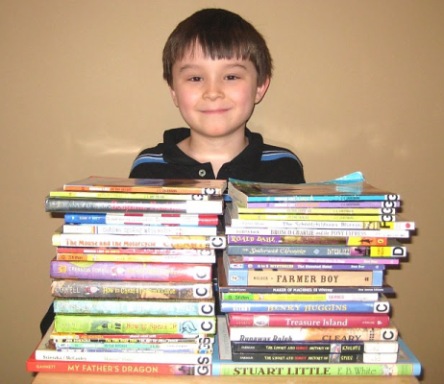 First is finding books that are emotionally appropriate for their reading level. Just because a student can read what kids in high school are reading when he is 6, doesn't mean he should. Worse than reading books that are no longer challenging, is reading books that are inappropriate for kids of a younger age.
The second is pre-reading fast enough to find out if a book is off the mark for your child or not. At our house, my husband is the pre-reader. Unencumbered with the daily tasks of homeschooling and being a fast reader makes him a prime candidate for this job. If I see a book or series of books that I think might be appropriate, I bring it home and set him to work. In one evening he'll be able to tell whether or not our son should try the book. He's read a lot of good books over the years and it gives my son the incentive to read it. Once his dad has read it, then he knows that he can share what's going on in that good book with him. We've seen some wonderful conversations over the years that have begun because of a book they've shared together.
If you don't have a good system in place for pre-reading, then there are other ways to be more certain about a book choice. One is to ask around. Ask family, friends, and online homeschooling forum buddies about a book. Chances are someone has some experience with it and can tell you about the book.
Another way is to get your hands on some books about books. My favorites include The Read Aloud Handbook by Jim Trelease , Honey for a Child's Heart and Honey for a Teen's Heart by Gladys Hunt. These authors have specialized in sharing good books with their audience. The Read Aloud Handbook is all about reading good books to your children even as they get older, which is another topic all to itself, but in it there is a bibliography of good books.
As my oldest son enters the adolescent world and has been at this reading thing quite a long time, my focus has turned to books for older kids. Gladys Hunt has come to my rescue with a book written about good books for teens and how to use them to communicate with your teen. Reading is a good way to connect with your children and it will continue to be true as they enter their teens. I'm hopeful that since we have a well established culture in our home of discussing books, it will continue to be an outlet for our kids as they get older. Another good source is The Kid's Book Club Book by Judy Gelman and Vicki Levy Krupp. This book not only has a good reading list, but it shares how to organize and carry out a book club for various age groups of kids.
The last thing that I find to be a challenge with an accelerated reader is that as they grow, they get more discerning. This is actually true of any reader that has been exposed to good books whether or not they are ahead of the reading game. I have observed over the years as my son has read a lot of good books, he has little tolerance for books which are not. As Gladys Hunt says in Honey for a Teen's Heart, "Excellence has a way of eliminating inferior products." In practical terms, this means that finding a good book gets a little harder especially since they read so quickly! That's all the more reason to find a good source of information on books.
Finally, I'd like to point out that typically we think of early readers as being "accelerated" readers. They head out of the starting gate at a full run and keep a steady pace. Keeping them in good supply of appropriately challenging books is a key to nurturing the early start. In addition, you can have accelerated readers that begin reading more on a typical schedule for emerging readers. Once they catch on, they begin to read everything in sight. Just because they didn't start super early doesn't mean they haven't caught up to the fast pace of reading books and don't have the capability to read more difficult books.
At our house, nurturing our good readers means having a print rich environment and making sure that trips to the library are a priority. We have so many books home from the library at our house sometimes we wonder if there are enough still on the shelves for others! I'm sure this is a familiar scene in the homes of most homeschoolers. Keeping track of which books come home and encouraging the good stuff is the task at hand. I encourage you to find the resources you need to help your kids make good decisions about books. If you should happen to make a poor judgment, all is not lost. Sometimes those less than discerning moments give us opportunities to have good discussions with our kids.
Enjoy the journey with your accelerated reader. Chances are they will take you to places you've not been before through their adventures with books and it gives you as the parent a special role as adventure guide.
Heather Woodie is a homeschooling mom of four kids ages 10, 8, 6, 3 and wife to a handsome chemical engineer for 13 years. Before raising a family, she taught middle school science and has a masters degree in curriculum and instruction secondary education. Now teaching at home means the chance to provide the extraordinary for her children. Between family and homeschooling time, she is working as volunteer staff for MOPS International as an Area Coordinator for NY State. She's been homeschooling four years and you can read about those adventures on her blog, Blog She Wrote.