I've had several people (real life and this here life!) ask about our lapbooks.  What are they?  What do they look like?  Where do I come up with ideas?  Do the kids like them or are they just a Mama-thing?  How much do you they cost?  How do you fold them?  Are they just for little people or do older kids do them too?  What do you need to get started?  And these are just a few.  So I thought I would answer some of those questions.  And start showing off my kids' work a little along the way.
What are they?
A method of homeschooling.  Or supplementing any other learning (public, private, or just free time fun stuff).  The are basically scrapbooks that kids make.  You can print off little "components" (see, I'm even gonna give you some lingo, so you feel "in the know"!), have the kids fill in the information, and glue them in file folders.  Yeah, just those plain boring manila kind that you can buy a whole bunch for very little money at your local get-it-all store.  Typically you refold the folders to where they open up like shutters in the front, but that depends on the lapbook and your preference.  It's a great place to keep their work (I've suggested them to my public schooling friends who don't want to trash all that paperwork their children bring home from school).
What do they look like?
They look like little booklets that unfold and hold lots of cutesy pictures and fun folded paperwork.
Where do I come up with my ideas?  And how much do they cost?
You can buy very cool preprinted packages from some very trustworthy and amazing places.  A Journey Through Learning and In The Hands of a Child are great examples.  I'm cheap and prefer free.  That means a little more work on my part, but not much.  My favorite site of all and great place to get started is HomeschoolShare.  Wow.  Free, constantly updated, exhaustive, and organized.  Really, for homeschooling what more could you ask for?!  You can go explore their site, but if you're looking for the shortcut straight to the list of lapbooks they offer go here.  Their lapbooks are then either listed exhaustively or broken down by age.  They have lapbooks by topic (for instance lizards, the human body, and honey bees) and literature-based lapbooks (we've done Winnie the Pooh and Some Bees, The Mitten, and If You Give A Mouse A Cookie just to name a few).  I love both, but am probably partial to the literature-based just because I can cover so many subjects in one place.

How do the kids feel about them?
Mine love them.  And I have 2 boys and a girl ranging in ages from 7 down to 4 who currently participate in them.  They like picking them out or seeing what surprise one I've picked out for them.  They enjoy doing each component, and since mine are still so small I usually put them all together at the end for them, and they love that completed surprise when it's all over.  And here's the amazing part, after about a year of doing them, they've started asking to go back through them.  At bedtime it's the number one asked for item over books or toys.  When they see a show about a book or topic we've covered before they run to get that lapbook to look through it again.
Are they just for little learners or for older kids too?
As I said my kids are all under the age of 8, but they have some pretty advanced and very cool chapter book lapbooks, as well.  And I look forward to turning over the entire putting-togetherness of it when they get just a bit older.  I think you'll be surprised what all's out there for both genders and all ages once you start looking into them.
How do you fold them or the oft-heard "That's very cool, and you make great ones, but I would never be able to figure out all that folding" ?
There are such great resources out there that take you step by step in the process.  Remember, it's one little fold and one little component at a time that eventually adds up to one whole complex cool lapbook.  Don't get overwhelmed by the finished products.  At HomeschoolShare they have a whole section on blank resources if you care to do them yourself or expand on the lapbooks they have available for you.  When you click on an already prepared lapbook each component is listed seperately so that you may pick and choose the items you want to include in your lapbook.  With those items you print are instructions of how to fold them.  They also include pictures at the end of each section to show you what their completed lapbook looks like.  But it's always just a suggestion.  And I'll always take comments or emails and talk you through any place that you're stuck.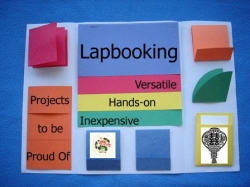 How do you know just how much to include or when you're through with one lapbook?
This is a good question.  You can play by the rules and print off the whole list and when you work through it, well, then you're done.  I'm not a good rule follower.  I go by my kids' levels of concentration.  I pick components I think they would like (or let them pick), print them off, and have them on hand.  I'm not a great planner or stick to it-er once I have a plan, so maybe I'm not a great one to ask.  Or maybe I'm the perfect one to ask.  You pick!  Either way, this is how I do it.  I print off the things I want, we jump in one morning and get started, when my kids start losing interest for the day, we quit.  Then we do some more the next day.  And we keep going as long as they show interest and aren't fighting me on it.  When they seem through, I quit, put it all together, and give it to them like a present.  If they show more interest than I have printed items for, then I go get creative.  I go to sites like Enchanted Learning (a paying site for the premium stuff – $20 a year last I checked, but very trustworthy, legitimate, and a WEALTH of resources), an awesome site full of free stuff is Jan Brett's site, I do a search for the topic we're working on, and/or there are usually related extra resource sites at the end of each lapbook on HomeschoolShare with lots of free printables to add to your finished project.  This is yours and ultimately you're in control of all of it!
How much do they learn, does it cover enough, and do you use it a your sole curriculum?
Hmm… Depends on who you ask, but since you asked me, I'll answer!  My kids have learned a ton and have retained nearly all of it.  Really.  When they see something in real like that reminds them of a once-covered lapbook they get excited and start reminding me about what they learned.  It can be your sole curriculum and cover enough if you're dedicated.  They are great as a companion to Five In A Row.  I have one friend who uses Abeka and plans to use these to kick off or wrap up each 6 week series they start.  I have another friend who wants to use these mostly during the summer and do their "regular curriculum" during the "regular school year".  It's up to you.  Homeschool Share even has a scope and sequence checklist for the things you might want to cover with your child according to grade.  Print that off, make a plan, work through it.  And you have an entire school year ahead of you, if you're that organized and so inclined.  If you are, I envy you and dream of being you some day.  For me, I'm kinda lazy.  Or kinda busy (at least that's what I tell myself, though I have a sneaking suspicion it's more the former).  So we do lapbooks according to their desires and fill in the blanks with workbooks and textbooks when I get tired of lapbooking (yes, it can happen, even for an enthusiast such as myself), or run out of one of the necessary items to lapbook.
Which brings us to another question I get..
What do you need to get in order to lapbook?
This is a running joke amongst my lapbooking friends and myself.  Just go buy stock in glue sticks, printer paper, ink, and file folders now.  I'm kidding.  Kind of!  Depending on how many lapbooks you do, how often you do them, how many children you have and how many of those children either contribute to one large combined lapbook or each have their own you may very well find yourself at one of the super mega supply stores buying in bulk.  But when you consider the price you pay for curriculum or other fun learning projects then the price is nominal.  If you're a beginner I suggest you buy a pack of file folders (I buy the manila ones because I'm cheap – we have painted and decorated them before, but mostly just leave them plain, however, they do have colored file folders if you desire); several glue sticks (I like the sticks over the liquid, because when you're doing that much gluing – your paper will tend to wrinkle – and well, that just drives me crazy); a pack of printer paper; a pencil; and some colors, markers, or paints; those brass brad things are handy, but not always necessary; a stapler; and sometimes you may want some clear contact paper for the things you want to keep "just so".  As with most things, they can be as simple or as elaborate you want.
An example of a simple literature-based lapbook my 3 year old daughter did is What Will You Wear Jesse Bear?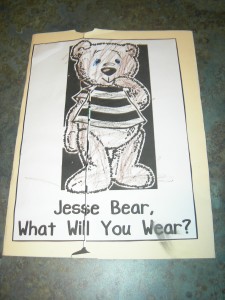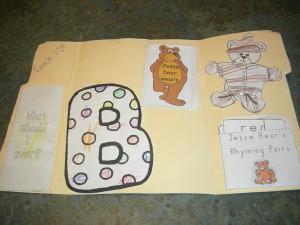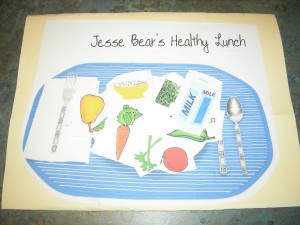 And an example of a more elaborate exhaustive topical lapbook is the Volcanoes lapbook my 5 year old son did kindergarten year.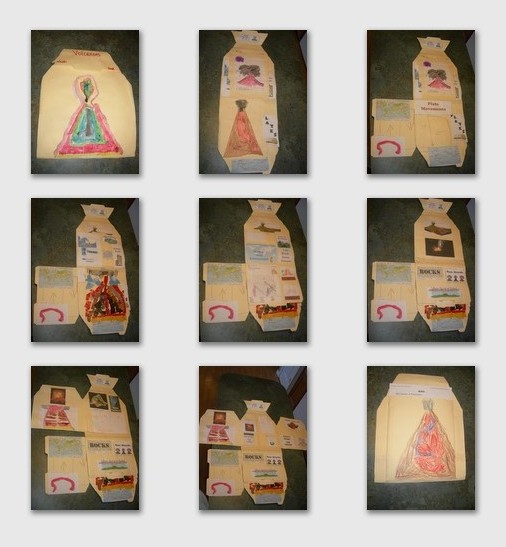 Have questions I haven't covered?  Sites I haven't mentioned?  Or want to show off your own awesome lapbooks?  Please do!  We'd love to hear from you.
Suzanne is wife to one and mama to four and a half. The little ones are 2 boys ages 7 and 6, a girl who's 4, a wild toddler boy who's 2 and new baby boy expected this October. She eclecticly unschools with lapbooks the Charlotte Mason way. In other words, she doesn't have the slightest clue what she's doing, but does it anyway. She lives in a world where there are few absolutes. The dishes don't stay cleaned, the laundry doesn't stay put away, the children don't remember what she told them yesterday. But in their chaotic lives they have found joy. And they'd love to share that with you. So, come on over, kick a path through the toys, have a seat on the couch and grab a cup of strong coffee. Just be ready to hone your skills of "interrupted conversation"! And be sure to stop by her personal blog at TheJoyfulChaos.