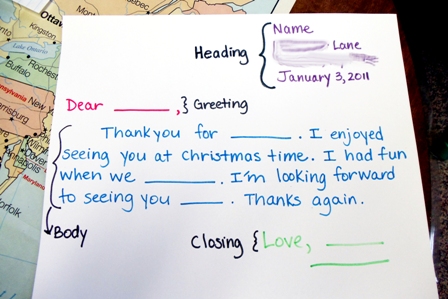 It's a new year and with it comes the determination for new focus and crisp goals. One such goal for us this year is to make sure we show gratitude to those who make us smile through gifts or kind gestures. Now that the gifts have all been opened and purchases or plans have been made for holiday gift monies, it's time to settle down and get back to business with our schooling. What better way to ease back into the school year than to have your kids write thank you notes to friends and family who so graciously gave them gifts?
I have four kids from 7th grade to Kindergarten age. Some love to write, some are emerging writers, one is reluctant, and one is a man of few words. All of them can express their appreciation for their gifts and the people who gave them.
Start by providing a variety of materials like assorted paper- line and unlined, pencils, pens, and some things to allow the kids to share their creativity with the giver. Stencils, markers, and stickers come to mind.
Thank you notes are a terrific way to introduce or practice friendly letter form. Most of us have used a friendly letter format. In the age of electronic mail and tweeting, it might be something from the past that needs to be reviewed. When I searched online, I easily found three sites that led me to detailed instructions on the friendly letter format.
Using these resources, I made a template for the younger kids to use. You can even practice list writing by making a list of the people who need to receive thank you notes. I even made a list of words the kids could use in their closing which led to a discussion of when to use the various forms of closing like sincerely versus love.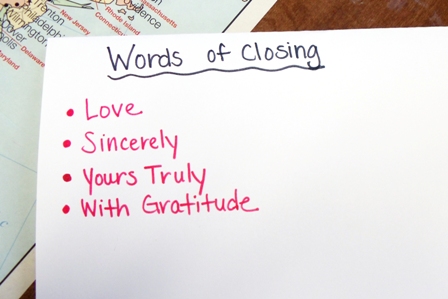 My daughter added to the lesson by sharing with us the letter writing information found in her Daring Book for Girls. It gave brief instruction on thank you notes with an example. In addition, there was a whole section on letter writing protocol which was funny to read, but still applicable to email today! In fact, I'd say it's worth passing on to others as a reminder of how to be polite in written communication.
Admittedly, I'm not always good about having my kids send thank you notes, but in an age when we are so quick to send off short, pointed email, texts, and tweets there is still room for a good old fashioned note of thanks. Not only does it provide a terrific lesson, but I was able to learn what it was they liked best about that person or the gift itself which fostered some gratitude in our kids.

Heather is a homeschooling mom of four kids ranging from middle school to preschool and wife to a handsome chemical engineer. Before raising a family, she taught middle school science (with a BS in biological sciences) and has a masters degree in curriculum and instruction secondary education. Now teaching at home means the chance to provide the extraordinary for her children. She's been homeschooling five years and you can read about those adventures on her blog, Blog She Wrote.