Regardless of their differences and unique choices, homeschoolers have one thing in common. Homeschoolers love their children and like being around them – most days, anyway. Life is not always blissful and homeschool children don't always behave perfectly. I know, because I've been there myself! We tend to forget about the bad days and feel sad when the end of the homeschool years arrives. But just like a momma bird nudging baby birds out of the nest, there comes a time to let your child go.
Letting Your Child Go
Letting your child go to college is one of the firsts you'll experience as an empty nester. You've had success finding the perfect college and now you have to let go. There will be other firsts such as the first summer they don't come home from college and live away from home instead, their first apartment after college graduation, and the first time they don't come home for a holiday. Each step along the way will have you grappling with emotions that range from relief to sadness. All parents experience these feelings, whether their children went to school or were homeschooled.
As I waved goodbye to my sons at college, I had no regrets. I knew they were both prepared, academically and for any attack of their worldview. I had done my best to shape and mold their character, and the rest of their life is out of my control. I found the fact that we'd homeschooled was very reassuring. It minimized my regrets once my children were ready to leave the nest. I knew my children had the best possible chance for success. Letting your child go CAN come with no regrets.
So, when homeschooling ends, how do you survive the empty nest and maintain the close relationship you've built with your teenager?
In five years, you still want a healthy, happy, close family, possibly even an extended family! Keep that five-year plan in mind, especially when conflict arises. Don't let any conflict between you and your child mess that up while they're at college and beyond. With any tense phone call or difficult conversation, continually remind yourself that your child is grown, and your job has changed. When you are letting go, your job is not to parent any longer, but to maintain a close family with your adult children.
Resist the urge to interfere with natural consequences as they learn to navigate the adult world. Learn how to step in ONLY when your child is doing something so life-threateningly stupid that you have no choice.  As they go out into the world on their own for the first time, they will make some poor choices from time to time. Sometimes this can be the best way for them to learn, by making their own mistakes, just like any adult does on a daily basis. As an adult, your child will get to make choices that other adults make all the time, and you may not always agree with their decisions. There will be times when they start to do something dangerously stupid, believe me. If it's something illegal or immoral, that's when you'll know you need to step in to help.
Your greatest encouragement can come from God's Word. One of my favorite Scriptures is "Start children off on the way they should go, and even when they are old they will not turn from it." Proverbs 22:6. You are responsible for starting your child on the way they should go. God promises a reward for all our hard work when our child is old. But in between starting them off and when they are old can be a big pause. When your child goes off to college or out into the world, you are smack dab in the middle of the verse – in the empty space. You're sitting in the comma, the pause between training up your child and the reward. That pause is your child's responsibility. You need to remember to let go of your responsibility and look forward to the "when they are old" part.
The pause part is difficult. Like most people, I'm impatient, and I wish God's promise was immediate. I wish we could rest assured that our children would never stray from the path once they have known the Lord. But that's not the real world and we all know that adults can make bad choices. Just remember that your child is now an adult. Adults are free to make their own less than perfect choices, just like we did when we were young adults.
Keep things in perspective and you can look forward to a great relationship with your adult child and generations to come!
__________________________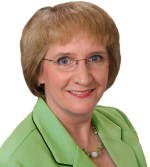 Lee Binz – High School and College Preparation
Lee Binz, The HomeScholar is a dynamic homeschool speaker and author. She is an expert on how to craft a winning homeschool transcript. Lee's mission is to encourage and equip parents to homeschool through high school. Check out her Freebies, including her free mini-course, "How to Avoid the 5 Biggest Mistakes Parents Make Homeschooling High School." You can find her on Facebook at  Facebook.com/TheHomeScholar and Pinterest at Pinterest.com/HomeScholar.