I have always wanted to travel with my kids. To let them experience other cultures and actually see how other kids grow up around the world would just be so amazing and impactful for them. But alas, that is just a dream we cannot afford, at least not right now anyway. Little Passports, however, is one small way that I can offer a bit of that to them within a budget I can work with.
We had the wonderful opportunity to recently receive the introductory package from Little Passports which included an adorable suitcase, a large and colorful world map, a postcard and letter from Sophia and Sam (the little explorers who are taking a magical adventure around the globe on a transporting scooter) explaining what Little Passports is all about, a passport to document our travels, stickers, and a fun worksheet (called a boarding pass) filled with letter puzzles and activities to learn more about Sam and Sophia's adventure. There is also a great website that works in conjunction with the physical activity packet to learn even more about the destinations that Sam and Sophia are heading to.
My five-year-old absolutely adored receiving this well-crafted package in the mail. He anxiously poured through it's contents to take in all it had to offer. Many of the boarding pass activities were well within his abilities to complete and others he had just as much fun working on with my help. Best of all, he was left with such a genuine curiosity for where Sam and Sophia would be heading next!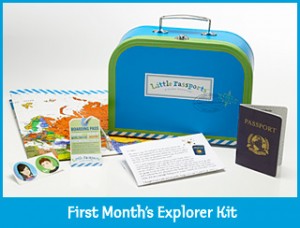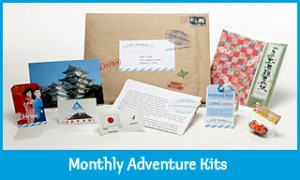 Although we only received the first month of materials, I can genuinely say that we plan to purchase a subscription for more as a part of our curriculum for next year. I am told that each country kit contains some sort of memento that would be common for a child living in that country, such as a small toy or music CD. As we study world geography I really can't think of a better fit to transport my little guy's imagination to another country. No matter how important it is for him to understand where all these countries are on the globe, even more important are the connections he makes to the lives of the people who live in those places and Little Passports does a wonderful job of making that much more real and tangible to young minds.
I was so impressed with the packet we received from Little Passports that I just don't think you can go wrong with their wonderful kits. There are many different subscription plans available and a wide variety of countries that Sam and Sophia visit. So why don't you pop on over and give Little Passports a visit to see if your kiddos just might enjoy their very own kits as much as mine have!? Who knows, you might even find yourself looking forward to the next package as much as they do!
I received this product as a member of the Heart of the Matter Review Team for the purpose of honest review. All opinions expressed are solely my own.
MacKenzie is a wife, homeschooling mom to two young boys (so far!), birth and postpartum doula, aspiring writer and avid blogger. You can find her thoughts on life and motherhood at The Mama Kenz Studio and follow her homeschooling journey at The World According to Them.