Some words of Jesus can make anyone feel downtrodden before they investigate the meaning—and children even more so. "Enter through the narrow gate" can raise heart wrenching questions in children like, "How am I ever supposed to measure up to that?" The answers lie in Christ, not in us, and this lesson helps to demonstrate how peaceful our walk with Christ can be.
LESSON MATERIALS
Lesson:
A few blocks
Masking tape
Preparation:
Line two rows of masking tape on the floor to form a path for the "straight and narrow." Make the lines about three feet apart.
SCRIPTURE
Enter by the Narrow Gate
Matthew 7:13-14 
Jesus said, "Enter by the narrow gate: for wide is the gate, and broad is the way that leads to destruction, and many are they that enter through it. For narrow is the gate, and straight is the way, that leads unto life, and few are they that find it."
DISCUSSION
Sometimes Jesus said things that, frankly, can sound pretty impossible before we investigate what they mean. "Enter through the narrow gate…for the way is broad that leads to destruction…narrow is the way that leads to life…few are those that find it." 
Pick your oldest or most mature child and ask her/him to take a stab at the meaning of that scripture.
You will probably get something like enter heaven through Christ because there is no other way.
What about this part, "few are those who find it?" Meaning the way to heaven? What does that mean for us? That sounds hard, doesn't it? How hard is it going to be to live like a Christian for the rest of our lives? To stay on the straight and narrow path? 
You may get some answers like it will be pretty hard… It's very hard to be among the few …but kids will begin to appear nervous, so this is your chance to optimize the truth.
We're going to play the game of Enter Through the Narrow Gate and see if maybe we can do it.Maybe we'll be surprised. 
Line some small building blocks up on the floor. Spread them out about two feet apart, make a path to the door of the Sunday School room, which should be closed.
Let's see who can step only on the blocks without falling off. You can't let your feet touch the floor. This is like the expression that comes from the scripture we just read, "Staying on the Straight and Narrow."
Allow kids to take turns. Even the best ones, if they don't fall off, they will skid and may even say it's impossible. Talk while they are trying…
This path is like the straight and narrow path of life. It is very hard to stay on, isn't it? What the straight and narrow path of life actually means is to stay good—to never lie, never cheat, never steal, never gossip, never hurt somebody knowingly, never back-talk your parents, never love anything more than God. Never fall and do something wrong. It's not easy, is it?
Who else wants to try?
 Let them try. As this is a tough lesson, allow that they may feel frustrated or temporarily thwarted.
Jesus said in John 14:1, "Let your heart not be troubled. Do not be afraid." In 16:33 he says, "For in this world you will have tribulation. Be of good cheer! I have overcome the world." What does Jesus mean by all that?
 They should eventually say that Jesus will help you behave better.
It is true that Jesus is here to help our behavior. But he is here with much, much better news than that even. If we trust and rely on Jesus, He does magical things that we can't totally understand in this life.
 Take the hand of the youngest child in the room.
Are you ready to walk the straight and narrow with me and enter the Kingdom of Heaven?
 She should say yes.
You have to pretend for a moment that I am Jesus… 
Get her to agree. Then pick the child up. Walk straight to the door slowly with the child in your arms.
If it's a bigger kid, piggy back him. Put her down so you can read:
Jesus said in John 14:6, "I am the way, the truth and the light. No one gets to the father except through me." Jesus is the door to eternal life. Of course, the way is too hard. It's too hard for everyone except for Him. That's why He came to earth, so he could become a savior for us in a way that is impossible. And it doesn't really matter, does it, how difficult the path is —if He is carrying you.
Open the door to the classroom. Step through it with the child.
[child's name], welcome to the Kingdom of Heaven. You are a good and faithful servant for trusting in me.
To all…
To walk the straight and narrow, we have to allow Jesus to 'carry' us. That's the only way. We have to trust him every day to do the things we don't know how to do and to be our Savior in our lives. But it sure makes things easier, doesn't it?
______________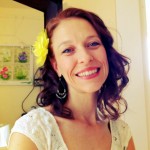 Mary Kate Warner – Homeschool Crafts
Mary-Kate is a regular blogger at Christianity Cove –http://www.christianitycove.com/. You can often find her writing about Christian Motherhood, Homeschool Teaching, Bible Study and Sunday School Activities, Faith and inspiring children to love God.