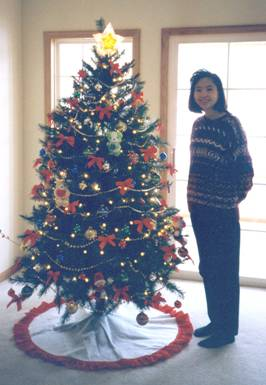 I'll never forget my first Christmas tree, not as a child, but as an expectant mom at the age of 26. Christmas trees did not grace our home when I was growing up. It simply wasn't something we did. My brother and I received Christmas gifts and hung stockings on our wall shelves, since we had no fireplace, but we did not join our friends in the tradition of putting up a tree.
When I got married at 23, our first home was a one-bedroom loft apartment, and again my husband and I did not put up a tree. We purchased a condominium four years later with plenty of space for the two of us and, a few months later, found out we were expecting our first child. That's when I decided I desired a Christmas tree for our home.
We purchased an artificial tree, ornaments, and bows at a discount from Kmart, where my husband worked at the time. Having rarely decorated for Christmas in the past, I didn't really know what to do. So I followed the instructions of my artificial tree kit, placing the branches on each level by colored tape until I reached the top. I painstakingly tied thread on each bulb ornament to hang them on the tree, only later realizing hooks were made for this very purpose.
When I finished stringing lights, tying bows, and hanging beads around the tree, I stood back to inspect my first Christmas tree. Being three months along at the time (notice the bump),
I wanted to offer my children the memories of Christmas gathered around the tree.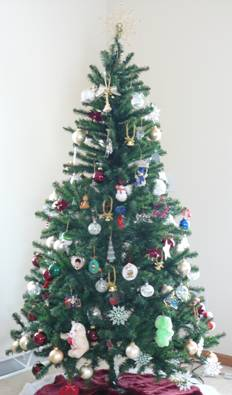 Our first Christmas with our six-month-old son had him lying on the floor and gazing up at the lights. Each Christmas brought delight as we enjoyed the tree together. Through his toddler years, we kept the tree in our sun room so he couldn't toss the ornaments like balls. Soon we had two boys lying beneath the branches and, every year, we snapped photos of them smiling by the tree.
We've replaced our first tree a couple times and currently have a pre-lit tree that assembles in three sections. Our two boys help me carry the boxes from the basement and hang the ornaments while listening to Christmas carols. It's a tradition I hope they'll pass on to their children one day.
When I look back to my first Christmas tree, I see more than a holiday decoration. I see the start of a new tradition for our family.
Lisa (aka Morning Rose) has been teaching her two elementary-aged sons for four years and incorporating study, work, service, and play into their homeschooling days. She enjoys reading, writing, and photography and blogs publicly at Pockets of Time and privately at Scooter and B.
-originally published December 9th, 2008