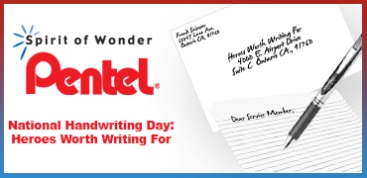 January 23rd is National Handwriting Day.
Established in 1977 to promote the use of pens and paper, National Handwriting Day is not really an official national holiday, although it's definitely a fun idea.   Apparently official national days require an Act of Congress or at the very least a Presidential Proclamation.    So while National Handwriting Day might not be official, this day is held every year on January 23rd, which just happens to be the birth date of John Hancock, the first signer of the Declaration of Independence.
This year to encourage great penmanship, the Pentel Company has launched a contest the "National Handwriting Day:  Heroes Worth Writing For" contest.    Both kids and adults write handwritten letters thanking troops overseas for their sacrifice and to let them know how appreciated they are.   Winners will be chosen based on sincerity and originality, so letters should be submitted directly to the Pentel Company by January 31, 2011.   When the contest ends, Pentel will partner with the organization Operation Gratitude in order to deliver all of the handwritten letters to American troops overseas.  More information on contest requirements, rules and submission information can be found at Pentel National Handwriting day.
So get out that paper and pick up your pens!   Give your kids a reason to write.    National Handwriting Day is January 23, 2011 and some great American troops overseas would love to hear from you.
I received pens complimentary from the Pentel Company in exchange for a review, but the opinion is all mine.    Nice handwriting and good letter writing skills really are important!
Pamela Swearingen has been happily homeschooling in the beautiful Pacific Northwest for several years now. Pamela's kids are transitioning into middle

school now and the lessons in their homeschool (and in life) are getting very exciting! Books, unit studies, notebooks, and nature journals are all part of their homeschooling week. She truly feels that God has blessed her family with the opportunity to homeschool and her goal is to inspire other families to homeschool greatness by pointing them in the direction of some really great books, resources and field trip ideas. Her homeschool reviews and suggestions can be found at http://www.mustardseedhomeschool.blogspot.com/ and all of her non-homeschooling reviews are located at http://www.mustardseedbookreviews.blogspot.com/.