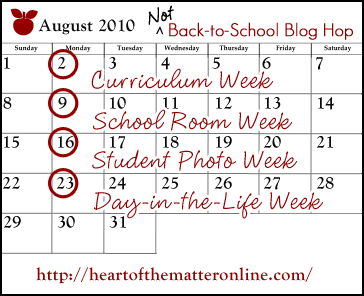 School room, school house, converted space or at the dining room table… the world of academics takes place in all sorts of interesting places. Please show us where you do school, and check out how others make it work.
Last week's blog hop was immensely successful, with 320 submissions and we hope that you have been enjoying discovering some new friends and learning about new curriculum.
Just a few very important notes about the blog hop:
To add your link, click the small blue button that says "Add your link" at the very bottom of the post. Please do not leave your link in the comment section of this post.
Do not create an empty "placeholder" post to save your link high up in the blog hop list. If there is no substance or school room information in your post, it will be removed.
You must link to your blog post permalink, not your plain blog URL. If you do not link to your POST, your link will be removed and you'll have to come back and re-add it. Unfortunately last week we had to remove approximately 70 links. Keep in mind that readers will still be visiting this blog hop months from now and if they click your link and end up on your blog homepage, they won't be able to find your School Room post. To find your post's permalink: After you publish your post, go back to your blog and click on the post's title. Copy everything in the top browser bar. Please see my post on how to find your permalink for more details. For example:


…

…
Come back often to visit new additions all week this week, and next Monday is Student Photo week, so you'll get to show off your cuties! Grab a button so your bloggy friends can share their posts, too.




Darcy is the mom to three boys ages 8, 7, and 5 and blogs over at Life with My 3 Boybarians. She is the owner of a blog design business at www.graphicallydesigning.com. She and Handy Man live in Iowa…nowhere near a Starbucks.