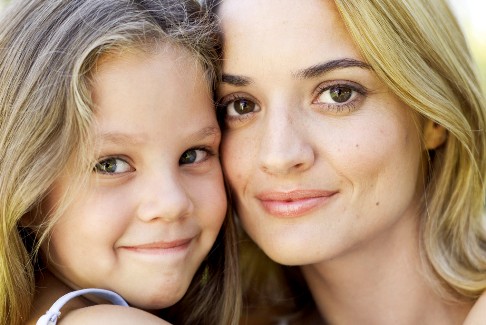 No one knows the power of a simple word, a hug or the question, "How is it going?"  If there were signs flashing and lights blinking that said "Pay attention! This moment is critical," we would stop and give it our best effort. But more often than not, it just isn't that obvious. Knowing what to say and do often depends on a much quieter signal. The Holy Spirit prompts you to act and you do so trusting that God is directing you, or more specifically, giving you an opportunity. You can pass up the chance to give or do something that you may not understand, but there are often profound blessings when you choose to respond.
I was the graduation speaker several years ago at our state convention and feeling a little nervous. It is a huge event and crowds packed the hallway waiting to get in to the hall for the ceremony. As my daughter and I wove our way through the crowd, I felt a hand grab my arm. "You probably don't remember me, but I heard you speak when we had just begun homeschooling my kindergarten-aged son. I felt it was what we should do, but I was on the verge of giving up because I felt so inadequate. The night that I heard you speak, you said that when God calls you to do something, it is His faithfulness that accomplishes it and not your own abilities, that I could rest knowing that He had the path laid out for us and He would be faithful to keep me on it. That was thirteen years ago, and I have thought of your words so many times," she said. "Today we are here for his graduation from homeschooling." Now she was speaking with tears in her eyes, and I was listening with the same. "Thank you so much for coming to share with our little support group so long ago. I have thought of your words many times over the years. God has truly been faithful."
It's probably not good for a speaker not to be able to see where she is going because of tears of gratefulness, but that's how it was that day. This sweet mom had calmed my nerves and centered my thoughts back on the truth. It really isn't about what I do, it'sabout saying yes to God. It is usually not convenient or immediately rewarding to step out in faith, but that doesn't diminish the value of obeying His promptings.
Today, or in the coming days, you will have a chance to encourage someone. It probably won't be a big deal at the time, but someday you will have the chance to hear the impact of your heart and words. Even if it is only a smile, take the time to share what God gives you to share, because no one knows how powerfully He will use your offering…except the Lord.
So shall My word be that goes forth from My mouth;
It shall not return to Me void,
But it shall accomplish what I please,
And it shall prosper in the thing for which I sent it.
Isaiah 55:11
New King James Version (NKJV)

Debbie Strayer is a veteran educator, speaker, author and home educator. She enjoys spending time with her husband of thirty-two years and her grown children. Dr. Ruth Beechick, too, has spent many years teaching and writing on education. She specializes in curriculum and in how children learn. She is mother of two and grandmother of four and loves working together with Debbie because they think alike on education matters. For more books and articles, see debbiestrayer.com.