When I was in high school, I watched, studied, and breathlessly absorbed the movie Dead Poet's Society.  I loved that movie! Loved it!  The story, the angst, the passion, the literature, the beauty of the whole thing was captivating. It had me standing on my basement coffee table weeping and shouting, "Captain, My Captain!" right along with the rest of the boys.
In that moment, I knew that I would teach JUST. LIKE. THAT.
This desire to be a passionate teacher who could pull barbaric yawps out of insecure students was fueled by my being taught by a brilliant American history professor in university. On the first day of classes, he told us that he worked for us. We were his employer.  If he didn't teach us well, we had the freedom to quit his class and he would lose his job. He promised that he would show us history, not just teach it. And he did. From demonstrating cotton-picking to singing slave work songs, Professor Craig Simpson showed us history.
I just knew that I would teach JUST. LIKE. THAT.
And how many movies of terrified English teachers going into gansta territory only to have them all become poets and professionals can one take before one bursts with a desire to have that kind of influence? (And can we all agree right now that To Sir, With Love was the best of that genre of movie? But I digress.)
The trick was that, somewhere in all of the wonder, I also decided that I would homeschool my children. How marvellous to show history through unit studies, to teach literature in caves with flashlights, to have my children rise up and not only called me blessed as their mother, but to also to stand on their desks and affirm me as the teacher of the year: O Captain, My Captain!
This could happen, right?
I planned to do unit studies filled with food and music and culture and experience. I planned to teach math with hand-made manipulatives and baking and dry-erase markers on the windows.  I planned to teach language with books and movies and trips to foreign lands!
And then I had my kids.
And I was busy.
And tired.
And they all had different learning styles that did not fit with my plans.
And then Pinterest was invented. If Pinterest is accurate, and y'all are doing school like *that*, then I am truly the worst homeschooler ever.
This has been a crisis year for me in our homeschool. I am committed to doing it. We are in it for the long haul.
I simply have no idea what I'm doing.
In the back of my head, I hear a still, small voice saying, "This is the way for your family; walk in it."  But in the front of my head, much louder and more convincing, is a voice saying, "Look at these books at the conferences: why aren't you using them?" or "Look at your friend's homeschool. She is so successful and her kids are brilliant: why are you doing it that way?" and "When are you going to introduce your kids to Walt Whitman anyway?"
Failure, or perceived failure, is my constant companion these days. I am constantly second-guessing what my husband and I agree that the Lord has directed us to do. Why are the competing voices so loud?
I am not the teacher I meant to be. I am not the teacher you are. I am not the teacher the curriculum peddlers try to convince me I could be. I am not the teacher Pinterest tells me I should be.
But may I (may we all!) be kept in perfect peace as I keep my eyes steadfastly fixed on the Lord, and as I remain true to being the kind of teacher He has called and equipped me to be.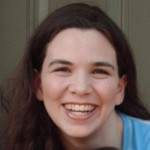 Barbara Postma – Encouragement
Barbara Postma is the wife to Chris, the mom to seven (ages 15 to 5), a worship leader, and a women's ministry leader in her church, and a freelance writer and editor (including writer and editor for HSLDA Canada). Barbara has written a book of scripture-inspired prayers for moms (available on Amazon Hear My Prayers), and is completing a book on her experience with Post-partum Depression. Between lunches and lessons, Barbara blogs at Fuel by Barbara (www.barbarapostma.com )