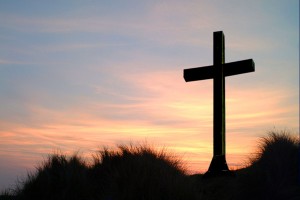 Since Lent has just begun, I thought I would share what our family does to observe it. I love following the liturgical church calendar and find the traditions associated with the different seasons give my children a sense of predictableness and security. They are also very helpful in training my children in the tenets of our faith and help to integrate our beliefs into our family life.
For those who may not be familiar with the liturgical year, lent is the 40 weekdays before Easter (Sundays are not included in the counting of the 40 days). It is a time of preparation for Easter with the amount of 40 days coming from the period of Jesus' temptation in the wilderness. Some traditions include fasting and abstaining from certain foods as part of the Lenten observation.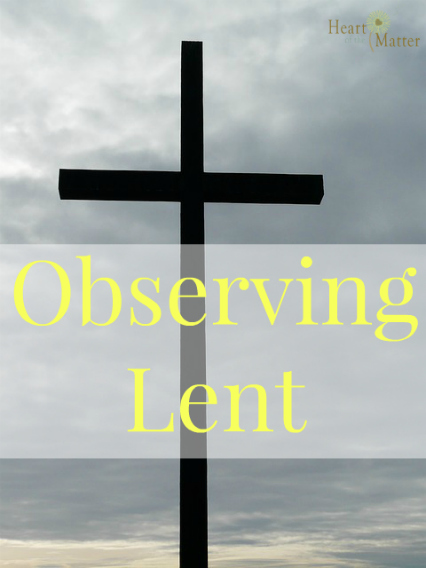 For our Lenten observation, we spend the 40+ days working our way through the scope of the Bible. I first found the idea in the book No Ordinary Home: The Uncommon Art of Christ-Centered Homemaking by Carol Jo Brazo. (This book is sadly out of print, so if you ever come across a copy of it, grab it!) In the book, Ms. Brazo shared how she created a Lenten tree on which she hung ornaments which corresponded to the Bible reading for each day. These readings started in Genesis and went through the Bible, ending with the events of Holy week which are read on the appropriate days.
In reading of her hours spent searching for the appropriate ornament for each day, I decided I would create them out of Sculpey instead. That first year was a little crazy as I just barely kept ahead of each day, and I will be the first to admit that some of my clay creations are only barely representative of what I thought I was making (laughing at my rendition of the burning bush has become a tradition when we get to that part of Exodus). If you balk at the idea of having your clay sculptures laughed at, you could also draw pictures and hang those.
Ah, but what to hang all of this on? I've used different things over the years. For several years I would cut forsythia branches off the bush in my front yard so that the branches would bloom as we added ornaments. But the truth is, the branches bloom and then fade before Easter arrives, so I would have to untie all the ornaments, replace the branches, and then retie the ornaments at least once in the six week period. It grew a bit tiring. My solution recently has been to use pussy willow branches. I bought mine at a local florist and it turns out if you never put them in water, they stay nice and attractive. (Assuming that one's children don't feel compelled to slowly pick the buds off the branches, that is.) It certainly solves the rotting branches issue and they look nice and spring-like.
This is something my children look forward to every year and I find it a great way to introduce the whole scope of salvation that is shown in the Bible, and I believe it adds greater depth to our celebration of Easter. Since the book where I found the original list of suggested readings is not widely available, I'm sharing it with you here as well as what I made for an ornament.
Day 1: Faith – Matthew 17:20 – Set-up branches
Day 2: Creation – Gen. 1 – Globe
Day 3: The fall – Gen. 3 – Apple
Day 4: Noah – Gen. 6-9 (In some of the longer passages, we will often read excerpts if the audience is having difficulty sitting still) – Ark
Day 5: Tower of Babel – Gen. 11:1-8 – Ziggurat (sort of)
Day 6: Abraham and Sarah – Gen. 12 – Tree (Oak at Shechem)
Day 7: Abraham and Isaac – Gen. 22 – Ram
Day 8: Jacob and Esau – Gen. 27 – Twins
Day 9: Jacob's ladder – Gen. 28 – Ladder
Day 10: Joseph – Gen. 37 – Coat of many colors
Day 11: Joseph reunited with his brothers – Gen. 43:9 – Gen. 45:15 – Silver cup
Day 12: Moses – Ex. 3 – Burning bush
Day 13: Passover – Ex. 12 – Door frame with blood
Day 14: Ten Commandments – Ex. 20 – Tablets
Day 15: Joshua and Jericho – Joshua 5:13 – 6:27 – Trumpet
Day 16: Israel desires a king – 1 Sam. 8 – Crown
Day 17: Samuel anoints David – 1 Sam. 16 – Ram's horn
Day 18: David and Goliath – 1 Sam. 17 – Slingshot
Day 19: David as Musician – Psalm 8 – Harp
Day 20: Solomon – 1 Kings 7 – 9 – Temple
Day 21: Jonah – Jonah – Whale
Day 22: Enslavement – 2 Kings 25 – Chain
Day 23: Shadrach, Meshach, and Abednego – Daniel 3 – Fiery furnace
Day 24: Daniel and the lions – Daniel 6 – Lion
Day 25: Rebuilding the wall – Neh. 2 – wall
Day 26: 400 years of silence – no reading, period between testaments – scroll with lock
Day 27: Annunciation – Luke 1 – Angel
Day 28: Birth of Jesus – Luke 2 – Manger
Day 29: Boyhood in Egypt – Matt. 2/Luke 2 – Pyramid
Day 30: Baptism – Luke 3 – Dove
Day 31: Temptation – Luke 4 – Snake
Day 32: First miracle – John 2 – Wine barrel
Day 33: Sermon on the Mount – Matt. 5-7 – Candle
Day 34: Do not worry – Matt. 6:26-34 – Lily
Day 35: Feeding the 5000 – Matt. 14:13-21 – Basket with loaves and fish
Day 36: Walking on water – Matt. 14:22-36 – Waves
Day 37: Rich young ruler – Matt. 19:13-30 – Needle
Day 38: Woman at the well – John 4 – Well
Day 39: Raising of Lazarus – John 11 – figure wrapped in cloth
Day 40: Palm Sunday – Matt. 21 – Palm branch
Day 41: Cleansing the Temple – Mark 11 – Whip
Day 42: Jesus anointed – John 12 – Perfume jar
Day 43: Judas plots – Matt. 26 – Money bag
Day 44: Last supper – Luke 22 – Loaf and cup
Day 45: Crucifixion – Luke 23 – Cross
Day 46: Mystery Saturday – 1 Peter 3: 18-22 – No ornament
Day 47: Easter – Mark 16 – Empty Tomb
Elizabeth Curry is on year 15 of homeschooling. Nine are still at home and her oldest is off to college. Devoted bookworms all, it's not surprising that much of the learning that happens centers around whatever chapter book is being read. When she isn't taking care of children or reading, she enjoys sewing, cooking, and writing. Her life of following Jesus with many children in the Big, Ugly House is chronicled at www.ordinary-time.blogspot.com .