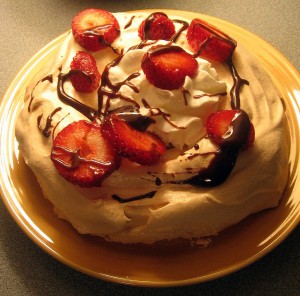 We've been trying to eat more fruit. Well, let me rephrase that. I have been trying to eat more fruit. My husband and children have no problem with fruit — they could eat it all day long. I will eat vegetables all day long (love them), but fruit is something I have to really be in the mood for.
I am not a huge fan of fruity desserts. You'll never see me choosing a slice of cherry pie or apple pandowdy off of a dessert cart….I'm much more likely to select cheesecake (plain) or a "death by chocolate (SOMEthing)."
There's one fruity dessert that I do love, though, and I could make again and again: Pavlovas. About pavlovas: What's not to love?
1. They're light.
2. They're virtually fat-free.
3. They're sweet.
4. They're versatile.
5. They serve elegantly.
6. They're named after a famous ballerina.

And when spring rolls in and brings warm, sunny weather in with it, pavlovas become a regular part of our dessert repertoire around here. They're light, not too filling, and are decked with all of the colors of spring!
Our favorite? When I top our pavlovas with strawberries, whipped cream, and chocolate syrup. (The strawberries from Florida are quite delish — an early promise of the bounty of summer ahead.) I also love to serve them topped with fresh apricots and bananas. In summer, it's not uncommon to find a whole smattering of strawberries, blueberries, peaches, and kiwi adorning their tops.
The recipe I love to use, from a past issue of Cooking Light magazine, adds brown sugar for a slightly caramelized flavor: Brown Sugar Pavlovas with Fruit. The kids love adorning their own pavlovas with fruity designs! You can alternately make a large, single pavlova, which, when cut into pizza-like slices, always awes the crowd.
If you're in a dessert rut, or just want something a little less filling to serve after a heavy meal, try a pavlova!
Meg Wilson is a devoted wife to her husband, Ken, of 10 years, and mom and homeschooling teacher to her 5-year-old son and 3-year-old daughter. When she's not writing or creating something, Meg loves to cook for, host and entertain friends and family. She also enjoys reading, the outdoors, eclectic music, yoga, and studying history. You can read all about her adventures (and misadventures) at her blog, Muses of Megret and read her product reviews at Electric City Academy.