In the middle of all the build-up, the planning and preparing, travel plans, meals and gifts, I've been thinking some about the perpetuity of Christmas. We know and preach and breathe that it is about the baby, his birth an event of heavenly proportions for all men. And yet it was also one of the most common human experiences; the expansion of one young family experiencing their most radical life change with the birth of their first child.
I recall back to when my oldest was born, surprisingly early himself. There was an overwhelming sense of, "What now? What next?" While I had a very real sense that he was born for an equally real purpose, it certainly pales to the purpose of the Christ child and yet it washed over me with oceanic force, "Please, God, show me how to do this for him." The next morning he was still next to me, still a baby, needy and dependent. Plans were put into action. We assigned meaning to him and gave him the largest space in our lives.
What of that young family in the stable? That healing mother (now mended of her poor reputation), that ordinary tradesman father (now protecting the One who would long to gather even he under his wings), and that baby (now bridging the gap between heaven and earth). They continued the next day with the baby in hand, gazing at his face, creating a relationship of nurture and hope. But we are the people who leave the stable so soon, put away the reminders, clean up the mess.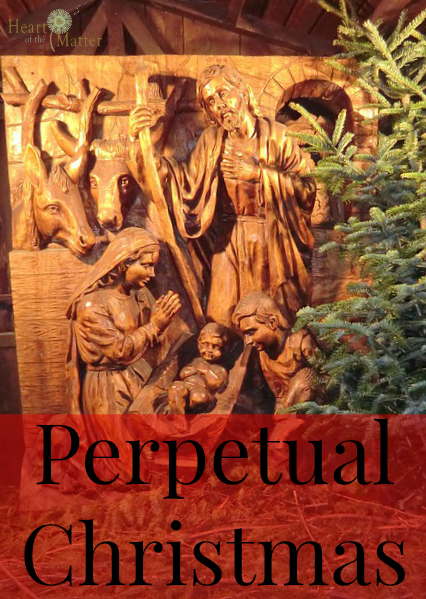 There is such build up to the Christmas birth celebration. A month ahead of time all hearts move toward it. And we make it as big as our families and our consciences will allow until the birthdate feels like an actual labor and delivery of our own absolved by the happy face of our own child. And the next day there is rest and the breathing in and breathing out of the daily mudane, already. After all the waiting we find ourselves saying, "It was nice," rather than, "What next? What do I do with this baby now? Is he really mine to keep? Please, God, show me how to do this."
We move on to the new year ahead and think, "What would I change about last year? What do I want to hope for in the next?" And it's as if we've already forgotten that small baby, that very real and now present baby who came to fulfill the hopes and make those changes on our behalf.
The Incarnation is the Word who became flesh and dwelt among us. He now breathes the air of his creation, rests in the hay he grew, gazes at the mother he developed, accepts the gift of gold he has built his city from. He is here and we are new just as he is. We can't forget the baby.
Christmas doesn't end a season of waiting. It begins a season of life. As much as a baby needs food and warmth and comfort so do we find that in this baby. As much as a baby cries and attempts to communicate with us we strain to understand and respond to this baby. The story doesn't end on Christmas. It steps into our world and dwells among us. We would do well to ask, "Please, God, show me how to do this. What do I do with the Baby, now?"
Debra Anderson has three sons ages 13 and younger. Her passions are education, spiritual formation, marriage, writing, and missional living — not in that order. She has her seminary Masters degree in Christian Education, is married to her pastor-husband of 18 years, and resides in Denver, CO. In spite of moves between four different states, she has always home educated her boys — even on the hard days. She maintains a blog at www.emergent-homeschool.blogspot.com.