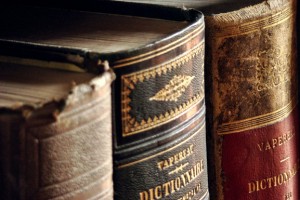 Two roads diverged in a wood, and I,
I took the one less traveled by.
And that made all the difference.
-Robert Frost
Poetry, like music, can express ideas and emotions that are difficult to express any other way. How many of us homeschoolers look at the end of that Robert Frost poem and not identify with its sentiment? With just a few words it neatly sums up at least my feelings about this journey we call homeschooling. And while we didn't need homeschooling to enjoy poems together as a family, homeschooling has certainly facilitated that enjoyment.
But only the sillies believe their talk;
It's ever so 'portant how you walk.
And it's ever so jolly to call out, "Bears,
Just watch me walking in all of the squares!"
-A. A. Milne
Very young children naturally love to hear poetry. The rhythm, rhyming, and sound catch their attention and help develop their brains for future language use. I recited A. A. Milne's poetry from When We Were Very Young and Now We Are Six to my firstborn so often that by the time she was two she could recite the entire "Lines and Squares" poem. (I was a first-time mother; I had no idea this was unusual. I spent a good chunk of time vaguely worrying about my second born until I realized how unusual it was. I did recite it to her far more than any of the subsequent children; she almost couldn't help herself.) Early childhood is the perfect time to begin exposing your children to poetry. If enough is shared, they will think of it as another part of life and not something that is boring or to be feared.
I was the giant great and still
That sits upon the pillow-hill,
And sees before him, dale and plain,
The pleasant land of counterpane.
-Robert Louis Stevenson
As my children have grown older, I have used poetry to spark imaginative play. I encourage them to play on their beds and their comforters with small figures as in "The Land of Counterpane" or build the cities described in "Block Cities" (both from Robert Louis Stevenson's, A Child's Garden of Verses). Also, poetry, like fairy tales, can allow a child to begin to process the scarier parts of life, but in a safe environment and in such a way that it is manageable. "The Highwayman" by Alfred Noyes, "The Skippery Boo" by Earl L. Newton, and "The Cremation of Sam McGee" by Robert W. Service would all fall into this category.
And on the pedestal these words appear:
"My name is Ozymandias, King of Kings:
Look on my works, ye mighty, and despair!"
-Percy Bysshe Shelley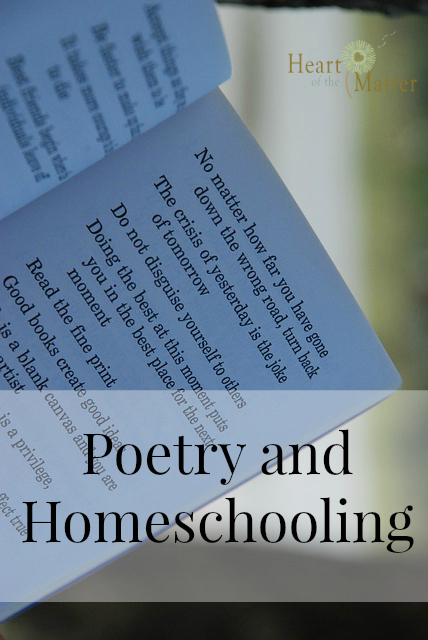 Adding poetry to a homeschool curriculum is a natural fit. Just about any topic will have some type of poetry which can accompany it. History is fairly easy, since one can read the poets which wrote in any given period. Or you can read poetry about the time period itself, such as "Ozymandias" (above), which we read and my children memorized when we were studying ancient Egypt.
Finding poetry to match what we are studying is one of the joys of homeschooling for me. How else would I have every come across the Bush Poets of Australia? (I highly recommend Banjo Paterson… we all loved "Mulga Bill's Bicycle".) It means that whenever my children here the word 'Antarctica' that they all recite (loudly) "Antarctica! Antarctica! You'd better wear your parctica!" (From Antarctic Antics: A Book of Penguin Poems by Judy Sierra). We learned about and discussed immigration from memorizing the poem inscribed on the base of the Statue of Liberty and rode along with Paul Revere (and William Dawes) in their midnight rides.
What was up with
the snowy woods poem
you read today?
Why doesn't the person just
keep going if he's got
so many miles to go
before he sleeps?
-Sharon Creech
And sometimes it is good just to spend some time learning about poetry itself. Two of my favorite books for studying poetry are Love That Dog by Sharon Creech and Wellspring: Poetry Selections and Activities by Kathy and Donna Keene (sadly, out-of-print, but you can still find them used). Love That Dog is written as a boy's response to the poetry he is reading in his classroom which combine to create a story. There is a list of the poems mentioned in the back and I have found my children are much more interested in reading these grown-up poems after their brief exposure to them in the book. Wellspring is more of a guide with interesting poems and ideas for teaching them. It makes me realize that I need to dig this out again and introduce it to my large herd of fourth graders.
I was born in a
fine old edition of Schiller
While I started life
in a private eye thriller
We're book lice We're book lice
who dwell who dwell
in these dusty bookshelves. in these dusty bookshelves.
-Paul Fleischman and Eric Beddows
Of course, I am of the opinion that everything is more fun when shared with a friend, poetry included. For many years, we would gather once a twice a year with several other families and have what we would call a "Pie and Poetry" evening. Each family would bring a pie and each person would bring a poem. Memorized. We would share our poems with each other and then share our pies. We would have a little three year old saying the "Tiddley-pom" part from Winnie-the-Pooh's "Song for Snowy Weather" while his mother recited the rest all the way up to high schoolers sharing a poem by Emily Dickinson to a father sharing a poem he had written himself. My husband and I loved to memorize poems from Joyful Noise: Poems for Two Voices which are like poetry duets. "Book Lice" (quoted up above) is one of our favorites.
Poetry is meant to be shared. Read poems out loud to your children and encourage them to read poems out loud to you. You will be instilling a love of language in your children which will deepen their understanding of themselves and of their wider world.
Elizabeth Curry is on year 15 of homeschooling. Nine are still at home and her oldest is off to college. Devoted bookworms all, it's not surprising that much of the learning that happens centers around whatever chapter book is being read. When she isn't taking care of children or reading, she enjoys sewing, cooking, and writing. Her life of following Jesus with many children in the Big, Ugly House is chronicled at www.ordinary-time.blogspot.com .