Although one of the main benefits of homeschooling is the ability to give our preschoolers free time to explore their surroundings, there are times when we need our children to sit quietly so we can teach another child, visit sick relatives, chat with elderly neighbors, or hang out in a waiting room.
For the past 2 years, I've had the pleasure of keeping my preschooler quietly occupied for 3 hours every Monday while we sit in his older siblings' co-op class.  Many parents are amazed when I tell them that the quiet little guy in front of them is actually my loudest and most rambunctious child.
Here are my tried and true strategies for keeping preschoolers busy, yet quiet:
1. Know that many 3 and 4-year-olds are capable of sitting quietly for an extended period of time. While it is not an ideal use of time, there are times when it is necessary and most children can do it.
2. Start at home. For most preschoolers, sitting quietly is a skill that requires practice.  Try having your child sit next to you while you prepare dinner or read to another child.  Start with 3-5 minutes, and build from there.
3. Set the expectation. Let your preschooler know exactly what to expect before entering a situation where quiet behavior is necessary.  Sometimes it helps to set a physical boundary by instructing your child to sit on a chair or blanket, or stay in a specific area.
4. Pay attention to your child. Know that you won't be able to immerse yourself in conversation or browse through a magazine.  Interact with your child, and pay attention to your child's body language.  If your child starts fidgeting despite his or her best efforts to be still, then it's a good sign that you need to take a trip to look out of the window, get a drink from the water fountain or go on a potty break.
5. Pack quiet activities that will hold your child's attention. In addition to small toys, snacks, water, and an extra dose of patience, I usually pack 3-4 activities for my preschooler to use on the mornings we spend at co-op.  Here are some of our favorites: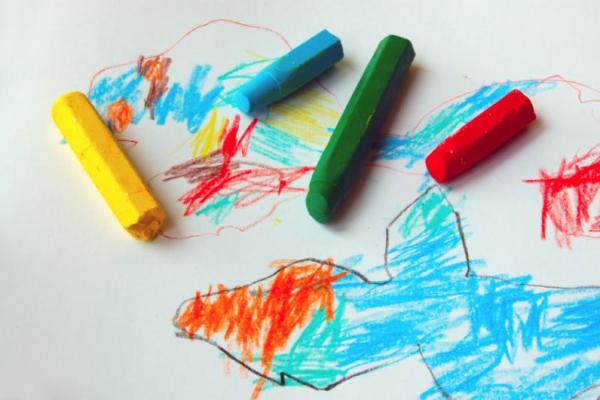 Interactive Books
Give your child books that encourage interaction, such as sticker books or books that ask them to locate hidden objects.  Some children are really drawn to quiet books that encourage them to lace, snap, button or buckle objects on the page.  Here are some instructions for making your own Quiet Book.
Play-Doh
A tube of Play-Doh, plastic utensils and a couple of toy plates can keep my preschooler busy for hours.   When using Play-Doh, I usually have my son sit on a towel in low-traffic area, so we don't make a mess.  When he's finished playing, I grab the ends of the towel, fold all of the crumbs into the center, place the towel in my bag, and we're ready to go.
Puzzles and Games
If you will have table space available, bring along simple games like Go Fish or Bingo.  My son loves puzzles, so I place puzzle pieces in zip lock bags so they're easy to carry.   A slightly challenging, yet doable, 100-piece puzzle can keep him occupied for up to an hour.
Special crafts
Find crafts your child can complete with no more than a glue stick and safety scissors.  Some of our favorite crafts are preschool lap books such as Kumon workbooks and Alex craft kits.
When choosing crafts to use away from home, keep it simple.  My son loves simply playing with a dry erase board, dry erase markers and an eraser.
When my father-in-law was dying of cancer 2 years ago, I spent many hours sitting in the hospital with my then 7, 4 and 1-year olds, treasuring the last earthly moments with a man we all loved dearly.  Instead of being in the way, my children were a blessing to those around them.  Teaching preschoolers the skill of sitting quietly is not easy, but it is well-worth the effort.
Carletta Sanders is a loving wife and homeschool mom of four. Her mission is to share information, ideas and inspiration with homeschoolers at each stage of their journey. To learn more, please visit her website, Successful Homeschooling or her blog.