In this fifth and final installment of the Heroes of Olympus series, author Rick Riordan pulls together a myriad of storylines, characters, and ancient myths that keep his audience glued to their books until the final sentence. I wouldn't normally write a review for the last book in a series, but Riordan's work has made such an impact on pre-teen and teenage audiences that I wanted to share my experience with his books, and especially his latest novel. I will try to avoid spoilers, and I will flag any spoilers I do share in order to adequately review the work.
For those of you who are new to Riordan's books, here is a quick summary:
Rick Riordan is most famous for his Percy Jackson and the Olympians series, which follows Percy Jackson, a modern day demigod son of Poseidon as he navigates middle school and saves the world from the Titan Kronos. Riordan's debut series for children is engaging, hilarious, and a fantastic entry into Greek mythology. Riordan is clear to point out on his website that he is in no way wanting to undermine Christian theology, and a character in his first novel points out that there is a huge different between the "gods" (petty, supernatural beings who are no better than humans) and God. The books are not religious in nature, but serve as a gateway for young readers to experience Greek mythology in a fresh, exciting, and humorous way.
Rick's follow up series, The Heroes of Olympus, picks up where the first series left off and ushers in new challenges for the characters. The first three books in this series are wonderful, and continue in the wit, charm, and clean humor from the first series. The fourth book, The House of Hades, was released last year and contained elements which I did not feel were not appropriate for younger readers. I wrote a review of that book which can be found at the end of this post.
After last year, I was nervous going into this fifth installment of the series. Nevertheless, I ordered my book and finished reading it the day it arrived. One thing I will say: the man knows how to keep people hooked until the last page.
My feelings were mixed after I finished the story, but I will begin with what I liked:
The writing style: Riordan has a distinct writing voice, which I discovered was an extension of his speaking voice. I had the opportunity to see him in person at an event in Atlanta, and he was as engaging and exciting as the characters in his stories. His talk kept the attention of both parents and students alike. His books do the same thing. The writing style is welcoming, fun, and hysterical.
Audience Diversity: Another thing I love about Riordan's work is its ability to hold the attention of many different types of readers. One reason this happens is because Riordan does a fantastic job of weaving different types of characters into his books. Kids love Percy's sarcastic commentary, Jason's sense of honor, Leo's creativity, Frank's gentle leadership, Annabeth's intelligence, Piper's gentleness, and Hazel's bravery. This series also reaches adults, and invites them into the adventure.
Learning Opportunity: After I read the first series, I was anxious to share with my students who did not enjoy reading. Any time a parent asked me for book suggestions to get their student reading, I would suggest the Percy Jackson series. No, they are not classical works of literature, and yes, I also recommend classics, but the series was dear to my heart, and has helped several students I know cultivate a love of reading.
Discussion: The series opens up avenues for parent/student discussion about mythology, the Bible, and why our God, the one True God, is nothing like the petty, humanoid beings portrayed in mythology. These stories showcase that those false "gods" have no real authority. They are subject to fate, and require the help of humans. Sometimes when I teach mythology, I take a step back and compare the Greek stories with those in the Bible and it is amazing to watch students clearly articulate why the myths are wrong, and how boldly they speak about the Truth of God's Word. We talk about how the Greek stories are simply that, stories; while the Bible is the living, active, True Word of God.
What I did not like:
Any good author will tell you that you must put your characters into situations where their true natures will be revealed. The last two books of the Heroes of Olympus series, The House of Hades and The Blood of Olympus are full of these types of situations for the characters. Each character is tested, and some reveal hidden strength while others let their darker nature out. One character is praised for her ability to let her feelings guide her. She has to find her own way by listening to her heart. Anyone else think of Jeremiah 17:9 "The heart is deceitful above all things, and desperately wicked: who can know it?" While not all characters follow this example, and Riordan does say that balance between intellectual thinking and emotional feeling needs to exist, the fact that this one girl relied so heavily on her emotions did not sit well with me, especially considering the target audience of pre-teen and teenaged readers.
Also, the heavy emphasis on romantic love bothered me. Don't get me wrong, I think stories with a bit of romance are awesome, but the level of emotional attachment between the couples felt like the books were delivering unrealistic expectations for readers. Characters kiss, hold hands, and cuddle. Nothing beyond, but again the level of emotional attachment was not appropriate for younger readers. Keep in mind, these books are sold in the pre-teen section of bookstores.
Lastly, in my review of The House of Hades, I spent a good deal of time discussing Riordan's decision to expose one of his characters as homosexual. Please go read my review at the link below to get the full picture. This character is a main focus in the final novel, and while his homosexuality is not a primary focus, his alienation from others is discussed at length. While Riordan does not have this character end in a relationship, there is some flirting between him and another boy, which helps to heal his alienation. I wish Riordan hadn't fallen back on the whole "relationships solve everything" troupe. I am not attacking the author's choice to write about a character struggling with homosexuality, but the way the author dealt with the character cheapened his decision.
Overall: I really enjoyed the first series of Percy Jackson and the Olympians, and I even liked the first three books in the Heroes of Olympus series, but these last two books have left me wary of recommending Riordan's work to Christian families. If you're looking for a fun series to engage students and help them learn Greek mythology, the first series, Percy Jackson and the Olympians, is a great way to do that but I would strongly caution parents against moving forward into the Heroes of Olympus series, especially with younger readers.
Here is the link to my review of The House of Hades
http://alyshamitchell.wordpress.com/2013/10/18/the-house-of-hades-rick-riordans-heroes-of-olympus-book-4/
_______________________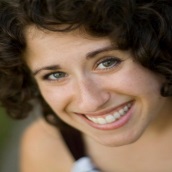 Alysha V. Mitchell 
Alysha is a wife, teacher, and creative writer. She holds a Bachelor of Arts degree from Covenant College and a Master of Fine Arts degree in Fiction from Southern New Hampshire University. Her love of Story fuels her desire to learn more about her Savior through the medium of the written word. It is her hope to ignite the same passion in others. She believes literature is an incredible medium in which one may explore the underlying current of man's rebellion and the Creator's fierce love for his wayward children.  Alysha writes atFaith and Fantasy.