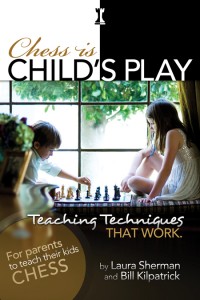 What an awesome book!
Chess Is Child's Play by Laura Sherman and Bill Kilpatrick explains how to teach chess to children using a detailed step progression, even if the parents have never played chess before. I give Chess is Child's Play a five star rating.
Chess is Child's Play gives several examples where chess was taught to the students and then their scores increased and their IQ improved. Parents and teachers alike also reported better manners, social skills, and confidence in children who were taught to play chess properly.  I think all children can use help in those areas, so those benefits are reason enough to use this book in order to teach any child to play chess!  Chess sets are also easy to get ahold of and chess can be taught anywhere: in the house on a rainy day, in the yard on the picnic table, or at a community center.
I know when I vaguely learned chess as a child, it helped me have something in common with adults and be able to relate to them better.
Chess Is Child's Play gives step-by-step instructions for teaching children to play chess, starting with drills for a child as young as two years old!  The drills are comprehension appropriate, geared towards understanding of the game and building confidence in themselves.
Chess is Child's Play starts by teaching each piece separately allowing the child to get a grasp on how each piece is used before moving on to the next piece. Within each step are potential problems and solutions so that the concept is taught more easily by the parent, even if they never played chess before. There are also "coffee talk" tips, which are hints from other parents' experiences, that will help the children remember the names of the pieces and how they move.
I really like the fact that Chess is Child's Play is designed for parents/instructors who do not know how to play and that chess is taught one concept at a time so that anyone can learn with ease.
You can learn more about Chess is Child's Play on Facebook.
You can learn more about author Laura Sherman at Chess is Child's Play.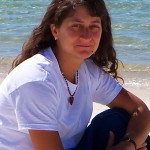 About Kd Blackburn – I am wife to Nick, for the past seventeen years, mother to six rowdy boys and one teenage girl. I enjoy homeschooling them all and the exciting chaos that goes with it all. We love taking trips to explore new places and learning about the history that goes along with the area. I enjoy writing and try to blog (though not consistently lately) over at kdforthecongo.blogspot.com amidst this busy life. I love to start my day off with a work-out at the gym to get me moving. I love to read and am excited that my children have picked up this love for books also. We have enjoyed raising chickens and turkeys as well as gardening. I also enjoy scrapbooking in my spare (hahaha) time. Before marrying I completed my AA in elementary education and worked in our local school system for a number of years.
Kd received a copy of Chess is Child's Play complimentary in order to complete this review but the opinions in this review are all hers.