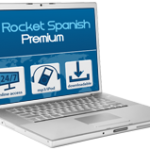 We have been studying foreign languages in our homeschool for years, using quite a wide range of products from software to workbooks to audio read alouds. My kids have experienced vocabulary lessons and other cultures in several diverse languages. Even so, I recently found a foreign language product that was new to us called Rocket Languages.
Rocket Languages is a creative online language learning system that teaches students in a very interactive way. Upon logging-in to Rocket Languages, students are first directed to their very own Rocket Languages Dashboard. An amazing array of choices covering vocabulary, cultural lessons, and games are all accessed via the student's Dashboard. An easy-to-understand set of pie charts display a student's progress through the lessons and proficiency upon taking the tests.
Rocket Languages does not rely on workbooks and flashy videos. Lessons are taught via an audio file and all student progress, notes, and vocabulary words are stored online in a student's password-protected account.
Each lesson consists of an audio file that is easy to start and repeat as needed. First your student listens to the lessons, followed by personal practice. By clicking on the red button, students can record their own attempt at the new vocabulary phrase and then see how their own pronunciation measures up to the instructions' pronunciation of the phrase. It's very interactive, allows for immediate feedback and, honestly, is really quite fun!
My family tried out the Spanish version of Rocket Languages and really enjoyed the lessons. Initially, my kids were intimidated by the Dashboard homepage. It is filled with a lot of information to understand at first. Shortly after beginning lessons, the kids began to see their progress and they understood how the Dashboard really works, though. And of course, the kids really loved the Games section of the Dashboard where they found language practice lessons that were fun and educational.
I found several helpful tools on the Dashboard to help my children with their language lessons. I really appreciated the "Recent Activity" section of the Dashboard which allowed me to see exactly what my child had been studying AND know exactly how long they had spent on each particular lesson. I also really enjoyed the "My Motivation" section that is filled with very helpful hints for improving the overall language learning process. The ability to add notes and create a custom vocabulary lists for further studies while within each lesson are both extremely helpful features, too.
However, I did have one specific concern with the Dashboard. From the Dashboard, a student can directly access an active forum where other Rocket Language users and teachers can post language questions and conversations. As a parent, internet safety is always a priority to me, so I did look on the website for information on how to monitor activity within the open forum, but did not find anyway to close down that option or monitor the forum on behalf of my child. I contacted the company regarding parental controls and, even though they do not have that capability installed on the website at this time, they were very interested in my parental controls idea and forwarded the suggestion to their IT people. I was also assured that the forums are constantly monitored.
Rocket Languages is available in 11 languages: Spanish, Portuguese, Korean, Japanese, Italian, Hindi, German, French, Chinese, Arabic, and American Sign Language. Currently Rocket Languages does offer an at-home 20-pack CD option, however it is much cheaper to purchase and use Rocket Languages entirely online (Level One is $99.95 online.).  We accessed Rocket Languages online and did not have any problems at all.
Foreign Languages can be so important to learn, but with so many options out there it can be difficult to choose the right approach. If you are looking for an interactive, all-inclusive language and cultural product, Rocket Languages can be a great fit. Homeschoolers might find Rocket Languages to be a particularily good fit because the lessons are self-paced, cover a wide variety of topics and provide immediate feedback on lessons.
Follow Rocket Languages on Facebook at https://www.facebook.com/#!/OfficialRocketLanguages
Find out more about Rocket Languages and check out a FREE trial offer!
Free trial courses are available for all of the Rocket Languages:
Pamela has been homeschooling her kids since 2005. She has visited 41 states and 16 countries and now calls the beautiful Pacific Northwest home. A bookworm who is homeschooling all teens this year, you can find Pamela blogging about books and life at I Read. Do You?

FTC Disclosure: Pamela received a  online subscription complimentary and links to Rocket Languages for the purpose of this review but the opinion in this review is all hers.