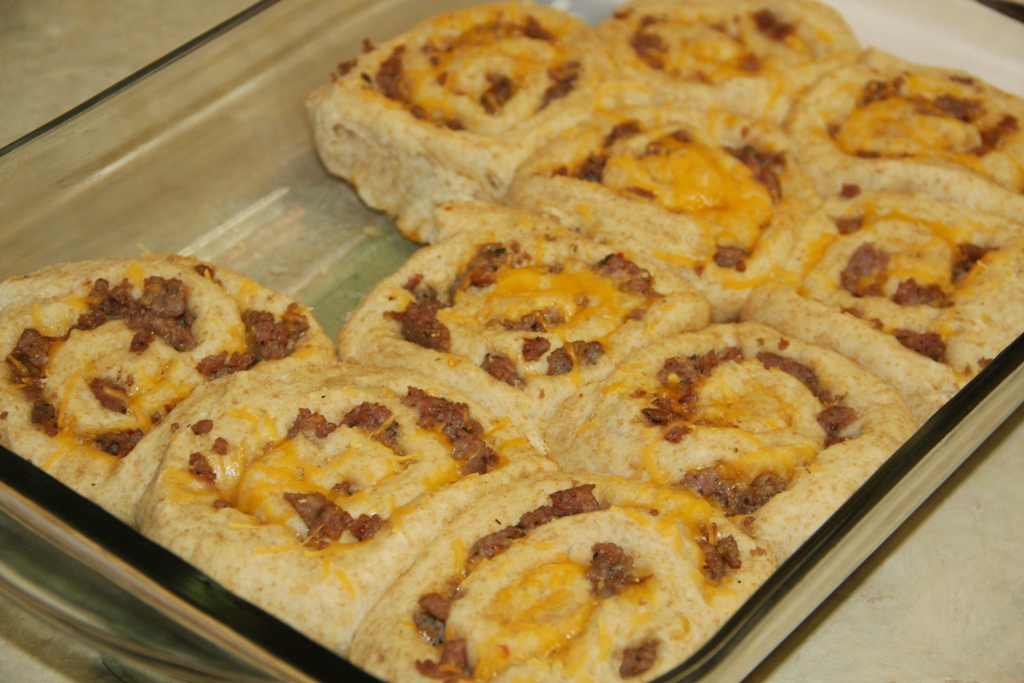 We all know the importance of breakfast for giving us the energy we need to get our day started. Besides the nutrients in breakfast giving you pep, smelling something delicious from the kitchen is a great incentive for sleepy children to get out of bed and start another day of homeschool lessons.
Instead of the usual sugar surge of boxed cereals, give your family a protein-rich breakfast — sausage pinwheels. Unlike its sweet cousin cinnamon rolls, sausage pinwheels are bursting with cheese and sausage.
One of my favorite things about this recipe is that you can make the pinwheels the day before and refrigerate the unbaked bread. Then in the morning, you've got a no-fuss, made from scratch, delicious breakfast to pop in the oven.
RECIPE
Dough
2 1/2 cups white flour
1 cup whole wheat flour
2 teaspoons yeast
1 tablespoon salt
1 tablespoon sugar
3 tablespoons melted butter (or oil)
1 cup milk, warmed to 120° F–130° F
1 egg
Filling
12 oz. pork sausage, fully cooked and drained
1 1/2 cups shredded cheddar cheese
Mix 1 cup white flour and 1 cup whole wheat flour with the yeast, salt, and sugar in a large mixing bowl. Add in the warmed milk, egg, and melted butter. Add in the remaining flour and stir until a barely sticky dough forms. (Add more or less flour to achieve this consistency.)
Knead the dough on a lightly floured countertop for two minutes and set aside in a greased bowl to rise until double (about 1 hour).
Punch down the risen dough and form into a rectangle on the lightly floured countertop. The thickness should be about 1/2 inch and for ease in rolling, put one of the long sides at the bottom (closest to your stomach when you are standing at the counter). Sprinkle the cooked sausage and the cheese over the dough. Roll the dough from the bottom edge. Cut the rolled dough into 3/4 -1 inch slices and place in a greased 11×13 pan.
To cook the same day:
Allow the pinwheels to rise again for about an hour. Bake at 350° F for 15 minutes.
To cook the next day:
Cover the dough with plastic wrap and put the pinwheels immediately into the refrigerator. Some rising will occur over night. The next day, take the pinwheels out of the refrigerator and let them stand at room temperature for about 30 minutes. Bake at 350° F for 15 minutes.

Jimmie is a former public school teacher turned homeschooling stay-at-home-mom. A sense of humor, faith, and creativity keep her "pressing on" in her unique situation — living and traveling abroad with an only child in a bilingual environment. Visit her blog at Jimmie's Collage.