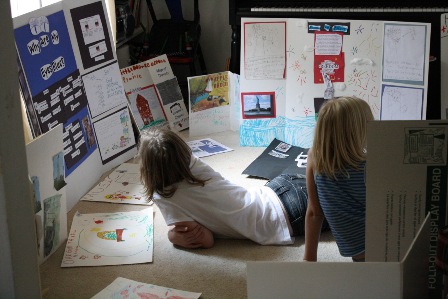 It was afternoon quiet time on a Tuesday. My daughter pulled… them… all… out. She set them up for display. All of them. The room full of projects started to draw a crowd. The science fair projects and history display boards from the last several years. "Wow," we all said. The enormity made quite a picture. I was impressed by the learning.
Each of my older three children particularly love making display boards. Plus, our homeschool group hosts an annual Homeschool Expo, so we get to share our work. Children may display their science and/or history projects. Plus families each fill a table full of learning from the year. This past year we had an official science fair, complete with judging and ribbons.
Simple Science: We usually pick a science project topic on something we are really interested in at the time. We let that current science project become the science fair entry! Your science curriculum likely offers experiments. A display board could help you fit in and enjoy that science experiment you've been meaning to get to.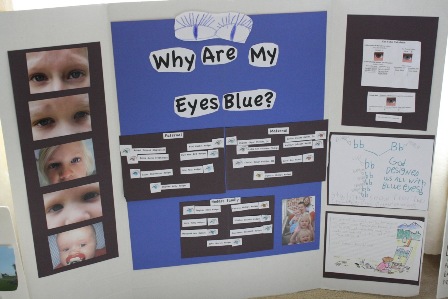 Other times we might aim to answer a recent question from one of the children.
How about a family science project rather than individual? Our topic one year set out to answer a question posed by a child at bedtime: Why are my eyes blue? All five of our children have blue eyes. My husband's are blue but mine are brown. Brown is dominant. So, we traced eye color to grandparents and had a grand time! These children beat the brown-eyed odds.
In the spring we were also focused on starting our garden and got into planning a Great Backyard Redo. My daughter figured, why not make a science project of a project? Just track the plans.
History: In addition, each of the older children design a display board for the current Tapestry of Grace unit we are studying. I let them pick their favorite topic from the unit.
Last year when we studied the 1800s…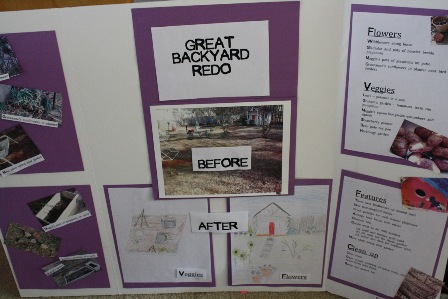 Eldest boy loved Lewis and Clark. Middle girl loved the Statue of Liberty.
What about parental involvement. Isn't the parent doing all the work? The children put together the display boards themselves. I may help print out a photo. And I like to have them each draw a sketch of their plan, complete with boxes describing what their board will look like. So, no the parent helps but the child researches, designs and puts the display together.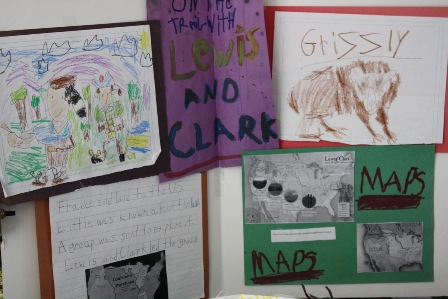 We find display boards at the local supercenter store fairly inexpensively. If your child is intimidated by the large science fair project sized boards, choose a small bi-fold board instead. (Five-year-old made a small board, pictured above, of all that she currently enjoys. She showed Grandma during our Unit Celebration at Thanksgiving). We've even used quarter-sized poster board for book reports.
On hand materials: We often print out photos on regular printer paper. Then a child frames the photo with colored construction paper. Then we use tape or glue. If you'd rather not use up your color printer cartridge, ask your child to illustrate a portion of the board. We've even incorporated an art lesson by using a complimentary Draw, Write Now assignment. Also, we sometimes recycle a board. I just take a photo of it first.
But my homeschool group doesn't offer an expo for displaying boards, you say? Celebrate anyway! Invite family, neighbors, friends. Let your child be the host. Serve refreshments. Hey, that's social skills and etiquette! It's a snapshot of the learning in your homeschool. Plenty of reason for a party.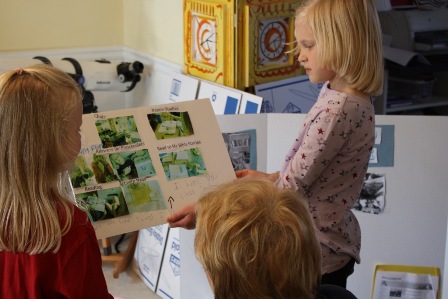 Display Board Benefits:
typing
writing
research skills
review of topics learned
design, planning, composition
great for all student types but especially those that are visual learners and those that enjoy hands on projects
a handwriting/copy work assignment can easily be incorporated. Display your best work!
perfect practice for your budding photographer
How do we fit in time to work on display boards? Usually the children work on a board over several weeks. Spending time in the afternoon. Or we may take a Friday just to focus on our boards.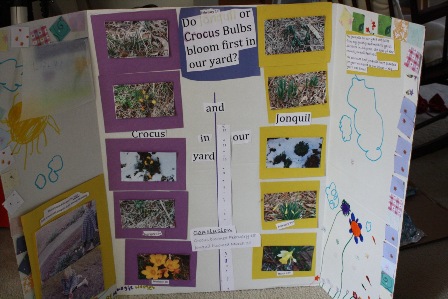 This morning, I finally helped my daughter fold all the projects up and put away the boards. We store them informally – all stacked on top of the school room bookshelves.
It's such fun to pull them all down and take this sort of trip down learning lane. I'm glad we did.

Tricia Hodges faces a daily dose of chaos homeschooling five children – preschoolers to middle schoolers. Before her real job as a wife and mother, she was an editor. Now she uses her editing marks on schoolwork and proofreads food labels for allergens. The biggest lesson she's learned? At the end of the day – when the dishes are put away and the children are tucked in bed – truly what matters is each child's relationship with the Lord. Raising children is a God-given privilege and, folks, the time is short. Tricia writes about practical homeschooling strategies, mixing up a classical and Charlotte Mason style. From her southern roots, she shares frugal recipes and get-it-on-the-table strategies in hopes of keeping all those tummies full. It's truly a mixture at her family blog, Hodgepodge. She also contributes a blend of writing at Habits for a Happy Home, Passionate Purposeful Parenting, The Curriculum Choice and $5 Dinners. Tricia is also known as Hodgepodgemom.