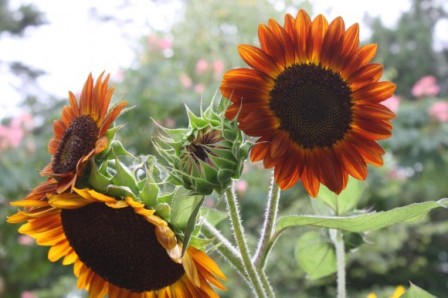 You've probably heard plenty about planting sunflowers. You may even agree they are very easy to grow. Especially easy for children. I'm here to share a snippet of our sunflower summer. It started around Easter of last year. Little did we know what was in store from that packet we picked up at the grocery store. Each of our children chose something to plant. The learning opportunities simply showed up as a result.
Gardening: Youngest girl was drawn to the sunflowers. We helped her prepare a spot right under the bird feeder, right outside the family room window, right in the direct sunshine. She spread the soil with her chubby hands. She dug the holes with her determined fingers. And she watered (which is, of course, the most fun part).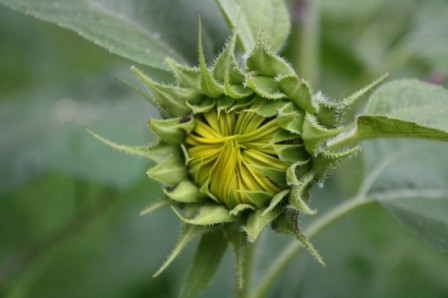 And they grew.
And grew.
And grew.
We watched the flowers grow right on through May as we finished up our school year. The rains came. We counted on one hand the number of times we watered. The garden flourished.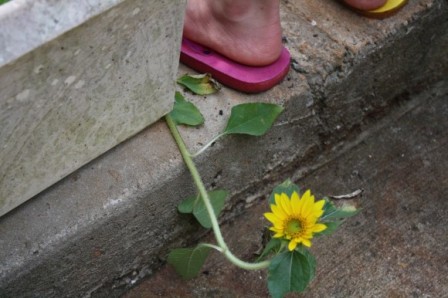 By late May the sunflowers were a couple of feet tall. Four o'clocks and morning glory wound 'round their feet. Early June we couldn't wait! The small one by the window bloomed first. We watched to see which one bloomed next. Did you know they would wind around and reach for the sun? We knew they'd be beautiful. But we weren't ready for the variety – the deep oranges.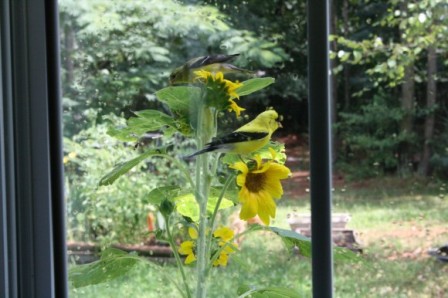 Birds: We also didn't anticipate the side benefits of birds, landing happily right in the center of the seeds. Gold finches working on the seed prize right outside our window. Do you see both a male and female gold finch on this sunflower in the photo above? They didn't see me taking the picture because the sun was reflecting off the window in the late afternoon heat.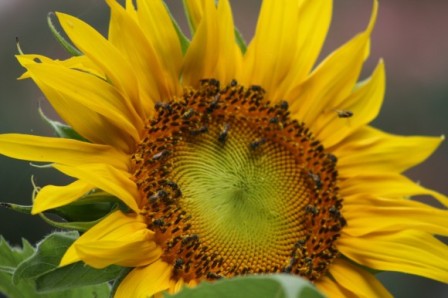 Bees: And the bees! Oh the bees. We had the chance to see them up close! They covered the blossoms. And we counted. The Great Sunflower Project focused our efforts. Never before had we watched up close the work of bees on sunflowers. At 9 a.m. we counted 23 bees in less than five minutes. They were buzzing all over. Rolling in that pollen. The bees went to the yellow sunflowers first. But the longer we stayed out, about 20 minutes now, the bees started to move to the orange ones.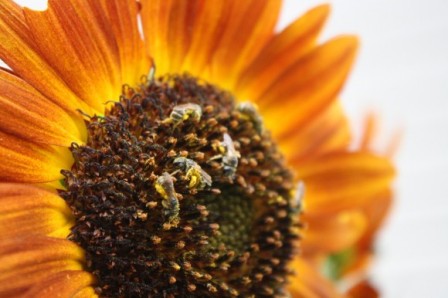 We wondered why they preferred the yellow flowers first. It was a beautiful, busy place to be on a late June morning.
Even more Science/Nature: About three weeks later, our sunflowers had withered and definitely had seeds. We decided it was time to pull out the Handbook of Nature Study and learn a bit more. We also read the excerpt on pollination from our God's Design for Life: Plants. We could definitely see that the sunflower is a composite flower made up of many, many separate flowers. We marveled that the petals are actually separate flowers too. Then we thought we'd dissect it. We had witnessed the entire cycle – from seed to seed!
Art: Another summer afternoon, we clicked over and enjoyed Van Gogh's Sunflowers from the link shared in the Handbook of Nature Study's sunflower study. Another week, we asked Nana, and she taught us how to do a chalk pastel of a sunflower in her step-by-step 'silent' lesson, Sunflowers – A Pastels Tutorial.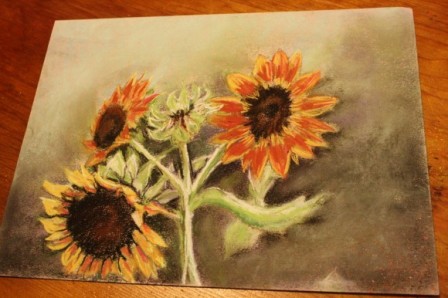 Nutrition: And here's our next favorite part of the story. Our youngest two are allergic to nuts. Both carry epipens. So, one of our mainstays is Sunbutter®. A sunflower seed butter and delicious replacement for peanut butter. So, as I read aloud about sunflowers, the children colored pages I'd printed from the Sunbutter® site. You can find a pretty one of a tall sunflower here. Then, of course, we had Sunbutter® sandwiches for lunch!
This effortless, hardly planned sunflower summer was the best for us. With our window view, the sunshiny colors greeted me as I pulled up the blinds in the morning. We could stand one foot away and observe, so as not to disturb that bird. It was an easy way to learn the ways of bees and the important role they play in pollination.
The learning opportunities flourished and grew along with our sunflowers, all through that summer we weren't doing formal school work.
So pick up a packet of sunflower seeds next time you are at the store. Then you'll be able to experience first hand what's in store for your family:
How about you? Have you had success with sunflowers or another part of a simple summer garden?

Tricia Hodges gave up life in the drive thru lane for the joy-filled road home. She homeschools five children from preschool to middle school. You can find her facing that daily dose of chaos at Hodgepodge. There she writes about practical schooling strategies and shares how she is saving bucks and her sanity with the frugal recipes of her Southern roots. Tricia is also known as Hodgepodgemom.