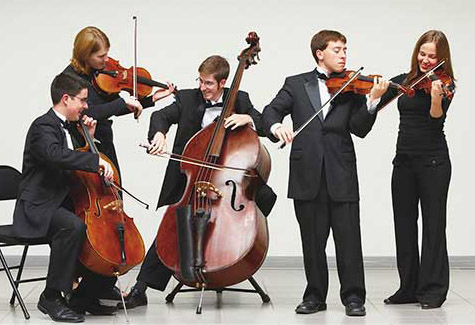 Need some help incorporating the arts into your home education routine, but don't know how or where to start?
Think SQUILT!  Music Appreciation Made Simple!
I am so excited to review this new resource for our Heart of the Matter readership. For years I have looked for a resource that I could recommend to parents for their use at home…a resource that was user-friendly for parents who were seasoned musicians and also for those who have never had any music instruction at all…a resource that didn't make assumptions, but rather, took the time to explain musical concepts in such a way that music came alive to the parent and to the student.
If you have been looking for help in this area…help that is both informational and inspirational while being user friendly, well, I'm thrilled to say, I've found that resource.
SQUILT (Super Quiet UnInterrupted Listening Time) is a resource developed by Mary McLaughlin Prather for use in both classroom and homeschool settings.  Mary is a seasoned classroom and private music teacher and a dedicated homeschool mom. This new resource is available on the new SQUILT website. But, before you rush over there, let me give you some of my thoughts regarding this great addition to your home education plan.
This first volume of SQUILT focuses on composers and music from the Baroque period. Mary doesn't assume that the reader knows how to use SQUILT or that the reader has a music background.  Instead, she  begins with an easy-to-understand overview of how to use this all-inclusive resource. Mary provides internet links, printables, notebook pages and other information that makes this resource a one-stop shop for at home music appreciation. Step by step instructions on how to prepare to set up a SQUILT notebook, followed by step by step instructions on how to present a lesson. The lesson format? Think a Charlotte Mason Composer Study with a bit more focus on musical concepts…that's SQUILT.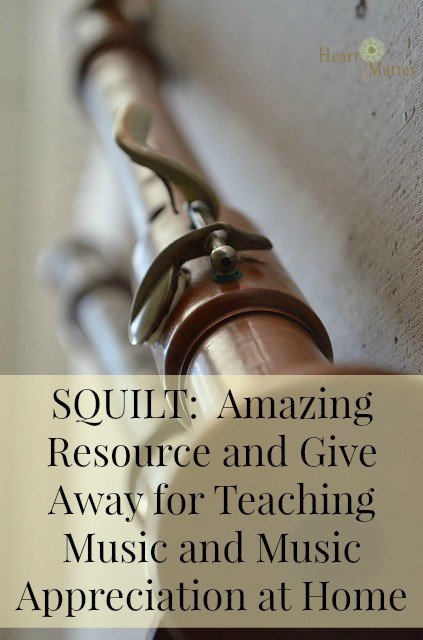 Easy to understand information is provided on the Baroque time period and its musical concepts.  Dynamics, instrumentation, tempo and more are explained in easy to understand terms so that the music listener know what to listen for and what those concepts mean. I LOVE these explanations because so many arts related resources assume we all have the same level of musical understanding.  Too often this assumption leads to discouragement and eventually, the resource is put aside to gather dust.
Once you've read through the preface material, you are ready to begin Lesson #1: Canon in D by Johann Pachelbel. The lesson begins with information about the piece complete with links to extra resources and to a recording of the piece itself. For the benefit of both parent and student information about what the student will hear in the areas of rhythm/tempo, instrumentation and mood is included to help the student to listen carefully and intelligently…something we could ALL use some practice doing. Notebook pages are included to help the student and parent put together an historically based musical notebook. What a perfect supplement to history study!
Each lesson has a slightly different and individual approach to the composer and his music. Unexpected treats are provided along the way to help the student relate and internalize the music to an even great extent. For example, in the lesson on Pachelbel, Mary includes information on how parts of Canon in D can be found in familiar modern day music.  This makes the information more applicable and interesting to the listener.
As a music and arts educator for thirty years, I can't recommend this resource highly enough.  I can't wait to get the word out about this resource. I plan on promoting it to the families involved with my ministry through Artios Academies. It's perfect since we are studying the Baroque music this year in the Academy of Arts and History.
Be sure to zip over to the SQUILT site and get this resource in preparation for the start of you new school year.
Want to win a copy of SQUILT?  Leave a comment below and let us know if and how you incorporate music in your home school.  Comments close Friday, June 14th at midnight.  Winner will be announced and notified Monday, June 17th.
Faith and Courage,
Lori
Lori and John Lane have been married 29 years and live on a ranch in the beautiful Colorado Rockies where John coaches the local high school baseball team, runs the ranch, and works with Artios Academies. They have four sons ranging in age from twenty-six down to fourteen, two beautiful daughter-in-loves, and a precious granddaughter. Lori is the author of the book, Beginning With The End In Mind, and the founder and executive director of Artios Academies, an arts program for home educated students, K-12.  The Lane family oversees the ministry of Heart of the Matter Online. You can follow Lori at www.theendinmind.net where she blogs about a variety of topics including life on the ranch, arts education, a Biblical worldview of education, home education and more. Her blog also offers many free resources to encourage you on your journey.