Once-A-Month Grocery Shopping is a huge blessing and time saver. Just think, by shopping once a month you're only buying groceries 12 times per year! Over time, I've developed my own system that works well for my growing family. I like having everything I need upfront for all of our meals. Also, it's common sense that if I'm not in the store than I'm not spending money. I'm sure we all have found ourselves running into the store to pick up "just a few items," only to come out spending $100 more-than-planned.
Here are some of my tips for successful once-a-month grocery shopping:
Make a Master List
Create for yourself a list of e-v-e-r-y-t-h-i-n-g that you will need for the entire month. Include food products, toiletries, cat food–you name it. It's the same as making a weekly shopping list only you multiply those items by four. How much meat do you use per week, x4. I even buy all my milk & bread for the month and freeze it. When I read the book America's Cheapest Family, I was happy to see they do the same thing. Here are a variety of shopping list and menu planning forms from Money Saving Mom. Jolathe at Homeschool Creations made a great meal planner form that you might want to check out. Do not FORGET your wonderful, well-planned list when you go shopping…don't ask me how I know.
Menu Plan
I plan our meals for the month, you can read about some of those here. By meal planning in advance, I'm not stuck wondering, "What's for dinner?" There's not the temptation to order out – so that saves money too. Having a meal plan helps me to focus on exactly what I need to buy. I find it also saves money buying meat, cheese, oatmeal and brown rice in bulk. When I menu plan I plan dinners for the month.  Our lunches are always leftovers and breakfast is quick fixes.
Make it a learning focused family day
I have done O-A-M grocery shopping in just about every configuration. My favorite is when I have all five kids and my husband with me. This may be some people's idea of crazy. I call it my idea of FUN! I love turning anything we possibly can into a family event. We do fun activities like rounding items to the nearest dollar and keep a running total. Usually we find our estimated total comes out very close to the actual total. The kids love this.
Make a list of stores and additional stops for the day
I usually go to at least two stores, plus other errands. I find I need a list of my stops for the day or I'll forget. This also saves me gas by planning stops along my driving route.
Stick to your list
There's no point in making a list and saving money if we are overcome by impulse buying.  If you see a great product you have-to-have there's a good chance that if you make yourself wait until your next shopping trip you may find you no longer need it.  In addition, if xyz product is so great, by waiting and maybe searching ads or online, you may find an improved deal! Something I do when my I-gotta-have-it passions flair is give it to God, "Lord, I'd like to have that…"  Many times, he surprises me with it in a way only he could!
Do without
We don't always like to hear that.  I haven't always liked to hear that. Remember though that you're creative.  If you happen to forget something, more-than-likely, you can do without it. Doing without is a great money saver!
Get to bed early
The night before the big shopping day, I make sure that we're all to bed early. You'll want your rest. Wear good shoes too!
Make it special
Sometimes I'm able to take one child. I then use the outing to have one-to-one time. We shop, talk, joke and I let them pick somewhere special for lunch. Even though we normally go as a family, my husband may take the boys to look at "man things," and my daughter and I do grocery shopping together.  She loves putting things in the cart and sorting.  That counts as Montessori, right?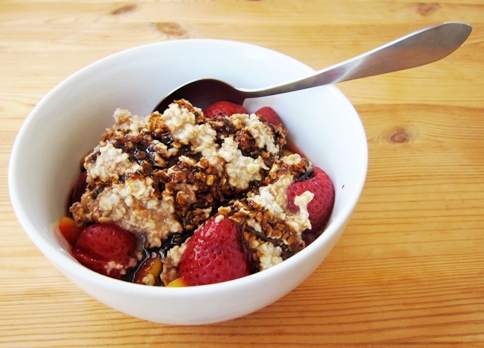 Eat a good breakfast
You need your energy. I don't like to tackle shopping, let alone food shopping, while I'm hungry. Eating beforehand will save you money on impulse buying.   May I suggest that oatmeal goes a long way!
Start Early
It's a 6-8 hour outing—easy. Nevertheless, remember, it's only 12 times per year! The sooner we get out the door, the sooner we get home.
Treat yourself to a nice meal out
Yes, even though you're saving money by cutting down on your shopping days, food waste & gas, it's still nice to eat out. This also means I don't have to serve a meal when we get home.
Unload & put away the same day
I like to get it all done and be "free" of it in the same day. It's tempting – and sometimes we have, just put away the perishable items and leave the non-perishable until the next morning. However, I prefer not to do this, because then IT'S DONE!!! Each of our children has an organization job. Jadin is in-charge of refrigerators & freezers. Zion is in charge of pantry organization. Naomi helps the family bring in bags and puts away small items like yogurt and bread.
Whew, that's the long and the short of some of the ways our growing family of seven saves money on grocery shopping.  I hope you picked up a few useful tips.  Please share yours, I'm always learning!
What are ways you save money on groceries?

Jamerrill Stewart is the daughter of the King, and wife to Travis of 13 years. They have five beautiful children so far, ages 6 months, 2, 5, 8, & 11. By dawn of the morning, she works out the joys, struggles, blessings and challenges while authoring Holy Spirit Led Homeschooling. When she's not lost in a wonderful book with her children, taking them on a travel adventure or catching frogs by their pond, she likes to garden, write and collect stained glass windows.