For many home educators, the end of the school year is fast approaching, and it can be tempting to wrap up any loose ends on the curriculum, set the books aside, and enjoy the summer months without thinking about science.  I encourage you, however, to become inspired by your scientific knowledge.
Let this year's studies be the stepping-stone that starts your journey.  There's nothing wrong with closing the book, but take your students outside and encourage them to open their minds and interact with God's world. Embolden them to put their lives in the hand that fashioned them, and send them on an adventure of discovery.  What better places to start than on the deck and in the garden?
Activity 1: Perimeter Pest Control
A fun and practical science activity to jump-start your enjoyment of the summer months outside would be to strategically place herbs that are also recognized to help with pest control.
Deck Pots
Nothing can ruin an evening cookout easier than flies and mosquitoes. Go on the defensive and while you are creating your summer flowerpots, include some plants known to repel these pesky insects.  Consider the use of mint, lemongrass, lemon balm, lemon thyme, and citronella geranium as greenery for your flowerpots.
Oils and Scents
The herbs rosemary, lavender, and basil have a pleasant scent when the leaves are crushed, and if you have some nearby when you are sitting outside, it is easy to pick and crumple a few leaves in your hands to deter flies and mosquitoes.
Ant Patrol Sachets
Small and determined ants are fascinating to watch.  They can, however, be unwanted guests.  The scents from mint and catnip will help keep them at bay.  Consider growing some of these herbs and placing dried crushed leaves in sachets that can be placed anywhere.
Now that you have secured your summertime perimeter, it's time to create a "Garden of Eating!"  Spending time in a garden can be a wonderful way to appreciate everything God has provided. I encourage you to spend some time this summer with your children in a garden of any size.
As you work through the nuances of the garden layout, keep in mind that there is something for everyone to do. Have a child who hates getting dirty? Do the planting for him. The end product is sure to entice him into the garden. My oldest son has no interest in any gardening activity, but when the Roma tomatoes are ripe, he's in there with a basket and a smile. I plant cherry tomatoes just so I can watch his joy of pick-and-eat.
Have a child who doesn't like certain vegetables?  Plant them in your garden to see if fresh makes a difference.  My middle son hated peas until we planted them in our garden.  It's now a loving battle of spotting the pods first and seeing who gets more peas in their pod. He's even convinced his friends to love fresh peas too.
Have a child who lives in the dirt?  Let the gardening begin!  My youngest son has no problem planting, watering, and even squashing squash bugs. He's always running into the house with a report on what's ripening soon. He loves hot peppers so much that we have to can them in order to keep up with his planted crop.
Activity 2: Plant a Garden
Planting with a Purpose
A fun activity for the entire family is to design a garden with a specific purpose. Does your family like Mexican food? Salsa gardens require tomatoes, peppers, onions, cilantro, parsley, and garlic. Pizza gardens include tomatoes, basil, and oregano. Chili gardens are fun because you can plant a variety of beans, which are easy to grow and fun to eat raw.
Learning from the Past
If your family is into history, consider planting an American Indian garden with the "three sisters" of corn, squash, and beans as companions. The corn provides a "pole" for beans to climb, while beans set the nitrogen in the ground for the corn. Squash provides ground cover to keep the soil moist.
It's really the fun of planning, planting, and serving the garden items at the family table that creates not only a tasty summer science unit study, but also plenty of memories! What will your garden reap this summer?
Activity 3: Companion Planting
For centuries, gardeners have benefited from cultivating certain plants together in order to improve plant health and growth. Using one plant to help another plant grow is called companion planting. For example, asparagus, tomatoes, and basil are wonderful garden companions.  Asparagus helps protect the tomatoes from nematodes; tomatoes protect the asparagus from asparagus beetles; and basil is beneficial to most plants as it repels white flies, aphids, and fruit flies.
There are plenty of online scientific studies regarding companion planting, and I encourage you and your children to research and try some of them as you layout your gardens this summer.  You'll even discover that there are some plants that should never be planted together because they make the worst companions.
As you do the research with your children, this is a good way to point out how our lives are similar to companion planting. Family members and friends are good companions that help a child grow, but unhealthy companions can lead to an unhealthy life.  I like to keep a list of Scripture verses to help show my children our Lord's wisdom:
Ephesians 3:17 – Rooted and Grounded in God's love
Galatians 5: 22-23 – The Fruits of the Spirit
Proverbs 18:24 – One who has unreliable friends soon comes to ruin 
As homeschooling parents, it is our purpose to teach our children to both understand and interact with nature so that they can truly respect and love God's handiwork. Our God cultivates in us a love and understanding that we are to care for the world He made for all living things.
Then the LORD God took the man and put him
into the garden of Eden to cultivate it and keep it.
Genesis 2:15 NASB
 _____________________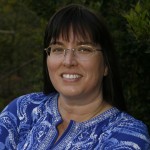 Rachael Yunis the Director of Apologia Science and her husband, Dr. Sam Yunis, an engineer at NASA, have always homeschooled their three sons; their oldest will be starting college next year. Rachael has degrees in Molecular Genetics/Developmental Biology and Biomedical Ethics, over ten years experience in molecular genetic research, and publication in multiple peer-reviewed scientific journals.  She has volunteered on hospital ethics committees, worked for the American Medical Association's Institute for Ethics, written articles for the Alzheimer's Association, and speaks on science, ethics, and homeschooling topics. She is also a co-author of Apologia's The Human Body, Fearfully and Wonderfully Made, 2nd Edition.