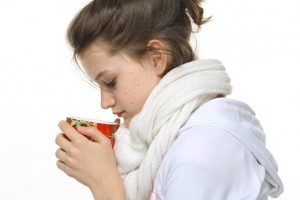 It's winter here. The snow is piled high, the heat is pumping and the kids are sick. I'm cupping a warm mug of Turkey Rosemary soup in the hallway, waiting for feverish children to fall asleep. Yes, it's 'sick season', alright. It used to really bother me when our family was ill. I mean, full fledged anxiety would be brought on. "What if the fevers get too high? What if we all catch it? What if the kids start throwing up? What if I start throwing up?" and on it went. I'd stay awake all night worrying about all the possible scenarios.
Now, I'm much calmer when sickness settles in. Part of it is the peace I prayed for, part of it is just experience of many winters of normal illness; colds, flu, tummy bugs. I completely understand how hard it is when you have sick babies and children all around you. It can be difficult to stay optimistic and keep on serving and caring for everyone in spite of your own exhaustion and cabin fever. Here are some pointers I've come up with over the years:
1. Take a few days off. I used to battle my way through illness. Because I feared it, I'd try desperately to pretend it wasn't there. I'd take the kids out even when they were warm and feeling poor. If I was feeling feverish, I'd try to ignore the flu away and keep on working hard. Needless to say, it doesn't work, don't do it. You cannot, unfortunately, ignore illness away. When your children (or you) are feeling sick, take a few days off. Relax, rest, drink plenty of fluids, stay home. For home educators, that means taking a few days away from any co-ops or activities, and easing up on the study schedule.
2. Read, read, read. Having sick kids is the perfect time to catch up on all the read aloud books you've been wanting to share. Quieter, slower moving children means longer attention spans for simpler activities. If their eyes are sore or tired, have them close them and imagine the story playing out in their mind. This will allow them to rest their body while still stimulating the mind and keeping from becoming bored with so much down time.
3. Go ahead, let them have more screen time. Screen time is usually pretty limited in our home, however, when the kids are sick, the restrictions are loosened. Our children know they will be able to watch a few more dvds on sick days and it actually has become one of the few little perks of being sick! More screen time allows them to rest their bodies while enjoying some light-hearted entertainment. It takes their minds off how crummy they're feeling. Don't be too hard on yourself, a few extra hours of media one or two days a year will not impact our children long term.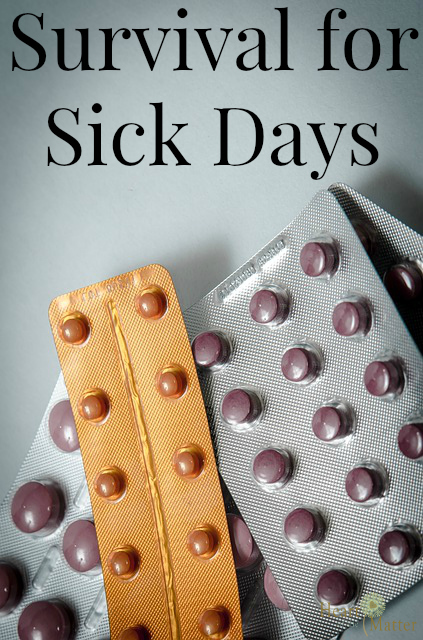 4. Take a break. As homeschooling parents, breaks are often few and far between. When you've been trapped inside all day with sick kids, it's incredibly important to get out. Go to the grocery store, go for a walk, or even just a drive to the local coffee shop. A little time away will help you perk up and refresh.
5. Snuggle your sweet ones. One thing I selfishly enjoy about sick days is the ability to snuggle and kiss children who are usually too busy to slow down. They are so willing to just lay in my arms and listen to stories or simply spend time hugging and resting together. Instead of running around trying to get everything accomplished, embrace the moments. Sit with your child and hold them close. Stroke their hair and rub their back. Remember why you truly do love caring for them, even when you're exhausted.
There's no doubt, sick days can be hard. No one wants to be laid up with a fever, and no parent wants to see their children suffering. On days like this, it's so important to cling to perspective and thank God for His loving arms. I whisper thanks to Him that our children are typically very healthy and what a blessing that truly is! We have an eternal healer, and the illness we have here is just a reminder of our very mortal state. Cling to the spiritual on sick days too – remember the hope we have in Christ. This hope and truth will make the hours shorter and the mood lighter. Make the best of sick days and lean hard into the knowledge that better days are still to come!
Cassandra is a home educating mom to 3 children. She's passionate about Jesus, unplugging, and figuring out exactly what it means to live a surrendered life. She blogs at www.onesmallvoice.ca.