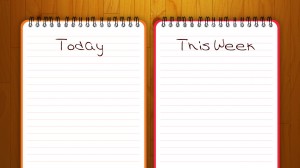 Happy September!
There are back to school signs everywhere, cool breezes are finally blowing, and it's almost time for my
favorite drink at Starbucks. (I'm a purist, and have strict rules regarding the consumption of holiday
beverages: no caramel apple ciders until the first day of fall, and no peppermint mochas until Black
Friday. Weird, I know. A girl must control what she can!)
The kids all have new notebooks and pencils and the planning book is full of clean white boxes. I want to
talk to you about those boxes for a minute.
There have been times in my life when those boxes were the boss of me.
I had to fill them in, top to bottom, each child's name, every subject, every day. I had to cross off days
and pages filled out; the book telling me when I was done and when I still had work to do; whether I was
a success or a failure.
That was not a good plan. Nor was it a recipe for homeschool success.
You know what I think? I think we'd do well sometimes to consider using our books a bit differently. I
was talking with a sweet friend last week who told me there was a new homeschool mama who'd asked
her about planning. My friend had looked at her and said, "I'm the wrong one to ask. I used to do that—
used to fill out the boxes and then look back at all the stuff  I *hadn't* accomplished in the past two
weeks. Now? I've decided to use it as a recording tool. Rather than writing out what we "should do" in
advance, I go back and write in what we DID DO after the fact."
I think I high-fived her. And there was probably a hug involved.
Because I've found the same system works well for me. I've got a basic plan … I know what each child
is working on. I know we want to do Bible, history, math, science and English as our core subjects. I
know that we will focus on sit-down, paper-type school work in the mornings before lunch, and I know
we generally want to accomplish one new lesson in grammar/math every day. I keep a little post-it flag
to hold our spot in our history and science readers, along with our read-alouds which are sometimes
historical novels and sometimes just for fun.
At the end of our school time, sometimes every day and sometimes every couple of days, I go in and
write it all down … what did we do? Which pages did we read? How many math lessons did my daughter
do? Where did we go? What projects were created? This keeps me not only feeling less condemned, but
saves the planner book, too, as there's no mad erasing of pen involved.
Many years ago I was introduced to this thought, and decided it's my favorite. Rather than having a
never-ending to-do list, how about turning it into a "ta-da" list? Much more fun all around, I assure you.
Here's the best news ever: Jesus is not going to greet you at the throne with His checklist, asking to
see your portfolios, attendance records, or homeschool planners. And all the homeschool mamas
said, "Hallelujah!" I'll bring the pom-poms.

Misty Krasawski is the overly-blessed mom of eight children whom she homeschools in sunshine-y Florida. She has been clinging tightly to the hand of her Lord since she was knee-high to a grasshopper, homeschooling for the past fifteen years, and has fifteen more years of homeschooling ahead of her with the children who are glad she will have done most of her experimenting on those who went before. Her wonderful husband Rob has much treasure laid up for him in heaven for having been called to such a daunting task. She also is the author of Back to Homeschool, an ebook designed to help moms plan their homeschooling year; Community Director and a writer for MomHeart Online; hostess of an online mentoring program for moms called Titus 2 University, and a regular contributor to Home Educating Family Magazine. When the house goes to sleep, she can often be found blogging at www.encouragingbeautifulmotherhood.com.