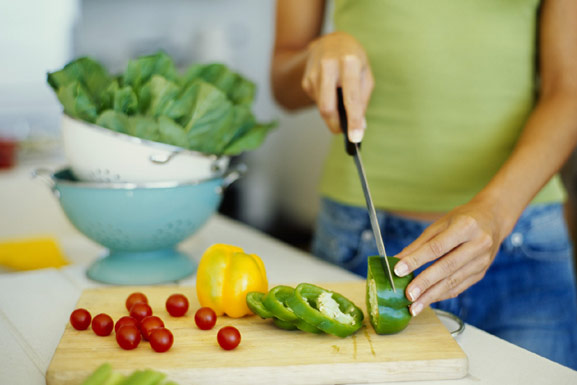 Happy 2012! It's the beginning of a new year. It's a great time to refocus on properly caring for yourself so you can be the best wife, mom, and homeschool teacher you can be!
Refocus your mornings
Those cold winter mornings making you want to hide in your warm bed? Depression and winter blahs making you want to oversleep? Determine what your ideal wake-up time is and take baby steps towards it. Try waking up 15 minutes earlier each day or week until you reach your goal. Then once you are up use your mornings wisely. Bible study. Exercise. Preparing for your day ahead. And when those little ones get up early and blow the plan out of the water, rejoice in the time you have for cuddles and snuggles without beating yourself up or focusing on what isn't being accomplished.
Refocus your health
Have you set the typical lose weight resolution this year? Let's focus instead on being healthy. Cut back on refined sugars and grains. Watch your portion sizes. Get active with your kids. Find an activity that you like doing so you won't get burnt out on the idea of exercising and change it up as needed. Been putting off that yearly physical for way too long? Make that appointment today!
Refocus your heart
Been neglecting your own spiritual life lately? Putting more out than you've been taking in? Find a good Bible study or book to go through. As a mom of young boys and family of one car, I find that I'm not able to get out as often as I'd like. But, that doesn't mean that I have to hide in my house alone. I've chosen to spend the next three months going through Ephesians with some online friends. Find some women you can connect with and support each other – in real life and/or online.
Refocus your family
Has your family been running too fast? Does something need to be cut out to make more time together? Maybe you need to cut an outside class or sport. Maybe you need to set a goal number of nights a week to eat dinner together. Try starting a family game or movie night. My family loves movies. They love our weekly pizza and movie night, even if it does have to be gluten-free and cheese-less pizza.
I'm praying that God gives you clarity as you refocus and jump into 2012!
Amanda is a former church communications director turned homeschooling mom. She's now using her BA in Bible and MA in Old Testament Studies to nurture and disciple her two boys with the help and support of her high school sweetheart and husband, Josh. She's venturing into the world of Kindergarten with her oldest son this year using Sonlight as her base curriculum. She blogs about life, motherhood, homeschooling, technology, faith, books, and more at ThePelsers.com. You can follow her on Twitter at @apelser.