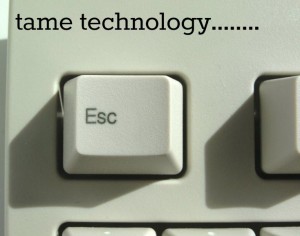 Taming Technology – it's a thought that does not seem to be apparent in many lives today. It's apparent in any social venue you attend. Everyone has some gadget in their hands and they are busy looking down, living in the gadget and missing the world around them.
Technology is in use-
In cars – as drivers (yes, even Moms with precious babies in their car seats) are texting away while swerving on the road.
In churches, as gadgets and gizmos are being used to read the Bible (or something else)
In restaurants-where families are busy texting, facebooking, tweeting or something else with people they are either with or wish they were with – rather than talking and spending time together.
In homes – where Moms sit on the computer, Dad's watching the game and children are head down-fingers tapping on the latest tablet, game or gadget.
In Bathrooms – yes, even in the bathroom people are pulling out their phones to do anything and everything (including take pictures…tad-bit scary to me)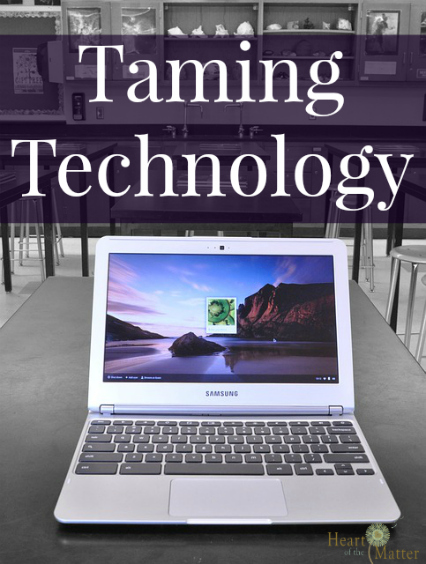 Technology-it's all around us.
It can be seen in the eyes of many who – seem to look up every now and then and gaze – in amazement with blank stares at the world around them. Children are side-tracked by the thought of playing a game or texting their friends – even in the midst of playing or talking with someone…
Adults are growing shorter thought processes – and seem to be chasing various conversations around in their minds – while missing the ones they are supposed to be involved in.
Technology is not bad- if it is tamed and in it's right place.
Today, we can enhance our homes with valuable information in the blink of an eye. We can learn about the latest news in almost any country and discover the geographical landforms of a country we may never visit.
We can use technology to travel the same lands Jesus walked and read books that were written hundreds of years ago.
No, technology is not bad-but it must be tamed.
My husband and I have discussed this often as we have introduced more technology and more gadgets into our home. Our desire is to share God's love and truth with our children and provide the best education we can with a limited budget. Technology can help us do that.
However, we do not desire to bring anything in our home that will take our eyes and mind off of Jesus.
Is technology necessary? I often ask myself that question. Would we be able to live good and normal lives focused on God without computers, smart phones, tablets – you name it…can we really live without it?
My answer is a resounding YES. I believe that we truly could. Would my children know the latest games or perhaps some of the latest technology without them. NO. Would that impact their future? I don't think so.
You see – technology is like anything else in our world. It is an opportunity for a family or person to use something in a way that glorifies God. In Israel Wayne's book – he brings up several good points and they began my desire to truly tame technology…
"Biblically speaking, neither technology nor entertainment is mandatory moral imperatives, and in my view they are worthless unless they help us do important things better or more efficiently." (pg 70) He goes on to say that "There is a tendency to "vege-out" when we are emotionally or physically wasted, but this can be dangers. Especially when our body and mind are weak, it is not very wise to indiscriminately give ourselves over to mindless input." (pg 71)
For many, that's what technology has become – 'mindless input'.
So, as the new year begin and new technology enters our homes – let's be mindful of what we are feeding our children's bodies and hearts. Let's make a plan to create with our hands – building bonds with our children and growing their knowledge about how they can create clothes, items, feed, etc for themselves and their future family. Let's spend time reading with our children and listening to them read. Let's have fun running through the woods, the grass or the beach laughing and talking with our children.
When their heads are bowed, let's help them learn to bow them in prayer to God – not a gadget.
Let's grow their hearts and ours ….we need to start with our own hearts – by making the right decisions that our children witness. It's time to stop letting the internet (and technology) run our lives.
Use technology as a tool to make our homes more efficient- nothing more and nothing less.
Rebecca is a child of God, married to the love of her life, and the mother of three children. She writes about faith, life, nutrition and homeschooling at Mom's Mustard Seeds.