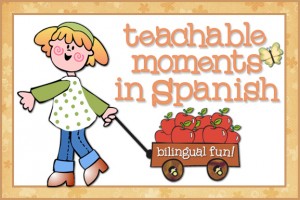 Spring is in the air! Can you smell it? Flowers are blooming, birds are singing and the sun is warming our days.
W can take advantage of this teachable moment to introduce or review some color words  in Spanish. I made a domino to review colors with my niece and a set of Spanish colors posters for you!
My goals for this lesson:
To introduce and practice colors in Spanish
To relate colors in their oral and written form
Tell children they will learn the Spanish form of these words:
Red / rojo
Blue / azul
Yellow / amarillo
Orange / naranja
Green / verde
Purple/ violeta
Light blue/ celeste
Pink/ rosa
To prepare the posters you need to print them onto cardboard and laminate for durability. Then..
*Go for a color hunt around home or class.
*Let kids cut and paste pictures from old magazines and make a collage. Ask them about the colors they can see in their pictures.
*Play "I spy" using the posters.
*Invite children to sort manipulatives according to color.
*Make a mural using their favorite color.
* Ask and answer "How many red/ rojas things can you see?"
* Using commands.."point to a yellow/amarillo flower" "pick up a green/verde crayon"
Teachable moments are waiting for you! Happy teaching!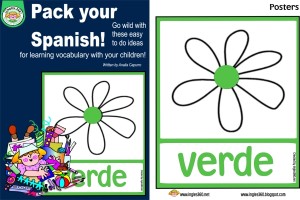 You can download the posters here.
Analia Capurro is the designer and owner of Ingles360.net® and the author of all the educational resources sold in her website. After 20 years of teaching children she found that the only way children love learning is if teachers love learning and teaching, too. Promoting a learning environment where laugh, fun and friendship and companionship are as important as any language structure, are the things she had in mind while designed her bilingual resources.