Polar bear, how many fish can you eat?
Little children benefit from bilingual education. By using the new language daily along with their native language, they learn vocabulary and the use of these words in everyday situations.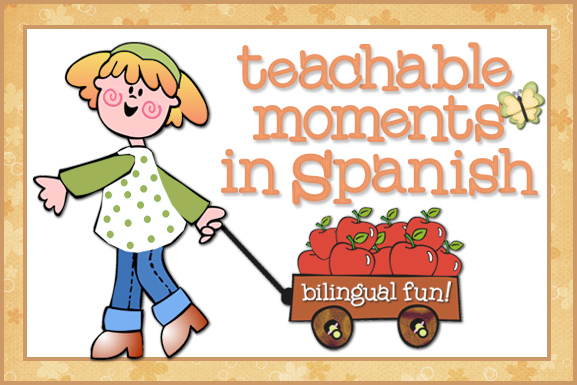 Write the corresponding word in each of the two languages on the image. This will help your children see the connection between the image and the words. For items you have around home, make labels in each language and paste them to the object. In addition, encourage your children to read and listen to books in both languages. I try to find reading material that has words in each language in the same book. This is one activity we made after reading Polar bear.
My goals for this lesson:
To review colours
To review numbers
To review sizes
Are you wondering what animal is this?
Yes! A polar bear eating his lunch!
You need a box, white and black paper, colourful cardboard, glue and a lot of imagination. You need to draw and make fish from different colours. You also need a dice or a spinner. Let your kids roll the dice (or spin the spinner) and feed the polar bear with his favourite meal…fresh fish! Invite children to say the number in the new language as well as to count in Spanish. If you want, you can also make big, medium and small fish so they can practices sentences such as " The polar eat 2 big red fish."
As a variation you can let children sort fish by colour and size. You can prompt questions such as "How many red fish can you see? "How many small fish can you see?"
Teachable moments are there waiting for you! Happy teaching!
Analia Capurro is the designer and owner of Ingles360.net® and the author of all the educational resources sold in her website. After 20 years of teaching children she found that the only way children love learning is if teachers love learning and teaching, too. Promoting a learning environment where laugh, fun and friendship and companionship are as important as any language structure, are the things she had in mind while designed her bilingual resources.