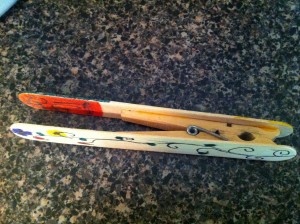 From the time our kids were very young (still toddling around in diapers), we tried to give them age-appropriate tasks to complete to contribute to the running of our household.
The goal? Not to have a work load taken off of our shoulders as parents, but instead to instill in our children the concept of responsibility for one's home and one's personal space, as well as teaching them to look for ways to help others.
There are many age-appropriate chore charts online that can be used for a jumping-off point. (Link: http://www.focusonthefamily.com/parenting/parenting_challenges/motivating_kids_to_clean_up/age_appropriate_chores.aspx )
There are also several well-written books that give more ideas as well as explain the basis for the importance of teaching children responsibility from a young age, one of which is Life Skills for Kids by Christine Field (Link: http://www.amazon.com/Life-Skills-Kids-Equipping-ebook/dp/B004BLK7NO )
One of the things we try to do to help make these daily responsibilities more fun is to allow the children to incorporate more personalized aids and tools into the process.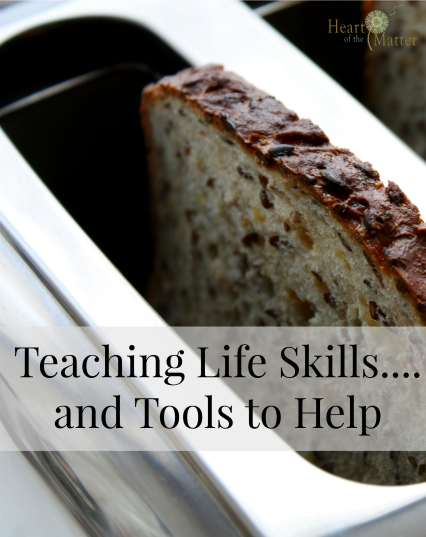 For instance, in gradually teaching our children (now aged 6 and 8) how to prepare their own breakfasts each morning, we discovered that some of the tasks were beyond their reach because of legitimate danger. One prime example was making toast, one of their staples and favorites. The toaster we have is stainless steel and gets quite hot when being operated, especially the top surface next to the bread slots.
The solution? Toast tongs! This little, nifty tool allows children to be able to reach in and grab their hot toast slices without getting their fingers anywhere near the heated metal exterior (or interior coils). Yet instead of purchasing them in a store, we made our own, a craft I made in preschool myself that my mom still has and uses today! (Link: http://squareheadteachers.com/2013/05/09/toaster-tongs-fun-mothers-day-craft/ ) This not only aids in making this task more independent, but it also allows the kids to express their own creativity in that they decorate the tongs according to their preference. It turned into a fun hour-long craft project for our kids — they thoroughly enjoyed it — and they use them almost daily!
What types of chores and/or responsibilities are you adding into your child's routine this summer/school year? How do you make learning life skills fun?
Meg Wilson is a devoted wife to her husband, Ken, of 12 years, and mom and homeschooling teacher to her 7-year-old son and 5-year-old daughter. When she's not writing or creating something, Meg loves to cook for, host and entertain friends and family. She also enjoys reading, the outdoors, eclectic music, yoga, and studying history. You can read all about her adventures (and misadventures) at her blog, Electric City Academy, http://www.musesofmegret.com/reviews, http://electriccityacademy.blogspot.com