The Real Face of Jesus: An Ascension Discussion for Older Children
If you're looking for a way to bring Jesus to life for older kids (10 and up) on Ascension Sunday, consider a 15-minute version of the History Channel's The Real Face of Jesus, about how science and computer expertise were combined to make a factual face likeness of the image that is embedded in the Shroud of Turin.
Children will see the Shroud and hear scientists puzzling over what created the image of the crucified/scourged man.
Russ Brealt, an expert who worked on STURP (Shroud of Turin Research Project) says the image on the Shroud shows "a man who is both crucified and scourged…which is a very unique anomaly. There's a tremendous amount of blood that flowed from the head, a scourging all over the body; there's blood that flows from a side wound, blood that puddles across the small of the back from that side wound." It is clearly human blood according to the latest findings.
The Shroud is Controversial
Christians teaching in Youth Ministry will probably long be divided on whether seeing religious relics is helpful to people's faith or whether it goes against God's wishes.
For those who want nothing to do with items like the Shroud, they have well-taken points. The last thing God wants on planet Earth is idolatry, and He made sure many tempting objects were destroyed or hidden for man's sake. The following items are not to be found, probably hidden by God to protect man's inclination to worship "things:" the burial place of Moses, Noah's Ark, the Ark of the Covenant, the Cross of Christ, the Holy Sepulcher, and the resting places of any of the 12 disciples.
What the Christian community may need to wrestle with is the difference between worshipping relics and allowing them to increase faith— especially the faith of scientific skeptics—and help today's generation understand God better.
John Jackson, lead Scientist of STURP says that with the study of the Shroud of Turin, "We may have a real opportunity where science and religion can come together most profoundly."
Kids See Science and Technology Embracing Religion
Watching the documentary will give kids a wonderful chance to see a piece of Christian history embraced by both scientists and the most advanced of computer technologists.
Digital imagery specialist Ray Downing, Emmy winner for his 3-D depictions in Stealing Lincoln's Body, created the face of Jesus in 3-D after months of labor.
"What you see on the Shroud of Turin is not a picture of a face. It's a database of information." The face he created looks nothing like the Shroud, which is "data packed into 2-D." He unfolds that data in 3-D. Russ Brealt, expert on the project, says, "It is possible that the shroud presents an opportunity for 21stcentury people across the world to see the resurrected Christ through photography and in a sense…place our hands into His nail wounds and be not faithless but believe."
What versions are available?
If you want to show the documentary in Sunday school with discussion, a 15-minute version is available on YouTube at http://www.youtube.com/watch?v=Hlh8UxBvDBg
The full 90-minute documentary The Real Face of Jesus? can be downloaded directly from the History Channel web site or can be viewed in 7 parts on YouTube.
A final great reason to show this footage on Ascension Sunday is that the History Channel is working on the release of more Real Face of Jesus documentaries. One has Ray Downing developing the face of Jesus into an actual moving likeness, and he actually creates footage of an Ascension. It can make people feel like they are right there with the disciples. This documentary will be ready for downloading and purchase for next year's Ascension Sunday.
How to Discuss the Shroud with Students
Kids older than nine will probably find the 15-minute version of the documentary quite absorbing. It is important to impress upon students that this may in fact not be the face of Christ—there is no way to prove it farther than what has been done.
But in the digital age, when people spend much more time watching than reading, the imagery may attract many to the fact that Christ was very real—people who aren't reading the Bible.
Here are some questions you can raise after watching, with answers you might be looking for:
Why might God have allowed the Shroud to be found and studied by so many people?
It brings together science and religion, which have not been friendly in the past 300 years…. It can make Jesus seem very real and not like an old myth, which helps some people's faith…
Why is the Shroud specifically important today…when maybe it wasn't a hundred years ago?
These days, people don't read a whole lot and many respond to modern technology much more enthusiastically than writing. The images of Jesus formed from the Shroud can get people excited about Jesus—people who wouldn't necessarily read the Bible.
What's the difference between worshipping and religious artifact what the STURP project scientists did?
They were studying it to gain more information that they could share.
What might happen if Mr. Downing's 3-D image were made into a wax figure and put on display somewhere? What's the danger in that?
People might try to worship it.
Scriptures Related to the Ascension
MARK
 16:14‐20
14LATER
 JESUS
 APPEARED
 TO
 THE
 ELEVEN 
AS 
THEY 
WERE 
EATING;
HE 
REBUKED
 THEM
 FOR 
THEIR
 LACK
 OF
 FAITH
 AND

THEIR 
STUBBORN 
REFUSAL
 TO
 BELIEVE
 THOSE 
WHO
 HAD
 SEEN

HIM
 AFTER 
HE 
HAD 
RISEN.
15HE 
SAID 
TO
 THEM,
"GO 
INTO
 ALL
 THE
 WORLD
 AND
 PREACH
 THE
 GOSPEL
 TO
 ALL
 CREATION.
16WHOEVER 
BELIEVES 
AND 
IS
 BAPTIZED
 WILL 
BE
 SAVED,
BUT
 WHOEVER
 DOES 
NOT
 BELIEVE
 WILL
 BE
 CONDEMNED.
17AND 
THESE
 SIGNS
 WILL
 ACCOMPANY 
THOSE
 WHO
 BELIEVE:
IN
 MY
 NAME
 THEY
 WILL
 DRIVE
 OUT
 DEMONS;
THEY
 WILL
 SPEAK 
IN 
NEW 
TONGUES;
18
THEY 
WILL 
PICK 
UP
 SNAKES 
WITH
 THEIR 
HANDS;
AND
 WHEN
 THEY
 DRINK 
DEADLY
 POISON,
IT
 WILL 
NOT
 HURT
 THEM
 AT
 ALL;
THEY 
WILL
 PLACE 
THEIR 
HANDS
 ON
 SICK
 PEOPLE,
AND
 THEY 
WILL 
GET 
WELL."
19AFTER
 THE 
LORD
 JESUS
 HAD
 SPOKEN 
TO
 THEM,
HE
 WAS
 TAKEN
 UP 
INTO
 HEAVEN
 AND
 HE
 SAT
 AT
 THE
 RIGHT
 HAND 
OF
 GOD.
20THEN 
THE 
DISCIPLES
 WENT 
OUT 
AND 
PREACHED 
EVERYWHERE,
AND
 THE 
LORD 
WORKED
 WITH 
THEM 
AND 
CONFIRMED

HIS 
WORD 
BY
 THE 
SIGNS 
THAT 
ACCOMPANIED 
IT.
ACTS
1:2‐11
AFTER
 HIS 
[JESUS']
 SUFFERING,
HE 
SHOWED
 HIMSELF 
TO 
THESE 
MEN 
AND 
GAVE 
MANY 
CONVINCING 
PROOFS 
THAT

HE 
WAS 
ALIVE.
HE 
APPEARED 
TO
 THEM 
OVER
 A 
PERIOD 
OF 
FORTY 
DAYS 
AND 
SPOKE 
ABOUT 
THE 
KINGDOM 
OF 
GOD.
ON
 ONE
 OCCASION,
WHILE
 HE
 WAS
 EATING 
WITH 
THEM,
HE
 GAVE 
THEM 
THIS
 COMMAND:
"DO
 NOT 
LEAVE
 JERUSALEM,
BUT
 WAIT
 FOR
 THE 
GIFT
 MY
 FATHER
 PROMISED,
WHICH
 YOU
 HAVE
 HEARD 
ME 
SPEAK 
ABOUT.
FOR
 JOHN 
BAPTIZED
 WITH
 WATER,
BUT 
IN
 A 
FEW 
DAYS 
YOU 
WILL
 BE 
BAPTIZED 
WITH 
THE
HOLY 
SPIRIT."
SO
 WHEN
 THEY 
MET 
TOGETHER,
THEY
 ASKED 
HIM,
"LORD,
 ARE 
YOU 
AT
 THIS
 TIME
 GOING 
TO 
RESTORE 
THE 
KINGDOM 
TO 
ISRAEL?"
HE
 SAID
 TO 
THEM:
"IT
 IS
 NOT 
FOR 
YOU 
TO 
KNOW 
THE 
TIMES 
OR 
DATES 
THE 
FATHER 
HAS 
SET
 BY

HIS 
OWN
 AUTHORITY.
BUT
 YOU 
WILL
 RECEIVE
 POWER 
WHEN 
THE 
HOLY
 SPIRIT
 COMES
 ON 
YOU;
AND
 YOU
 WILL
 BE 
MY 
WITNESSES 
IN
 JERUSALEM,
AND 
IN
 ALL
 JUDEA
 AND 
SAMARIA,
AND
 TO
 THE 
ENDS
 OF 
THE 
EARTH."
AFTER
 HE
 SAID
 THIS,
HE 
WAS
 TAKEN
 UP 
BEFORE 
THEIR
 VERY 
EYES,
AND
 A
 CLOUD 
HID 
HIM
 FROM 
THEIR
 SIGHT.
THEY
 WERE 
LOOKING 
INTENTLY 
UP 
INTO 
THE 
SKY 
AS 
HE 
WAS
 GOING,
WHEN
 SUDDENLY 
TWO 
MEN 
DRESSED 
IN 
WHITE
 STOOD 
BESIDE 
THEM.
"MEN
 OF
 GALILEE,"
 THEY
 SAID,
"WHY
 DO 
YOU
 STAND 
HERE 
LOOKING
 INTO 
THE
 SKY?
THIS
 SAME 
JESUS,
WHO 
HAS
 BEEN
 TAKEN
 FROM
 YOU 
INTO 
HEAVEN,
WILL
 COME
 BACK 
IN 
THE 
SAME 
WAY 
YOU 
HAVE 
SEEN
HIM
 GO 
INTO 
HEAVEN."
________________________________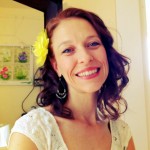 Mary Kate Warner – Homeschool Crafts
Mary-Kate is a regular blogger at Christianity Cove ( http://www.christianitycove.com/).  You can often find her writing about Christian Parenting, Homeschool Teaching, Bible Study and Sunday School Activities, Faith and inspiring children to love God.  Follow her at @SundaySchoolGal  Facebook  Google+ & Pinterest