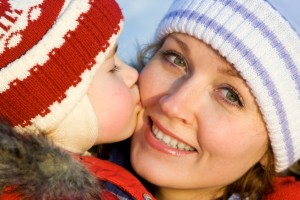 Through a series of strange and unusual circumstances, our Thanksgiving Day gathering wound up being just our immediate family—just five of us. My first thought for a fleeting moment was that it might have been an opportunity to relax and have an everyday, non-holiday type of meal—sandwiches or something from the freezer. After all, neither my husband nor I are turkey fans, and our three children have distinctly different, and equally peculiar, tastes in food. But gumbo and boudin were dancing in my head. As I planned our meal, I thought about foods the kids like, and how, when a number of adults are in our midst, they are often cast aside at mealtime with the usual pasta and sauce or (gasp!) a chicken nugget. So, with a scaled-down guest list, shall we say, I really wanted this to be a special time for our family. I wanted the children to experience Thanksgiving with all its trimmings, inclusive of a memorable meal.
As I worked to bring my own vision to life, my husband and I would inevitably talk about all of the changes occurring in our lives right now, and places where we were being uncomfortably stretched. I will be honest: it was not always the most thankful conversation. But the more our plans came together, the less I focused on previous, relatively stress-free years and the more I began to relish the present moment.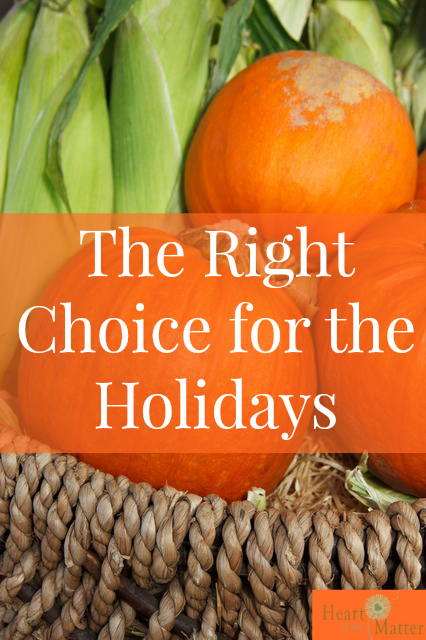 It also occurred to me as I prepared our version of a big Thanksgiving meal that this might very well be the last fall for a while that we eat as a complete family. Our oldest daughter will, if the Lord says the same, leave us to attend college several hours away after this year. With that in mind, I realized that perhaps it was actually a blessing that we were together, but alone, on this day. Without the hustle and bustle of hosting friends and relatives, we could talk, and laugh, and appreciate the simple joy of each other's company.
This shift in perspective was not automatic for me; I had to make choices in where I focused my energy and my emotions. Making those choices made me think quite a bit about this season and the many places where the enemy comes to steal our joy. If you had the big dinner over the game with all your loved ones gathered near, I think that is so very special, and I praise God along with you. But I write this to comfort the one who struggled to get past a loved one's passing during this time; maybe a job loss finds you uncertain about how you will bring to life the holiday you envisioned. Perhaps this season reminds you of that relative with whom you have shared a cross word, or another place of abandonment or loneliness. Those areas are difficult to avoid psychologically, and they can completely overshadow an otherwise joyous season. Depression, anger, and/or despair might seek to overtake you, but might I offer you another set of choices?
Choose love. The children and I were studying the Ten Commandments just this morning. After reading through Exodus 20, I asked the kids the following question: "Which of these commandments do you think is most important?" I knew where I was going with this discussion, but they did not—at least, one of them did not. So the child who is more naive says to me, almost questioningly, "It's important not to steal." The older child says to me, "I don't know that any of them are more important than one another." Exactly. His response led me to the following scripture (though admittedly I could not find it until later):
34 Hearing that Jesus had silenced the Sadducees, the Pharisees got together. 35 One of them, an expert in the law, tested him with this question: 36 "Teacher, which is the greatest commandment in the Law?"

37 Jesus replied: "'Love the Lord your God with all your heart and with all your soul and with all your mind.'[c] 38 This is the first and greatest commandment. 39 And the second is like it: 'Love your neighbor as yourself.'[d] 40 All the Law and the Prophets hang on these two commandments." (Matthew 22:34-40, NIV)

If we choose God's greater law of love, there are a number of disruptions or delays that simply fail to matter anymore. Suddenly, we can focus on the heart-felt gift we gave to that special someone rather than the numbers of people who mistreated us on Black Friday while we fought to get it. We can enjoy the reason for this season rather than allowing all the activity to exhaust us. We can remember those times with loved ones who have gone to their heavenly home and celebrate rather than allow the enemy to feed us depression. Choosing love allows us to "repurpose," if you will, our thought processes such that we consciously look for the good in a situation and hold on to that memory.
Choose peace. Ushering in a spirit of peace might mean saying "no" to those multiple ministries that tug at your ability to simply reflect on your blessings. Choosing peace might mean soliciting the right prayer cover and support before you travel over the river and through the wood. Peace means keeping the main thing, well, the main thing. It means being flexible, and knowing when "school" might mean scaling back to reading time and a page of math. In fact, school and the related activities may be an appropriate dialogue for the family and a teachable moment as they learn a lesson about time management and priorities. Peace is allowing God to speak to you during this season about the year to come, and being still enough to receive His clear direction for your school, for your home, and for your life.
Choose hope. I do not write this as one who has not lived it. I have shared in great detail on my personal blog of my husband's "surprise" layoff right before a Christmas holiday years ago. My father's diagnosis of cancer, and subsequent passing right after a Christmas holiday is another memory that can preoccupy my mind during this time. I have every reason to enter the season in "bah-humbug" fashion. But I lived through those moments. Moreover, what I learned is that this, too, shall pass, whatever the "this" is in your life. Whether you are experiencing familial drama, dysfunction in ministry, or just general chaos and frustration associated with having too few hands and legs, it will not exist always. The beauty of a life with Christ is to know that to everything there is a season, and just as physical seasons change, our season of life changes. Those trials that brought so much pain and agony years are now places where I make choices. I choose to remember how the Lord provided for us in uncertain times, and we still had everything we needed and most of what we wanted. I choose to remember special times with my dad, and to take joy in knowing he was a Believer; I miss him, but we will see each other again.
What choices are you making during this holiday season, and how will those choices allow you to spend your holidays? I invite you to make the right choices for you—choices that allow you to focus on the Lord and His amazing ability to protect you, to love you, and to minister to every concern; choices that provide you with numerous opportunities to smile, to give hugs and to show love; choices that let you live here and now, cherishing the past, enjoying the present, and delighting in an even better future.
Belinda Bullard is a wife and homeschooling mother of three, Belinda is an author and the owner of A Blessed Heritage Educational Resources, a literature-based historycurriculum featuring African-American presence in history, as well as the contributions of other races to American history. A chemical engineer by formal education, she also serves as adjunct faculty for college distance learning programs. Belinda blogs at Simply Belinda and Chronicles of a Blessed Heritage.