Christmas is such a joyful time of year. The spirit of brotherly kindness and charity is more evident in the hearts of men. We feel a greater desire to serve and give to others. Unfortunately, the true meaning of Christmas and what we, as Christians, celebrate can easily be lost because of all the commercialism that surrounds this holiday in our culture. To counteract that and bring the true meaning of Christmas back into focus we like to do "Christmas School" for the month of December.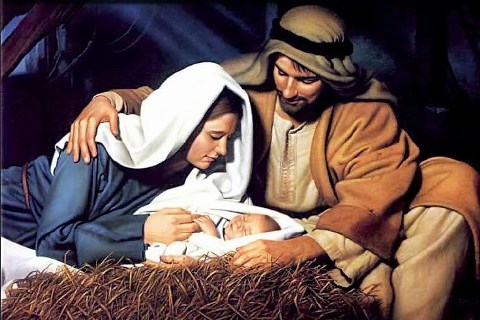 Christmas School takes the place of our regular school schedule. We don't worry about math, history, science or literature. Instead we concentrate on Jesus Christ: on His birth, His life, His teachings. We do this differently each year. One year we may study various Christmas carols and hymns, the history of how they were written and what messages they teach us. Another year's study may cover some of the different names for Jesus (there are over 200) and what those names teach us about His perfect character. This year for part of our Christmas school we will learn about 12 symbols of Christmas and how they point us to Jesus. I'd like to share our family's plan with you. It is a unit study you can download to implement in whatever way is right for your family.
Here's a list of the symbols covered as well as a short preview of the unit study using one symbol of Christmas.
1. Wreath
2. Candle
3. Red, Green & White
4. Tree
5. Bells
6. Candy Cane
7. Carols
8. Holly
9. X-mas
10. St. Nicholas
11. Star
12. Gifts
Bells
In the olden days animals were very valuable to people as they provided transportation and food. People put a bell around the neck of each sheep or cow, so they could hear where they were if they got lost. In the same way God values all people, wherever they are, and they are never lost to Him. In some places church bells are rung on Christmas Day to proclaim the good news of this special day.
Psalms 100 (KJV), "1 Make a joyful noise unto the Lord, all ye lands.
2 Serve the Lord with gladness: come before his presence with singing.
3 Know ye that the Lord he is God: it is he that hath made us, and not we ourselves; we are his people, and the sheep of his pasture.
4 Enter into his gates with thanksgiving, and into his courts with praise: be thankful unto him, and bless his name.
5 For the Lord is good; his mercy is everlasting; and his truth endureth to all generations."
Activities:
Jingle Bell Bracelets
Kid Made Door Bells
Expand your study:
Collect all the bells in your house. Listen to the different tones or pitches of each bell. See if you can play a song with the bells you have.
Download the Symbols of Christmas Unit Study in a PDF File
Montserrat is completely devoted to her wonderful husband, Joseph, and their seven (soon to be eight) children. They live on a 2,500 acre alfalfa farm nestled in a small Northern Nevada valley. They've been homeschooling for 10+ years. Montserrat enjoys, photography, cooking, crafting, chocolate, and sloppy goodnight kisses. She strives to live each day as God would have her do following Mary's biblical supplication, "Behold the handmaid of the Lord; be it unto me according to thy word." (Luke 1:38) You can find her at her blog Chocolate On My Cranium.