How We Use Sue Patrick's Workbox System to Structure Our Homeschool
If you visit even just a few homeschool blogs out there in the blogosphere, then it's likely you've come across the "Workbox System". So, what's all the fuss about? Why are homeschooling moms clamoring to get this system in place in their homes?
Sue Patrick developed this system to help her autistic son have a more structured day from the time he was still a toddler on up into his school days. However, this little gem of a system can all help all moms make sure the school day is consistent and rich for each child.
The basis for the system is a little rack that holds 12 plastic shoe boxes. In general that means a wire rack with four shelves which can hold 3 boxes each. Each box gets a number velcroed to the front of it. When you purchase Sue's book, you will get access to the printables you need to set up your workboxes. In addition to the numbers on the front of the box, there is a schedule strip where you have squares with Velcro in them. The schedule strip is used to order the child's school day. In between the numbered boxes on the strip, you might have a break card, or a water the garden card, or a play with a sibling card. The idea is that kids follow the schedule strip and do what is in each box or otherwise directed on the schedule strip.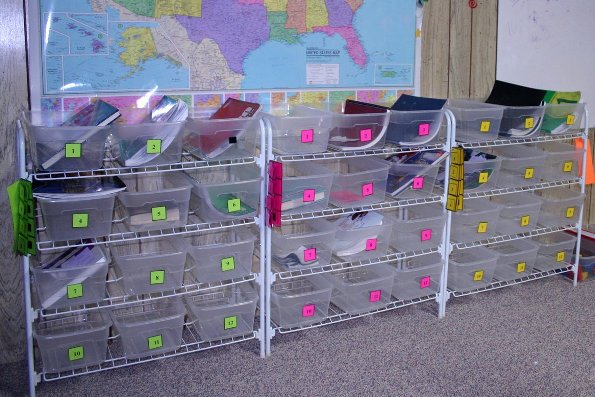 Sue has a lot of ideas on how to use the system in a variety of situations and her book gives you ideas on how to break down your current curriculum in a way that fits into the boxes. One of the hallmarks of the Workbox System, is the visual cues it provides. As the child completes a box, he sets it aside away from the cart. This way, he gets to see his progress as he gets closer to the goal which is to finish the work in all 12 boxes. Ms. Patrick has also built in other cues like "checking in and out" for the school day, "ask for help" cards, and "work with mom" cards.
Ms. Patrick's book also describes how she uses centers and file folder games as a regular part of the daily routine. Would you believe her treadmill is part of the daily Workbox System at her house too? Be sure to check out her manual to see what else was important to her as she put together this structure school time for her family.
As you travel the blog circuit and see how others have chosen to implement the system, you'll see all kinds of modifications and activities. There are no shortage of ideas out there on how families are incorporating the Workbox Systems into their school.
So, what goes in the boxes? All the school work for the day. I put regular school work in there plus all the extras you SAY you want to do but don't get around to, because either you don't have time or you forget or you lose steam or you didn't prepare it ahead of time. I haven't gotten up to 12 items yet, but I will get close soon. Our unit study goes in first, then I can switch around other things like math, silent reading my choice, silent reading their choice, a math game, writing time, spelling, sewing, guitar practice, snack, break, etc.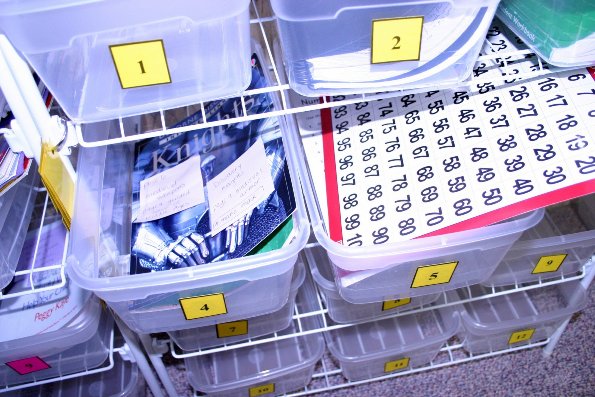 Who is it for? For any child at any level, the author says. High schoolers and young ones and special needs kids all do well with the system. It has a schedule but it can vary as much or as little as you want it to. There is structure but flexibility.
It works for ANY curriculum. You just have to know how you want to break it out. You just put the various things you do throughout your day into the boxes in the order you want the student to do them. It fosters some independent work ethic. It ends questions like, am I done yet? How much more school? Can I do ___?
I like it for the accountability for ME. In order for it to work, I have to be prepared ahead of time. It's a lot of up front work, BUT it pays off when our day proceeds in peace. I am not looking for something I printed and can't find (while the kids scatter), I'm not saying, hold it I need to get this or that (and the kids scatter). I put it all out and it's ready to go.
I like it because to fill the 12 boxes I'm pulling stuff off the shelf that I always MEAN to do but never do, like those great 100s charts and the book that goes with it and lots of other games and fun things. I like it because I can put variety into my kids' days without managing the effort at 'go time'.
I had been having my kids do activity time before they get free time. It's more or less structured "free" time. Now I can just load the boxes with the day's activity and call it a day. I like it because I can get to those things we never seem to have time for – because I load it up in the boxes. Like my daughter's sewing projects – I just prepare them and put the materials in her box.
It gives my preschooler pre-determined and set-up activities that he can go through without being disruptive or constantly asking for media time (in whatever form he desires at the moment). He loves it!
It works because it's all ready to go and we just flow through the day with some level of peace. I'm less frustrated when the day begins because all my ducks are in a row.
For me it is a living checklist. I was working on a daily checklist for the kids when I saw this on a homeschool forum. It clicked with me. It fits right in with my word for 2009 which is "tenaciously purposeful." I want to be tenaciously purposeful in working more into what we do during the day. So many times it seems like we are going for what we can "get done" in the time we have. I want more for my kids. The workbox system is a tool I can use to make that happen and it's working! Perhaps it will work for you too.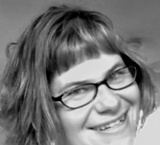 Heather Woodie is a homeschooling mom of four kids ages 10, 8, 6, 3 and wife to a handsome chemical engineer for 13 years. Before raising a family, she taught middle school science and has a masters degree in curriculum and instruction secondary education. Now teaching at home means the chance to provide the extraordinary for her children. Between family and homeschooling time, she is working as volunteer staff for MOPS International as an Area Coordinator for NY State. She's been homeschooling four years and you can read about those adventures on her blog, Blog She Wrote .