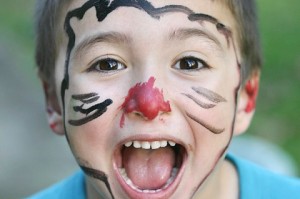 Mothers of girls frequently ask me, "How do you do it with all boys? What is your home like?" It's hard to answer that question since I don't have a home full of daughters to compare it to. But I know there are at least a few things about boys that are pretty consistent such as movement, noise, and goofiness. Obviously these traits can get in the way of getting through our schoolwork so here are some of my simple tricks.
More Settled. I'm all about letting boys move around, get comfy on the couch, and be physical during much of our learning. But there are things that just can't happen without their cheeks in the seat. I've finally found the right place for them to park it: Ottomans. Broad, square, upholstered ottomans. They don't roll, rock, spin or creak. They can't be tipped back on two legs, spun on one leg or slammed directly onto your toe. The base is broad enough and his bum is small enough that I can sit with him on the ottoman instead of pulling up another chair to help him. Their wiggles and my continual reproach have greatly diminished.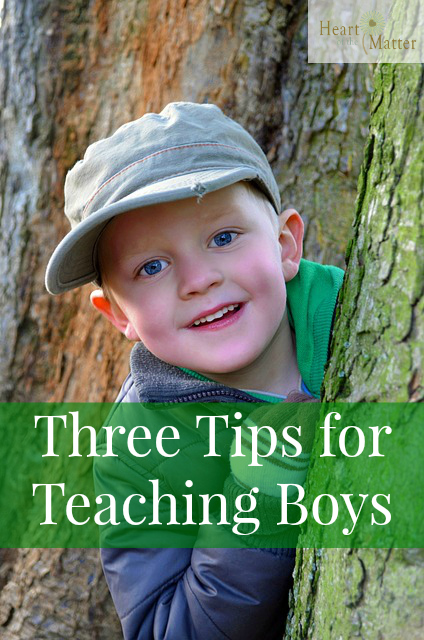 More Soothed. When the boys are at the table together working on their own projects and my youngest is happily vocalizing all the crazy sounds and noises and rhyming ditties that pop in his head, my older son looks to me for some kind of relief. I, in turn, look to gum. Letting my six-year old chew gum instantly stops the extraneous noises from escaping from his mouth and they both contentedly finish what they're working on. It's a solution that's unconventional, appropriate, and conflict -free.
More Silly. Some days, teaching young boys to read can be hard on everyone involved. Recently, while I pulled out my first grader's reading materials he groaned and slumped right off the couch. He was clearly not excited to work through my family list of "ea" words. When I recovered him next to my side he began painstakingly, "ddd, I mean, bbb –eeeeeeach.". And then in typical six-year old fashion he mischievously tossed in "head. Beach head," amused that he was messing up our lesson. Why not go with it? He painfully sounded out the next word, "peach." And then I said, "head." He looked at me, eyes wide with joy and jumped in, "Peach head!" "Pea head!" "Cheat head!" He flew through the remaining words with joy and giggles.
Since most homeschool practitioners grew-up as little girls, learning to guide little boys into learning can be tricky. But those common, daily difficulties truly can be solved and worked around for the common good. They are really gifts of strength, voice, and laughter. Enjoy your boys.
Debra Anderson has three sons ages 13 and younger. Her passions are education, spiritual formation, marriage, writing, and missional living — not in that order. She has her seminary Masters degree in Christian Education, is married to her pastor-husband of 18 years, and resides in Denver, CO. In spite of moves between four different states, she has always home educated her boys — even on the hard days. She maintains a blog at www.emergent-homeschool.blogspot.com.