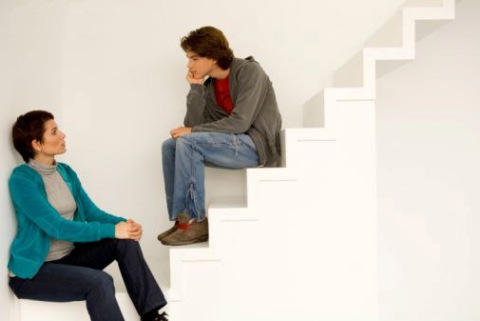 "Mom, don't you trust me?" We've all heard that.
With two teenagers in my house there is a whole lot of letting go, praying—and did I mention fear—when it comes to releasing them into the world wide web. From the day the umbilical cord is cut, the process of releasing our children begins. As they learn to walk we hold their fingers. They let loose and fall. I have never heard of a child who doesn't take a tumble as he learns to put one foot in front of the other.
Our teens will make mistakes and fall as they learn to walk as an adult. They won't get it right every time; they are in training. When they stumble, we are there to help them stand up and walk again on a secure footing.
The goal in our house is preparing our teens to stand and make good choices in the face of the smorgasbord of folly laid before them in the world. I can't hide them from what is offered —unless I'm willing to keep them in their rooms the rest of their lives. But, I don't think that is what Jesus had in mind when He said we are to be the light of the world and to live life abundantly.
Gradual Process
The groundwork for adulthood is laid by teaching respect for authority, moral foundation from scripture, and wisdom in choices during the early years. As they grow up, the opportunities to rebel increase as the consequences get more serious. How we deal with them as toddlers, grade school aged children and tweens sets the stage for our interaction in the teen years.
The teen season offer a chance to test drive young adulthood before they leave our home. I'm all for freedom but I borrow the famous phrase, "Trust but verify," from Ronald Reagan.
Accountability
Soon after a much publicized national pastor scandal, our pastor shared from the pulpit how our local church staff submits to one another in order to maintain accountability. I appreciated learning that at the time but even more so now that my teens are navigating the online media highway. I am thankful to be able to point to this practice as an example to my children. Even our pastors need rules and use online safeguards.
When our teens get a cell phone, email or social networking account, it comes unashamedly with strings attached. I get the passwords and the freedom to check up on text messages and facebook buddies. As trust is built, I check in less.
Trust Goes Both Ways
With the access to my teenagers' social media accounts, I promise not to embarrass them. I don't post baby pictures or any of my favorite photos of them dressed as a princess or a pirate when they were younger. I don't tell them online to take out the garbage or brush their teeth—for their friends to see.
Becoming Tech Savvy
I've had to become technically savvy. Where has my child been on the computer? I've learned to check the history of online searches and sites on our computer. We have software to censor unwanted pictures and websites. As adults, we have all experienced the pop-up we don't want to see. It can happen to the young adults in our home, as well, if we don't block them.
Resources:
Share Your Wisdom
Is there a Bible verse that has provided a family principle in the area of trust? What guidelines have you adopted in your home? What media control programs in your home have helped verify trustworthiness?
Rhodema Cargill lives the parenting adventure with Calvin, her college sweetheart. They have two adult daughters and two teenagers still at home, a girl and a boy. Their homeschool style is eclectic with a great love of living history books. Rhodema is a freelance writer and speaker. Visit with her on her blog: MommyLife.