We all probably know one girl in our lives (our own daughters and their friends or another relative) who has an American Girl dollIn our homeschool, we've done a lot with the American Girl dolls (from the Pleasant Company).  My daughter has quite a collection and she still loves them as much as ever at eleven years old. I've taught two separate co-op classes featuring the dolls and we've done units at home. Co-op classes and clubs encourage the girls to work together and share the experience. My daughter and I have done these unit studies now and then at home, and have made a lot of fun memories together. We also hosted an American Girl Fashion Party for her 11th birthday which consisted of the girls designing and making outfits for their dolls. The possibilities are seemingly endless when you are working with a topic that girls love. So, if you are thinking of putting together an American Girl study yourself, I hope you'll find these ideas and resources helpful.
General Framework (for home or Co-op opportunities):
For each of the historical dolls, I followed the same pattern for a two semester (10 session) Co-op Class. You can do the same for a home study, spending more time on the concepts that fit best with your family. For Co-op, I simply chose a girl and one or two crafts (depending on the complexity) along with maps. We spent two class sessions on each doll and I usually began with the map and some information about that time period. Then we'd begin the craft. Sometimes we could finish it easily and start a new project the next time, and sometimes we had to finish the original project the following week.
Maps: Do two maps per girl- one map of the state she is from and one map of the US during the time of the girl. This is a nice opportunity to inject state history and geography into your study. There are a few standard items I like to include on a map, but it's great to allow your student to choose some things to put on there as well.
Crafts: Do a craft to match the time period. For example, we have hand stitched sachets for Felicity and weaved bookmarks on a handmade loom for Kaya. If you can find more than one project and you have the time, consider doing more than one craft. I use the books for each girl on crafts and just general craft books with directions on how to do the skill we are looking at trying.
Cooking: Choose a recipe from the series of cookbooks from the original six girls. We've also used the six-book series that goes with the doll to pick out some of the foods popular in that time.  Just last week I had my daughter look up some salmon recipes to go with Kaya based on information shared in her stories.
If you have a kitchen as a resource, cooking is fun at co-op classes as well. We made a raspberry flummery for our Felicity class which was a hit. We made the flummery at home and brought it in to share. There are a lot of options in sharing cooking at home and at co-op.
Sewing: This could be considered a craft, but early on this was a skill that all the girls would have had. Since my daughter is particularly passionate about sewing, I use this unit study to really focus on this skill and allow her to try new things and design outfits. I use sewing often to incorporate math skills.
Timeline: You might consider keeping a timeline of your American Girl study. Make a wall timeline and put up images of the dolls or drawings your children make. You can include major events that happened during that doll's life.
Science: It's easy to draw on the habitat in the state your girl is from, as well as items of interest mentioned in the stories themselves.
Language Arts: I am a fan of using copywork and dictation for our grammar work and certainly the six book series that comes with each girl is a great source. Some of the girls lend themselves to easy tasks. Kit Kittredge is an amateur reporter. What better way to use language arts skills than to teach lessons on writing news stories and making a newspaper? Felicity attends a Christmas Ball. You might consider making invitations as an assignment.  Use your imagination and see what each girl's story has to offer in terms of a written assignment that incorporates composition and grammar skills.
Stop-Motion Animation: I've seen a lot of creative little American Girl movies on YouTube and one assignment my daughter has is to come up with some ideas for a story and do a story sketch and script. Then she can do the photography and load it into Sam Animation which is a free download. Story ideas can come from the six book series or one your daughter creates.
Special Projects: I encourage my kids to think of other things they want to know more about each time period in history or suggest a project of their own to complete. Since my daughter loves to craft little bitty things from scraps, she created a whole diorama of Kaya's world including an elaborately done Kaya doll made from small sticks.
What about boys? Boys don't seem like a logical target for an American Girl unit study, but keep in mind there is usually a strong boy character that is part of each girl's story. At our house, we've considered doing  American Boy studies alongside of the American Girl studies. My son would study a famous American boy from the same time period and/or region of the US and share some of the same assignments and go his own way on others. All it takes is a little creativity to include boys in this unit study!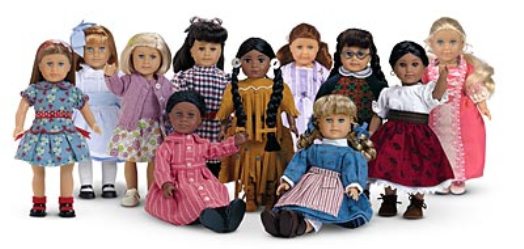 Resources:
Felicity's World (& other ____ World books- for the six original girls) Fantastic history book about America in the time of that doll.
Molly's Cookbook (& others)
Kirsten's Craft Book (& others)
Doll Dress Patterns– link to a page where you can download the patterns that used to be sold by the Pleasant Company for the original 6 historical dolls.
Portraits of American Girlhood– a unit study curriculum based on the American Girl dolls by Pleasant Company
Blogs – there are several really good blogs devoted to American Girl homeschooling and clubs. Just do a search with those key words and you'll find some fun things going on out there.
I encourage you to focus on what your child is passionate about during these studies. Whether it's the cooking, crafting, sewing, or even the living history that she is excited about, try to draw out more activities in those categories for your student. One of the best things about the American Girl unit study is that you are working with items that likely delight your daughter! Once you've made that meaningful connection, think of the focus that would make the connection and the learning even stronger.
For us, I've mentioned that it's sewing. My daughter  also loves to help in the kitchen and we can teach a lot of things through these two skills. Here are some examples of how we have used sewing in our American Girl units.
Hand Sewing Challenge –  From this quote in Felicity's first book, I developed a whole lesson on stitches per inch and we tested it out. Could she sew 20 hand stitches to the inch, and what does an average sewing machine do? "Lissie my love," said her mother. Her gentle voice sounded tired. "Look at this apron you sewed. I've had to rip out the hem on it again. It's supposed to be 20 stitches to the inch, Lissie. And in a line. Yours fly all over. Your sister Nan sews more carefully, and she is but six years old."
Kaya – Design a traditional outfit. Make a sketch and make the outfit using materials we have on hand.
Tshirt refashion – My daughter  has designed tshirt refashions using old tshirts and the book Generation T (warning…there are many designs in here not at all modest, but there are some really cute creations worth trying)
Doll skirt – using a fat quarter, my daughter made a skirt which her dolls could wear.
If your student is not a budding seamstress, maybe she's a writer and would like to tell stories and do reporting (like Kit!). Perhaps she most likes to cook and she can focus on menus and meal planning, American Girl style. Whatever her niche is, try to fuel that passion and have fun with it. You can work together at home or involve friends in your unit- or a little of both. Be creative and find out what works best for you and for your homeschooled American Girl.
So, if you have an American Girl fan in your home, consider saying yes to a unit study on American Girl historical dolls. You won't regret the fun memories you make together!
Heather is a homeschooling mom of four kids ranging from middle school to early elementary age and wife to a chemical engineer (aka: homeschool dad extraordinaire). Before raising a family, she taught middle school and high school biology and has an MS in curriculum and instruction secondary education. Now teaching at home means the chance to provide the extraordinary for her children. She's been homeschooling six years and you can read about those adventures on her blog, Blog She Wrote.