Did you know that Venezuela is home to the highest waterfall in the world? That's right, Angel Falls, discovered by American Pilot Jimmy Angel in 1935, is located in Venezuela. It is 3,212 feet high and drops over the edge of the Auyantepui mountain in the Canaima national Park.
Angel Falls is so high that much of the water is evaporated or carried away as a fine mist before it reaches the ground.
Since we were studying Venezuela this week in our Expedition Earth Geography curriculum, we decided to make our own version of a waterfall.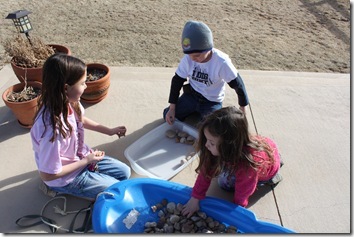 This activity is great for logical thinking and building skills, plus it's just plain fun!
First you need to gather materials:
Rocks, sticks, and greenery ( I use this term loosely since it's still winter in these parts). You'll also need something to put the waterfall in, we used a large Tupperware container.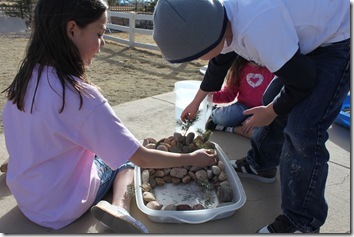 Build your waterfall: Next you need to stack the rocks in such a way as to create a path for the water to flow down. If you need to, use hot-glue to secure top rocks.
Finally add in the greenery and any other accent materials you've collected.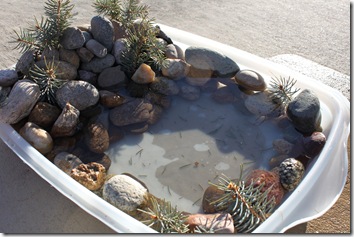 Next it's time to try out your waterfall! Grab a pitcher of water and take turns pouring in water. Does the water flow down the path you  made?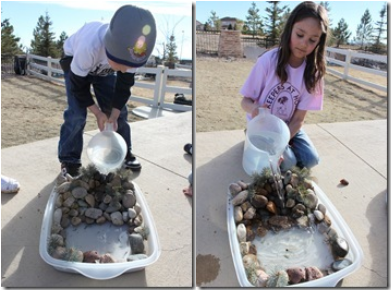 And that's it! You've created your own homemade waterfall!
Hope you have fun!

Erica is a daughter of Jesus, a wife, a mom, and a homeschooler. She likes to digiscrap and dabbles in graphic design in her *free* time. She authors Confessions of a Homeschooler and would love you to drop by for a visit anytime!