The object of this study is to take some time out of our busy, often chaotic days and spend some time with women who have gone before us. Not just any women, but 26 women of the Bible. We'll
"Walk Among Them" and see how their stories relate to our lives. It's my hope that we will discover God's presence and grace in our own lives as the lives and lessons of these women unfold before us this year.
Women of the Bible: Lesson 4, Jochebed
If there ever was a Jewish "MOTHER OF THE YEAR," this woman would certainly rank high on the list! Three children, three legacies. One becomes the first Chief Priest (Aaron), one became a Priestess who dances (Miriam), and the other delivers the Israelites out of Egypt and carries God's commandments. Seriously, that momma HAD to be proud! Many of us wouldn't recognize her by name, she is simply often known as "Moses' mom, Miriam's mom or Aaron's mom!" (Does THAT sound familiar?) Once we have children, especially IF they do amazing things, we often become "so~and~so's" mom. Walk with me as we get a glimpse into the life of Jochebed. An ancient woman of great faith, passionate love for her children and the patience to let God reveal HIS plan in their lives. Extraordinary Biblical lives began with an ordinary mom.
Most of us know at least part of her story; it's one of the most famous of Biblical Stories, Exodus 2:1-10:
"Now a man of the house of Levi married a Levite woman, and she became pregnant and gave birth to a son. When she saw that he was a fine child, she hid him for three months. But when she could hide him no longer, she got a papyrus basket for him and coated it with tar and pitch. Then she placed the child in it and put it among the reeds along the bank of the Nile. His sister stood at a distance to see what would happen to him. Then Pharaoh's daughter went down to the Nile to bathe, and her attendants were walking along the river bank. She saw the basket among the reeds and sent her slave girl to get it. She opened it and saw the baby. He was crying, and she felt sorry for him. "This is one of the Hebrew babies," she said. Then his sister asked Pharaoh's daughter, "Shall I go and get one of the Hebrew women to nurse the baby for you?" "Yes, go," she answered. And the girl went and got the baby's mother. Pharaoh's daughter said to her, "Take this baby and nurse him for me, and I will pay you." So the woman took the baby and nursed him. When the child grew older, she took him to Pharaoh's daughter and he became her son. She named him Moses, saying, "I drew him out of the water."
Imagine for a moment that you are in Jochebed's shoes. You are pregnant! With two little ones running around, already this should be a happy time! What should be a time of joy has turned into a time of fear.
She is aware that all of the baby boys are being ordered to be killed by Pharaoh, because of his insecurities about the Hebrews. She finds herself right in the middle of a horrifying situation. When she can no longer hide her child she has birthed, she knows the only hope she has is in desperately trying to save him. She knows that she can not sit by and watch her son be senselessly killed.
Faith in the God of her fathers. Faith in the God that spared Abraham. She knows the stories and she is CONFIDENT that God will do for her and her child what He did for them. She has no idea how this story is going to unfold. She has no idea what the future holds for this child, but she knows that as his mom, she has to do EVERYTHING in her power to protect this child.
Her mother instincts and her faith "kick in" and she sends her baby down the river. Imagine that! Imagine the fear, imagine the tears, and imagine the faith.
She tells her daughter Miriam to watch the baby as he makes it down the river. Miriam watched as the Pharaoh's daughter and her attendants noticed the baby floating. She knows full well that the baby is a Hebrew but for some reason she feels compassion for the babe. We don't know why Pharaoh's daughter is so compassionate to the child, but because of that, the story continues.
Jochebed is rewarded for her faithfulness as God does what only God can do. He takes unimaginable circumstances and turns them around for HIS good and glory. If the story were a modern day drama, we'd find ourselves cheering when the woman who is brought in to "nurse" the baby in the basket is none other than Jochebed herself.
Not only is the child's life spared, but she gets to watch and nurture and nourish him until he is weaned. When the time comes that the baby named Moses is weaned, she gives him up to be raised in the palace.
That must have been a difficult day for Jochebed. In order to save her child she has to do the unimaginable… give him up. That had to leave a hole in her heart. Faith again guides her. She is confident that her God has been faithful and will continue to be faithful.
Moses' story continues on and because he is such a faithful giant, we often overlook the lessons of Jochebed. It began with her faith in God. She had NO IDEA what God was going to do in the lives of her children, she just knew that she needed to do all in her motherly power to save this life. You see, Jochebed, although a slave herself, knew the stories of her ancestors and she BELIEVED in GOD'S faithfulness.
That faith carried her in her darkest days and revealed on the other side God's magnificent plans in her children's lives, after all, they were HIS CHILDREN first. We often don't reflect on this magnificent "mother." We often skip past her story on our way to Moses' delivery of the Israelites out of slavery into the desert, and yet Moses' story, begins with his mother and her faithfulness to God's plans.
That's something even us "modern" mom's can embrace!
With each woman that we study, I'll have some thoughts and ideas for reflection, meditation and journaling that will be called "Reflections from the Walk." It's in Walking Among Them that we can learn lessons that we can take with us on our daily walks.
Reflections from the walk:
1. Read Hebrews 11:23,
"By faith Moses' parents hid him for three months after he was born, because they saw he was no ordinary child, and they were not afraid of the king's edict."
How do you "have faith" daily as you raise your children?
Does fear ever creep in and try to overcome the faith?
Journal your fears, big or small and ask Jesus to help you overcome them in faith.
2. Jochebed displays strong qualities, reflect on where you see these qualities in her story.
Courage
Patience
Trust
Motherly Love
3. While we may never have to go to the extremes that Jochebed did, we too will have to "give up" our children as they move into adulthood.
How can we prepare for those days?
How can we TRUST God for the lives of our children?
What are your fears for your child?
Do you TRUST God completely with their lives?
4. The basket that Jochebed placed Moses in was an important part of Jewish society. The baskets were used to carry items, as well as where the Israelite Priests stored the bread and wafers for worship in the Tabernacle. We all have images of a woman carrying a basket on her head.
Think for a bit of the simplicity of a basket and how that SIMPLE item, made of papyrus, tar and pitch (Exodus 2:3) became the vessel for God to carry out HIS plan. What ordinary items in your life does God use to reveal Himself to you?
5. Jochebed raised faithful children. What does that say about HER faith?
What do your children witness from you in regards to faith?
Do you outwardly express your faith, your prayers, and your purpose to your children?
Do you live as an example to your children?
6. Reflect on this quote:
"Patience is the companion of wisdom."
Saint Augustine
Many of us struggle with patience. Jochebed demonstrated patience as there was no EASY way out of the situation in Egypt at the time. Her patience was rewarded. Her son went on to fulfill God's great plan.
Are you patient, like Jochebed, or is it something you struggle with?
Do you ever go to God with your impatience? If so, ask God to guide you as you work at being patient as God does what HE needs to do in your life and in the lives of your children and family.
Jochebed was a passionate mother. She was fearless in her faithfulness. She was the mother who "fought" for her children. They were her life, and yet she KNEW they belonged to GOD. She trusted HIS plan. WOW! These same lessons apply today to all of us raising children in "challenging" times. Jochebed would understand what we are going through. She would likely offer us wisdom from her own journey. She would certainly tell us to abandon fear and cling intensely to the Father.
Join me next time as we Walk With Jochebed's daughter, Miriam on March 14, 2009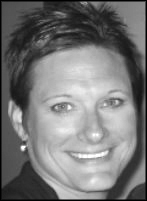 Lori is a 5 year homeschool mom to 3. Currently a 8th grader, a 6th grader and a 4th grader. Lori insists that when she was wrestling with the decision to home school, a gentle voice guided her with the words, "you know what you should do." Never looking back, accepting the challenges and rewards and CONSTANTLY clinging to THE ROCK…"No Storm can shake my inmost calm when to this ROCK I'm clinging." Lori hopes to impart peace and inspiration amidst the daily chaos. Be sure to visit her blog at All You Have to Give.