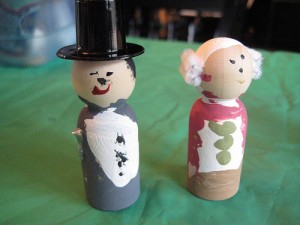 February is one of our favorite months of the year! Though it's still too cold to get outside much, there are lots of fun things that happen during this month that keep us very well entertained. February is full of lots of fun holidays and celebrations: it is Black History month, it houses Valentine's Day, and it contains the birthdays of two of our most famous presidents, George Washington and Abraham Lincoln.
In honor of Presidents' Day on Monday, February 18th, I thought I would share a few of the activities and special "to-dos" that we've done in the past, as well as books that we've read and enjoyed and recipes we've tried.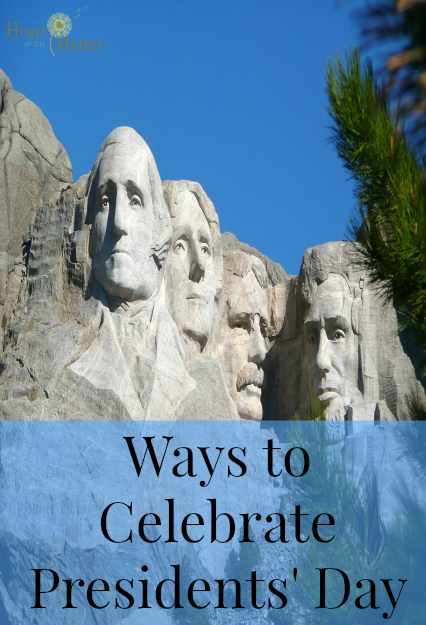 I found a tutorial on Etsy a while back that showed how to make some of our famous presidents using wooden peg dolls, commonly available at craft stores. With just a little bit of craft paint, pipe cleaners, and plastic stovepipe hats (for Lincoln; the hats were actually purchased from a craft merchant on Etsy), you can create some adorable mini figurines for play or display!
(see attached photo)
We printed out silhouettes of a few presidential favorites and glued them onto construction paper "frames" for taping on the walls and/or doors…a very stately decoration.
Cleaning Pennies Science Experiment:
Here's a fun experiment to figure out which solution cleans and polishes copper pennies.
Presidential Books We Love:
Young George Washington: First Start Biography (by Janet Woods)
Presidents' Day (by Anne Rockwell)
Abe Lincoln: The Boy Who Loved Books (by Kay Winters)
Tried & True Presidential Recipes:
Laura Bush's Hot Chocolate
President's Day Hoecakes
Cherry Cheese Pie
Barbara Bush's Chocolate Chip Cookies
Meg Wilson is a devoted wife to her husband, Ken, of 12 years, and mom and homeschooling teacher to her 7-year-old son and 5-year-old daughter. When she's not writing or creating something, Meg loves to cook for, host and entertain friends and family. She also enjoys reading, the outdoors, eclectic music, yoga, and studying history. You can read all about her adventures (and misadventures) at her blog, Electric City Academy, http://www.musesofmegret.com/reviews, http://electriccityacademy.blogspot.com