The first and most obvious advantage is the time and opportunities available in which you can demonstrate and attempt to pass on your spiritual heritage, your morals, and your work ethic. Much has been written about these already. I'm going to write about other advantages, as well as provide practical suggestions to make homeschooling your teen easier.
Students who home school through the teenage years tend to be more focused on what they want to accomplish with their lives. Those with artistic natures find they have ample time to immerse themselves more fully in their respective talents: writing, art, music, etc. Those who have an academic passion will find they have more time to read, work on the computer, study foreign languages, chart the stars, and follow their interests at a deeper level. Students who are planning a vocational or technical career can begin an apprenticeship or a work-study in their chosen field. Unlike public schools, there is no waiting on the rest of the class, unnecessary seat-work, study halls, disruptive behavior, or threats to their personal safety to take students' minds off what they really want to learn and accomplish.
With the proper guidance from their parents, these young people will enter adulthood poised, confident, and with a solid academic and work ethic background. These responsible and independent problem-solvers will be gladly welcomed into colleges and the work place!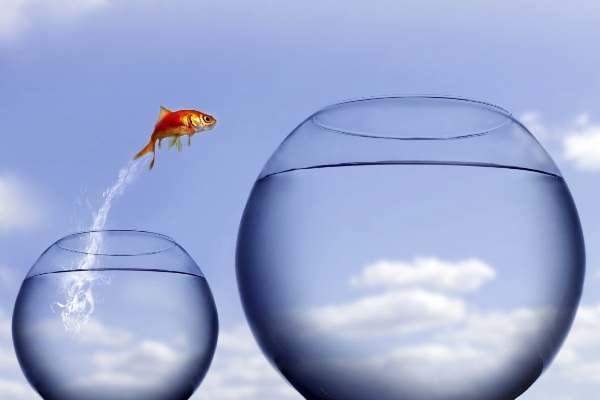 Choose Great Goals
World Knowledge – history and geography are cornerstones to understanding current events, political and socio-economic information.
Ability to Communicate Effectively – write, write, and write some more. A person who writes and communicates well is a valuable asset to any college or employer. (Being well read is part of the package. Develop and use a good book list.) Computer communication is becoming an absolute necessity.
Problem Solving – raise independent learners who are able to organize, research, and solve problems.
Time Management and Self-Discipline – these skills are invaluable for every adult.
Self-Sufficiency – train your young adults in Biblical stewardship and other practical skills such as auto and household maintenance.
Integrity – don't leave home without it!
Help! Can I Really Do This!?
There are many "ideals" in planning for high school, just as there are for most facets of our lives. With high school, as with the rest of your homeschooling, do your very best and don't get caught up in feelings of inadequacy just because Mrs. B is teaching her three teens Latin, Physics, and Trig! Everyone has strengths and weaknesses. If one year is less than banner, strive to do better the next.
The Key
Love your teens and give them as many opportunities to learn as you can. Help them to learn study skills, life skills, and give them the chance to stretch and grow, and even sometimes fail. Spend time in the Word and help them to see the practical applications of your faith so that they will want to emulate you. At no other age is the "Do as I say, not as I do" adage less likely to work. Remember, whether or not your student has a chemistry lab or AP level courses is not nearly as important as having their faith and beliefs firmly in place!
Now, having said all that, here are some of the "ideals" in preparing for high school and college.
How Do I Know Which Classes My Student Needs?
First, begin with your state requirements. Some states may have specific course work that is required of everyone, including homeschoolers. Other states allow flexibility and leave the final decision with the principal (or parent). Your homeschool organization may have its own set of requirements. Ask. Typically, graduation requirements range from 19 to 22 credits. Below is a list of generally required courses. Second, take your student's interest into account. A student with strong aptitude and interest in one area should be encouraged to pursue that area of interest.
If a student is probably college bound, it is wise to structure their course work accordingly. Check with your state university's requirements for entrance. This will give you a good idea of subjects your child should be taking. If you're not sure about college, it's better to prepare them should they decide to go, rather than have them attempt to go unprepared.
What Exactly is a High School Credit?
It's useful to understand what a "credit" actually is. A credit is technically a "Carnegie Unit." According to the Carnegie Foundation this unit was developed as a measure of the number of hours a student has studied discrete (separate/distinct) subjects. For example, a total of 120 hours in one subject earns the student one "unit" of high school credit.
A great guide to appropriate homeschool high school credits is the one below from www.pahomeschoolers.com. According to it, homeschoolers in Pennsylvania may receive credit if they do any ONE of the following, per course:
Complete two-thirds of a textbook
Have 120 daily logged entries
Have 120 hours of logged study
Complete a 10 page research paper
Complete a college course
Pass an AP exam
I would add to their list these possibilities:
Documented Work Study
Documented Apprenticeship
Community Service/Volunteer Work
Long-term participation on a sports team
Long-term participation in community arts programs
Other creative ways in which you can demonstrate that a reasonable amount of learning has taken place.
Strategy
Using your state's guidelines, college admissions, and any other resources, make a list of the minimum required courses your student should complete. Then, with your student, discuss options for electives. Keep their interests and abilities in mind as you plan. Electives don't have to be planned out all at once. Be flexible and allow room for your student to grow and mature.
Now make a plan of attack: which courses will be completed which year? Is your student capable of or interested in early graduation? Check to see if it's legal and acceptable in your situation to accelerate and do high school in three years. For many homeschool students, this allows them to spend what would be their senior year pursuing community college courses and/or work options.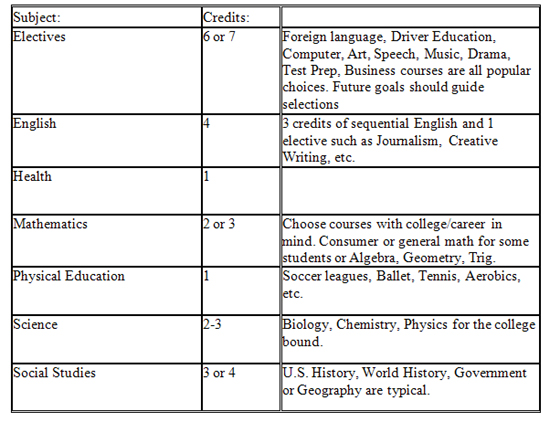 What Are Some Options for Teaching High School Courses?
This is a great time to be homeschooling! The options are many and diverse. Besides the traditional student book/teacher book method here are other ideas. (Of course, good record keeping is a must no matter which option(s) you pursue.)
Barter – you teach my student spanish and I'll teach yours algebra.
Be a Student – learning right alongside your child can be a fantastic experience. Whether you sign up together for a local Spanish course or just dig into the books together, show your kids that learning is a lifelong process!
Community Colleges – many homeschoolers take college level courses during high school. This serves two purposes: first, it is a practical way to take a class the parent prefers not to teach or for which the equipment may not be readily available, like Chemistry. Secondly, a job well done offers "proof" of the student's ability.
Computer Courses – there are many programs available now. Ask friends for recommendations.
Co-ops and hybrid co-ops – We were involved in a wonderful co-op we started with two other families to teach our kids once a week in a classroom-like setting. For example, one year in high school we offered: Literature, AP U.S. History, Biology, and Spanish II. Each year we decided which classes we want based on our families' needs. We opened this up to other students on a paying basis. Each teacher was paid, along with the co-op administrator. The kids loved it and so did the parents!
Correspondence Courses – there are a number of different correspondence schools. Choose one course or take the whole program. Depending on the school, it may offer support, record keeping, testing, transcripts, report cards, and accountability. Many are accredited. There are both secular and Christian schools. This might be good for a course you don't prefer to teach.
Hire a Tutor – if you can afford it and your local homeschooling laws permit, this is a great way to cover that one class you'd just as soon not teach. We do it for piano lessons, why not Latin?
Internet Classes – we've participated in Escondido Tutorial Services. Fritz Hinrichs (and others) teach a number of classical courses through live, interactive weekly meetings. We were very pleased with this service. There are other many others now doing similar things. The site we used is www.gbt.org.
Video Courses – lacking in interactivity but excelling in material covered. Some of the courses we've used have been very well done.
Stay the Course!
As you can see, there are a plethora of possibilities available to you, including articles from homeschool magazines and many, many great homeschooling sites online. Be of good  cheer! These are your teens and with the help of our Lord, Jesus Christ, you can do this!
Maggie Hogan is an author, publisher and nationally–recognized speaker who is easily distracted by all things geography, history and science–related. She lives in Dover, DE with her husband, Bob and two spoiled cats. Maggie is the co-author of The Ultimate Geography and Timeline Guide, Gifted Children at Home, Young Scholar's Guide to Classical Composers and other resource books. She has transformed the barn on her property into an office which houses Bright Ideas Press, publishers of the all new Illuminations curriculum as well as award winning: The Mystery of History series, Christian Kids Explore series and All American History series. When not reading, writing, or playing with her grandbaby, you can find her drooling over travel magazines. You can find her at www.BrightIdeasPress.com, or on Facebook.